Greek Yogurt with Cherry Sauce 
This cherry sauce only looks decadent…really!  It has a deep, sweet/tart cherry flavor with a hint of almond and is sweetened with just a bit of honey.  But there's a secret ingredient…
Mahlab!
Mahlab, Before and After Grinding
Mahlab is a spice that's commonly used as a flavoring in Middle Eastern cooking.  It is the seed kernel that comes from the center of St Lucie Cherry pits.  Mahlab has a lovely aroma and tastes like a cross between almonds and cherries.  (You can read more about mahlab on Wikipedia.)  Its unique flavor enhances many sweet recipes and really helps heighten the cherry flavor in this sauce.  You can usually find mahlab ground or whole at Middle Eastern grocery stores; if it's whole, just grind it in a spice grinder or using a mortar and pestle.   
I recently received a lovely gift box of treats from the sweet people at Foodzie; in addition to several other delicious goodies, the box contained dried Michigan cherries, which is what inspired me to make this sauce!
Cherry Sauce
Serves 2 to 4
1/2 cup dried cherries (I used Benjamin Twiggs Dried Michigan Cherries)
1/4 cup water
2 tablespoons honey
1/4 teaspoon mahlab
1 pinch sea salt
1/2 teaspoon almond extract
Bring the cherries, water, honey, mahlab, and salt to a boil in a small saucepan over medium heat; once boiling, turn heat down to simmer, cover the saucepan, and cook 7 minutes, stirring occasionally (you can add a splash more water if necessary; don't let the pan dry out).  Turn off heat and stir in the almond extract, then cover and let sit for 5 minutes (the cherries will plump a bit more).  Serve hot, cold, or room temperature on top of Greek yogurt, frozen yogurt, ice cream, pudding, pancakes, waffles, oatmeal, etc.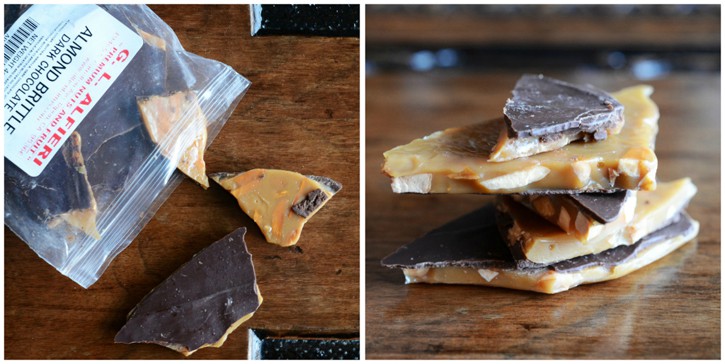 And because it was so delicious, I had to share another of the treats I received from Foodzie:  Dark Chocolate Almond Brittle!  This stuff is addictive.  
Disclaimer:  I received the Benjamin Twiggs Dried Michigan Cherries that I used in this recipe for free in a gift box from Foodzie (along with the Dark Chocolate Almond Brittle); as always, opinions stated are my own.