How about a cold brew?
When I lived in Florida I became a little bit of an iced coffee junkie.  I developed a Starbucks-almost-every-morning ritual without realizing how easy (and cheap!) it is to make cold-brewed coffee at home.
Why do I need to cold-brew my coffee for iced coffee?, you ask.  Can't I just brew up a pot the regular way and let the coffee cool down?  You can indeed.  But hear me out…even though it takes a little bit of planning ahead since you'll need to brew the coffee the night before, it is ridiculously easy to make – it's actually less work than brewing a regular pot of coffee.  And if you just use regular coffee that's been chilled, it won't be nearly as good as if you use cold-brewed.  Here's why…

When you use the cold-brewing method, coffee is never heated; in this method, the coffee grounds basically steep in room temperature water for about 12 hours and then the liquid is double strained to remove the grounds.  The result is a coffee concentrate that's much less bitter than normal, has low acidity (so it seems naturally sweeter), and is nuanced with all those flavor notes that coffee connoisseurs love.
(Side Note:  I want to mention coffee ice cubes for a second.  I think they're a cute and clever idea, but with cold-brewed coffee, there really isn't any need for them.  This is because cold-brewed coffee is pretty concentrated stuff; to make iced coffee, most people dilute cold-brewed coffee at about a 1:1 ratio with water.  So all you have to do is use a little less water to account for the ice melting.)
This is how I make my cold-brewed coffee…
Cold-Brewed Coffee (Adapted slightly from The New York Times' recipe for Cold-Brewed Iced Coffee)
Yields 3 cups of cold-brewed coffee concentrate
3 cups water
2/3 cup medium- to coarse-ground coffee
1.   Stir together the water and coffee in a large measuring cup with a pour spout; cover and let it sit at room temperature overnight (or about 12 hours).
This is how the coffee will look after 12 hours.
2.   Strain through a fine-mesh sieve (or a regular sieve lined with cheesecloth) into a French press; insert the French press plunger and slowly press down (this is the 2nd part of the double straining).  Store refrigerated until using.
Strain the coffee into a French press; the French press makes it easy and does the second straining for you.
3.   For iced coffee, fill a tall glass with ice and add equal parts of coffee concentrate and water (or to taste).  If desired, add cream/milk and/or sweetener to taste.
Here's the coffee concentrate that you're left with.  You can use it to make iced coffee or yummy things like Affogato.  Bliss. 
So, what is Affogato?  It's just a scoop of vanilla ice cream topped with a shot of espresso.  And it is so good.  (Basically just a coffee float!)  In warmer months I like to use cold-brewed coffee concentrate instead of espresso when I make Affogato, but of course the trick is to find a good ice cream too.
Love those pretty little flecks of vanilla!
Affogato
Serves 1
1/3 cup (about 1 1/2 scoops) Edy's® Slow Churned Light Vanilla Bean Ice Cream
1/3 cup cold-brewed coffee concentrate
1 teaspoon dark chocolate shavings
Scoop the ice cream into a small dish; top with the coffee and chocolate shavings and serve immediately.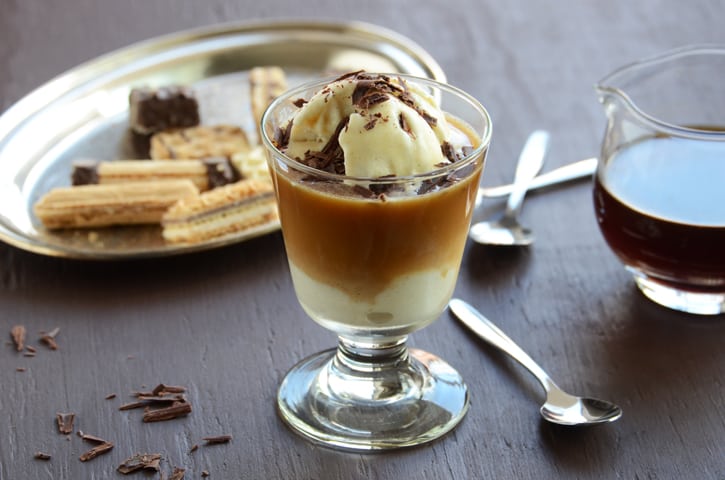 The dark chocolate shavings are optional, but I think even just 1 teaspoon adds so much flavor!
Edy's® Slow Churned  Light Ice Cream is churned slowly for all the rich and creamy taste of regular ice cream, but with half the fat and one-third fewer calories.  Now that's a reason to smile.  Give a smile with Operation Smile: http://www.facebook.com/EdysIceCream.
What is Operation Smile?  For every ice cream smile captured in a photo and uploaded to Edy's Facebook page, Slow Churned will donate $5 to Operation Smile.  By the end of the summer, the goal is to give away more than 25,000 scoops of ice cream, capture 25,000 ice cream smiles, and gift 500 surgeries/smiles to children in-need.
Disclosure: Compensation for this post was provided by Nestle via Glam Media.  The opinions expressed herein are mine and are not indicative of the opinions or positions of Nestle.