I love this recipe so much I've made it four times in the past month. Four times. And I'm not usually one for banana bread. (Zucchini bread holds the number one spot in my heart when it comes to quick bread.) The original recipe, which is from Cooking Light, is called Classic Banana Bread; I've taken the liberty of renaming it Best Banana Bread. Because it really is.
I kept the original recipe intact and only made a couple changes:
Increased the vanilla from 1 teaspoon to 1 1/2 teaspoons, and also added 1/2 teaspoon vanilla bean paste and 1/2 teaspoon pure almond extract.
Added 1/2 teaspoon cinnamon…not really enough to be able to pull out the flavor of cinnamon, but enough to add a little intrigue to the background.
This bread definitely has that classic banana bread taste and texture; it is softly scented of banana and vanilla, with a soft, moist crumb. I thought it was perfect in its simplicity, but if you're in the mood to jazz up the flavor a bit, you could add walnuts and/or increase the amount of cinnamon.
For the past few months since I've discovered this recipe (ok, truthfully, it was last Easter), it has been my go-to whenever I find myself with over-ripe bananas…which is usually at least two or three times a month. And we still can't get enough!
Do you have a favorite banana bread recipe?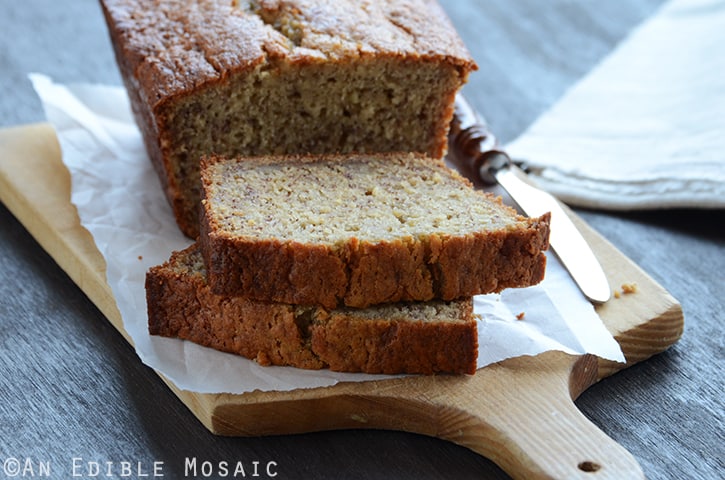 Ingredients
2 cups all-purpose flour
3/4 teaspoon baking soda
1/2 teaspoon salt
1/2 teaspoon cinnamon
1 cup sugar
1/4 cup butter, softened
2 large eggs
1 1/2 cups mashed ripe banana (about 3 bananas)
1/3 cup plain low-fat yogurt
1 1/2 teaspoons vanilla extract
1/2 teaspoon vanilla bean paste
1/2 teaspoon pure almond extract
Cooking spray
Instructions
Preheat oven to 350F.
Whisk together the flour, baking soda, salt, and cinnamon in a medium bowl.
Place the sugar and butter in a large bowl, and beat with a mixer at medium speed until well blended (about 1 minute). Add the eggs, 1 at a time, beating well after each addition. Add the banana, yogurt, vanilla extract, vanilla bean paste, and almond extract; beat until blended. Add the flour mixture; beat at low speed just until moist.
Spoon batter into an 8 1/2 x 4 1/2-inch loaf pan coated with cooking spray. Bake for 1 hour or until a wooden pick inserted in center comes out clean.
Cool 10 minutes in pan on a wire rack; remove from the pan and cool completely on a wire rack.
Notes
Recipe adapted slightly from Cooking Light's recipe for Classic Banana Bread.
Mini Loaves & Muffins: This recipe is really versatile. It also makes 3 mini loaves (5 3/4 inches long X 3 inches wide X 2 inches deep), and they take between 35 to 40 minutes to cook at 350F; or it makes 12 muffins and they take between 25 to 30 minutes to cook at 350F.
http://www.anediblemosaic.com/best-banana-bread/
Update (1/17/2013): Because of the large number of people who have emailed me asking for the full recipe with the changes I made, I updated the post to include it here…enjoy!