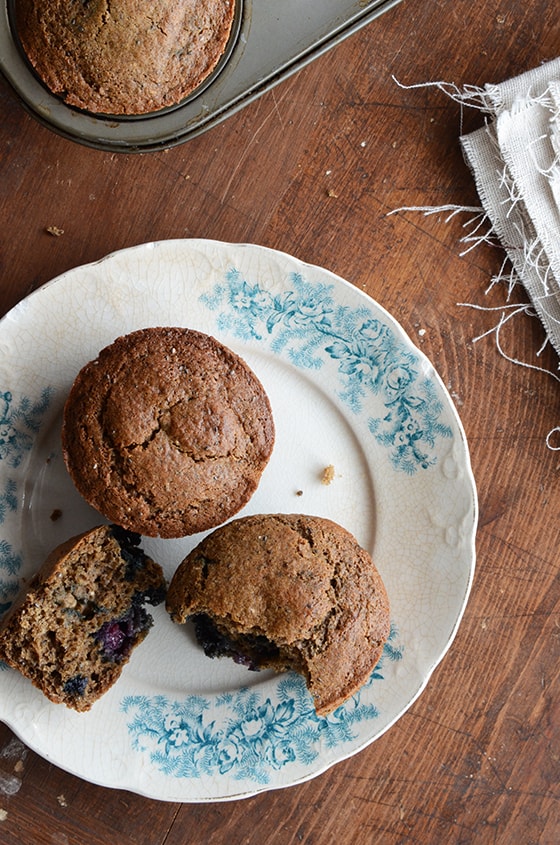 I get a lot of emails from people telling me they want to start their day off with a healthy breakfast, but they don't have time for the usual healthy go-to breakfast-y things like eggs or hot cereal. Or even smoothies.
(As a side note, I am a firm believer that making a smoothie shouldn't take longer than five minutes! That is less time than it takes to sit down and eat a bowl of cold cereal; not that cold cereal can't be healthy, unless it's the sugar-laden junk, but eating a bowl of cereal still takes longer than a smoothie, since a smoothie can be enjoyed on-the-go. And making a smoothie takes much less time than it takes to grab a coffee and donut from the drive-thru at the local coffee joint, especially if your local coffee joint is Tim Hortons and the 25-minute drive-thru line is out of the parking lot and onto the street. No joke.)
As far as a fast, healthy, portable breakfast goes, my mind went to muffins. And I made it my business to come up with the healthiest version of a muffin that I could: nutrient-dense, full of healthy fats, protein, and antioxidants. And not to mention, with staying power to keep you fueled well until lunchtime.
These muffins just happen to be gluten-free, since I was visiting a friend who has just recently gone GF, I was and in need of a snack to munch on over a cup of coffee with her.
Be sure you don't skip the cinnamon in these muffins. Not only does cinnamon have several wonderful health-related effects on the body (including helping to regulate blood sugar), but it is magic paired with blueberries.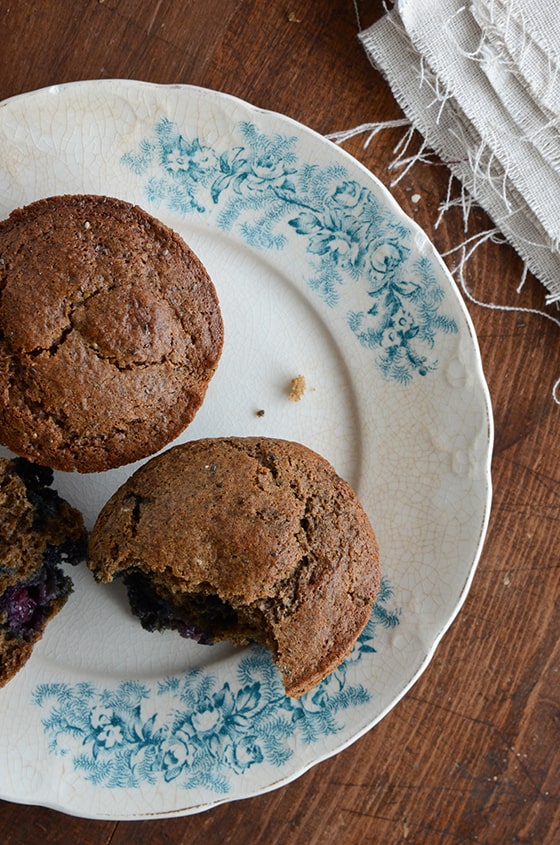 Ingredients
Butter, to grease the muffin tray
1 1/4 cups (150 g) buckwheat flour
3/4 cup (120 g) all-purpose gluten-free flour mix (I used King Arthur Flour)
4 tablespoons (50 g) chia seeds
2 teaspoons baking powder (sifted)
1 1/2 teaspoons ground cinnamon
1 teaspoon baking soda
3/4 teaspoon fine salt
2 large eggs
1 cup (150 g) coconut palm sugar
1 cup (240 ml) low-fat buttermilk or kefir (or 1 cup low-fat milk with 1 tablespoon lemon juice sprinkled on top, left to curdle for 3 minutes without stirring)
1/3 cup (80 ml) canola oil
2 teaspoons pure vanilla extract
1 cup (170 g) frozen blueberries (not thawed)
Instructions
Preheat oven to 375F; grease a 12-muffin tray with butter, making sure to grease the top rims of each well.
Whisk together the flours, chia seeds, baking powder, cinnamon, baking soda, and salt in a medium bowl. Set aside for now.
Whisk together the eggs and coconut palm sugar until well combined, about 2 minutes if whisking by hand. Whisk in the buttermilk, oil, and vanilla.
Add the dry ingredients into the wet all at once and stir just until combined, being careful not to over-mix. Stir in the blueberries.
Divide the batter between the 12 muffin wells and bake until a toothpick inserted inside comes out clean, about 25 to 30 minutes.
Cool completely before removing the muffins from the tray.
Notes
Frozen Blueberries: I prefer using frozen blueberries (rather than fresh) in baked goods because it helps prevent the berries from sinking to the bottom. Also, if you're making these muffins outside of blueberry season and frozen berries are all that's available, frozen berries that have been thawed have a tendency to bleed, turning the baked goods blue (which doesn't really matter so much in these muffins since their color is brown, but it can be a bit off-putting in lighter colored baked goods). If fresh blueberries are in season, you can use them; however, just be sure to gently toss them with a small spoonful of flour before adding them to the batter. Alternatively, you can flash-freeze fresh blueberries and not worry about tossing them with a little flour.
http://www.anediblemosaic.com/blueberry-buckwheat-chia-seed-muffins-gluten-free-naturally-sweetened/