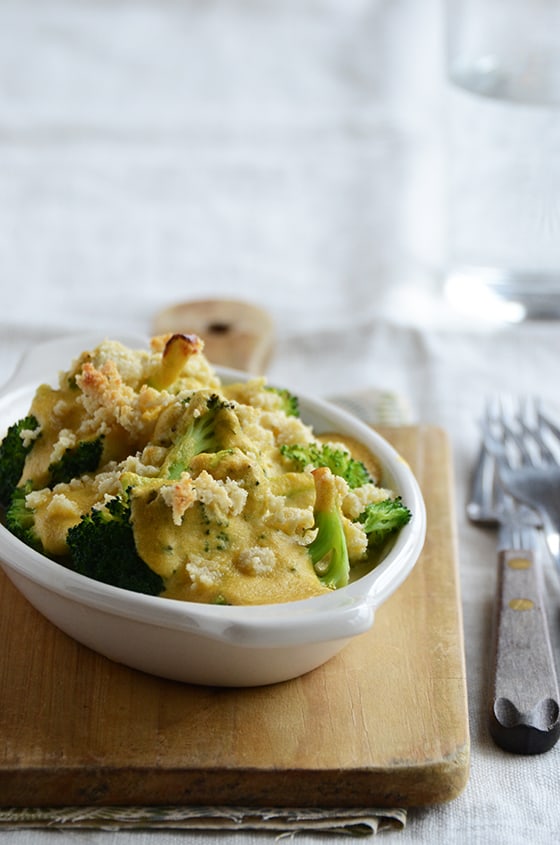 One of the monthly cooking groups I'm in, the 5 Star Makeover group, has had a bit of a makeover itself and is now the Creative Cooking Crew of 24 talented bloggers, hosted by Laz of Lazaro Cooks and Joan of Foodalogue. Group member Trix from Tasty Trix chose the theme for our first month: "Choose one of your favorite rich, heavy, fatty animal-protein-based meals and give it a healthy VEGAN spin."  It's a theme I was pretty happy with, as I'm no stranger to developing vegan recipes (Refried Lentils, Spinach & Bulgur Wheat Stuffed Red Peppers, and Pumpkin Chickpea Curry have been a few favorites in my house). Thinking it would be fun and easy, I was pleased with this theme.
But when it came time to actually choose something to make it was a bit harder than I expected.
I thought of Chicken Pad Thai, but realized that was too easy (just omit the chicken and use tofu instead, which is how I often order this dish when eating out anyway). I thought about Chicken Parmesan, but Eggplant Parm is just too common. Yes, I could use something else, but it's still not much of a challenge. Boeuf Bourguignon came to mind. I could easily omit the beef, and instead "beef it up" (so to speak) with mushrooms, potato, and green peas…but I realized, then it just becomes another veggie stew-like dish.
Cannellini Bean Caccitore? Nope. Black Bean Burgers. Although I love them, I wasn't feeling it. Sigh…harder than I thought.
Then I started thinking about all the vegan meat products available on the market…replacements for chicken breast, beef burgers, prawns, sliced deli meat, sausage, pepperoni, to name a few. But I didn't want to use those. (Not that I'm saying there's anything wrong with those products; I haven't tried many of them, but I happen to love Tofurky. I just wanted to go another route with this challenge.)
I wanted a dish that has enough protein to make it a meal, but doesn't use a meat "replacement". Or beans as a meat replacement. Or tofu.
I was thinking about classic chicken dishes, and suddenly Chicken Divan popped into my head. (I have no idea why. I actually can't remember ever eating it, although I am familiar with the dish.) Making this, I could omit the chicken altogether and get the protein from the sauce instead. No beans, no tofu, no masquerading "meat" products. Interesting.
My Vegan Pimento "Cheese" Spread came to mind; needing just a few small tweaks, it became creamy cheeze sauce perfection (just try not to eat it all with a spoon or with carrot sticks as dippers). This recipe makes about 1 1/2 cups of sauce, which I'm sure you can think of about 100 different uses for in addition to Broccoli Divan. Even just broccoli and cheeze sauce is delicious.
Ingredients
Cheddar-Inspired Cheeze Sauce:

1/4 cup (30 g) raw, unsalted cashews
1/2 cup (120 ml) boiling water
1 tablespoon olive oil
1 medium onion, diced
1 clove garlic, minced
1 tablespoon lemon juice
3/4 teaspoon tamari
1/8 teaspoon salt
1/8 teaspoon turmeric
1/4 cup (12 g) nutritional yeast

Other:

Vegan "butter", to grease the gratin dishes
3 cups (275 g) broccoli florets
2 tablespoons almond meal
1 teaspoon olive oil
Instructions
Preheat oven to 375F; lightly grease 2 small (8 oz capacity) gratin dishes with vegan "butter".
For the cheeze sauce, add the cashews to a blender and pour the boiling water on top; let the nuts soak while you cook the onion for the sauce.
Heat the oil in a medium skillet over medium heat; add the onion and cook until softened and starting to brown in places, about 5 minutes. Add the garlic and cook 1 minute more, stirring constantly.
Add the onion/garlic mixture to the blender along with the cashews and water, along with the lemon juice, tamari, salt, turmeric, and nutritional yeast. Blend until smooth and creamy.
Fill a medium saucepan with water and bring it to a boil; salt the water, then add the broccoli and cook 90 seconds. Drain the broccoli and transfer it to a bowl filled with ice water to immediately stop the cooking process; drain very well.
Add the almond meal and olive oil to a small bowl and use a fork to combine, adding a pinch of black pepper if desired.
Divide the broccoli between the 2 gratin dishes, and pour the cheeze sauce on top. Sprinkle on the almond meal/olive oil mixture and bake until browned in spots, about 20 minutes. Serve hot.
Notes
Blender: You absolutely do NOT need a fancy high-powered blender to make this cheeze sauce.
Tamari Substitution: Although both tamari and soy sauces are vegan, I used tamari instead of soy to keep this dish gluten-free. If keeping it gluten-free isn't an issue for you, feel free to use soy sauce instead.
http://www.anediblemosaic.com/broccoli-divan-vegan-grain-free-gluten-free/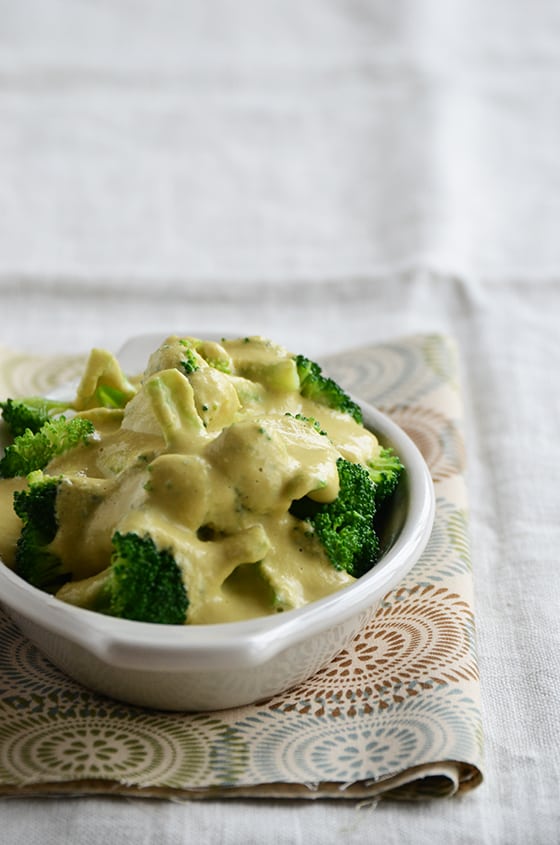 Broccoli + Cheeze Sauce. There's nothing wrong with skipping the "bread" crumbs and bake time for Broccoli Divan, and serving it like this.