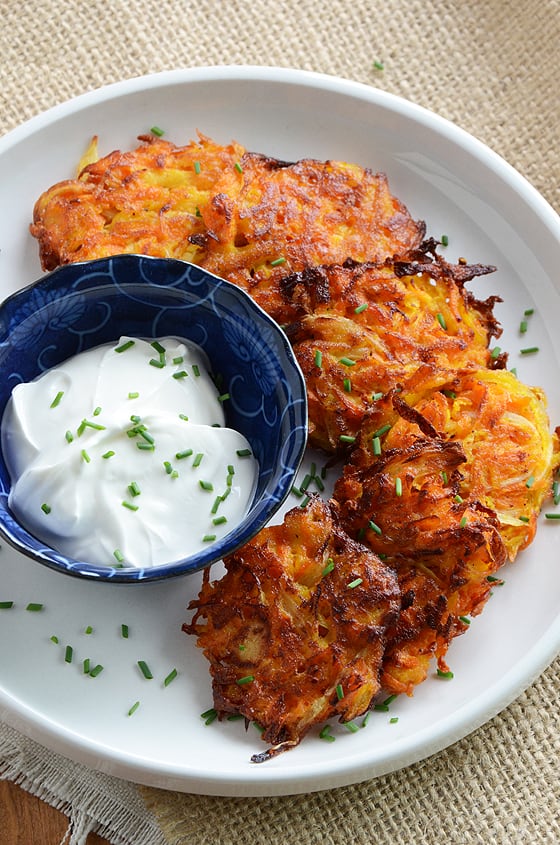 I love blurring the lines between sweet and savory recipes, like serving savory garlic-y mashed potato cakes with sweet raspberry ginger mustard chutney. Or using black pepper in a chai-spiced ricotta cake with nutmeg-scented glaze.
Once that perfect balance of flavors is struck, an ordinary dish becomes unforgettable.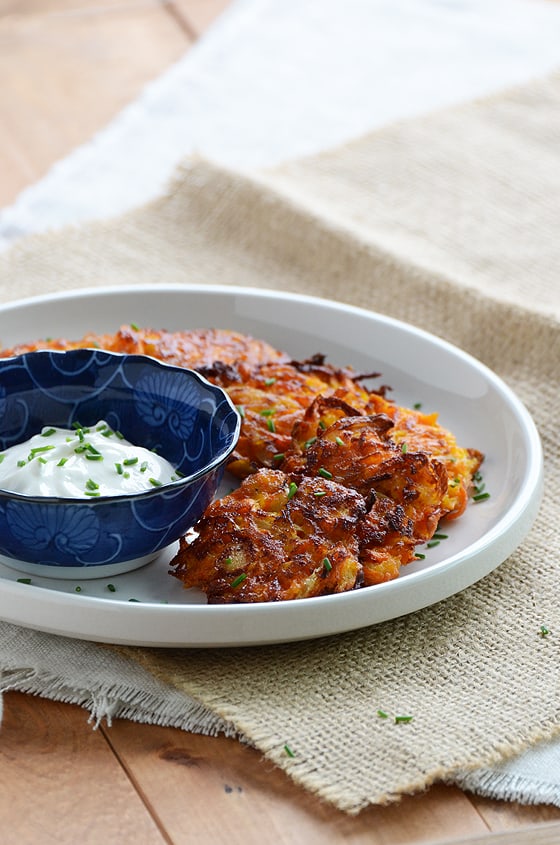 I'm so happy that apple season is here…I picked up a bag of  freshly picked apples and it became the secret ingredient in this dish, providing a slight sweetness to an otherwise mostly savory latke. The garlic is crucial; it provides just the right savory touch. The warm spices like black pepper, ginger, and cinnamon add depth of flavor and complexity.
Here are a couple important tips on making perfect latkes:
1)      As the latke batter sits, the apple, carrot, and onion will give off water. As you're scooping out the batter, tip the bowl so you can get the batter out while leaving as much of the accumulated liquid as possible (then discard the remaining liquid once the batter is gone). This helps prevent your latkes from spreading too much in the pan.
2)      To keep them from falling apart in the pan, don't move the latkes around in the pan until they are fully set on the bottom.
3)      Don't be tempted to add more flour! The batter should be thin and the latkes should be crisp, not doughy.
Carrot-Apple Latkes
Serves about 6
1/2 medium sweet, crisp apple (such as Fuji), unpeeled, cored, and shredded
2 teaspoons fresh lemon juice
2 medium-large carrots, shredded
1 small onion, thinly sliced into half-moons
2 large cloves garlic, grated
1/2 teaspoon salt
1/4 teaspoon black pepper
1/4 teaspoon ground ginger
1 pinch ground cinnamon
2 large eggs, lightly beaten
2 tablespoons all-purpose flour
Oil, for shallow frying
Sour cream, for serving
Minced fresh chives, for serving.
***Please Read Tips Above Before Making These***
As soon as you shred the apple, toss it together with the lemon juice in a medium bowl. Stir in the carrot, onion, garlic, salt, black pepper, ginger, and cinnamon, then stir in the egg. Stir in the flour just until incorporated, being careful not to over-mix.
Preheat a large skillet over medium-high heat; add enough oil to generously coat the bottom.
Once the oil is hot, use a 1 1/2 tablespoon scoop to measure the batter into the oil, being careful not to over-crowd the skillet. Cook the latkes until golden on both sides, about 2 to 4 minutes per side, flipping once. (You can adjust the heat down as necessary so the latkes don't cook too quickly.) Transfer the cooked latkes to a paper towel-lined plate to drain excess oil, and cook the rest of the batter the same way. (Using a 1 1/2 tablespoon scoop, you should get about 16 to 18 latkes.)
Serve hot with minced fresh chives sprinkled on top, along with sour cream.