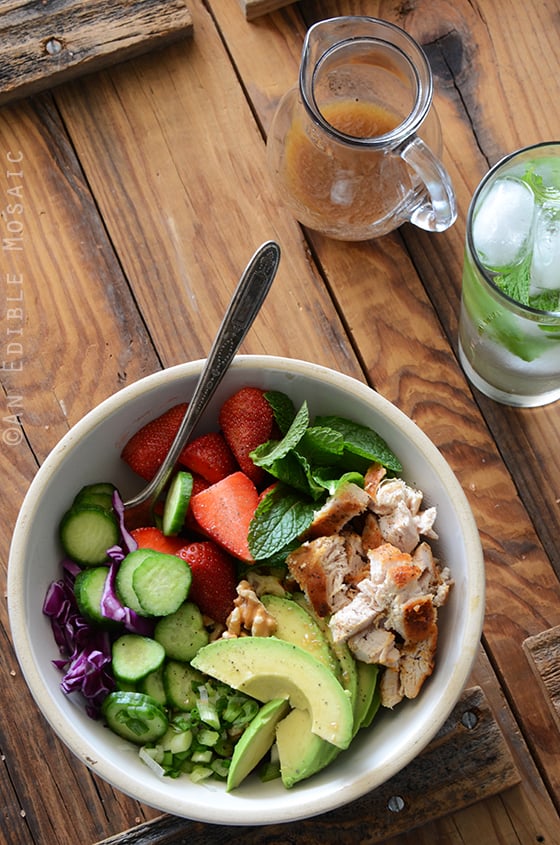 I have a weird method of cooking for Mike and I.
One thing I adore about him is how even though he is a crazy-picky eater, if it's a dish he likes, he doesn't mind eating it for leftovers…for a week straight. Yup, I'm a lucky girl.
So as per his request, I usually end up making a big batch of one of his favorite meals and packing it up in individual portions so he can take one to work every day.
That leaves me on my own to make whatever I want for myself.
I usually raid the fridge or freezer for leftovers, or take a peek into the pantry to see what can be whipped up quickly. In the end, it's usually a salad that I put together using any odds and end that we have on hand.
This satisfying salad came together that way, and I consider it proof that dinner doesn't have to be fancy or complicated to be gorgeous. Some of the ingredients might sound strange in there, but everything comes together perfectly on your palate.
What is your go-to meal when you're cooking for one?
Ingredients
Salad:

1 cup chopped red cabbage
3-4 oz (85-115 g) grilled, seared, or roasted chicken breast, chopped
1 Persian cucumber (or 1/3 English cucumber), thinly sliced
1/2 avocado, sliced
1/2 cup strawberries, hulled and halved
2 sprigs fresh mint leaves, stems removed
1 large scallion, white and green parts, thinly sliced
2 tablespoons chopped walnuts

Raspberry Vinaigrette:

1 tablespoon raspberry vinegar (or any fruity vinegar)
1 tablespoon extra-virgin olive oil
Sea salt
Freshly grated black pepper
Instructions
Place the cabbage in the bottom of a medium-sized bowl. Arrange all other ingredients on top.
Whisk together the salad dressing and drizzle it on top of the salad.
Serve.
http://www.anediblemosaic.com/chicken-salad-bowl-with-avocado-strawberry-and-walnut-paleo/