A couple weeks ago my mom and sister came over for coffee one afternoon; snacks were a must and I was prepared with these muffins.
As my mom reached for one, she asked what they were. Just give them a taste…you'll like them, I coaxed. (I didn't want to turn her off to them before she had even tasted them by saying they're paleo…my mom is a healthy eater, but she's very much a traditionalist. She hears paleo and thinks cardboard texture and flavor.)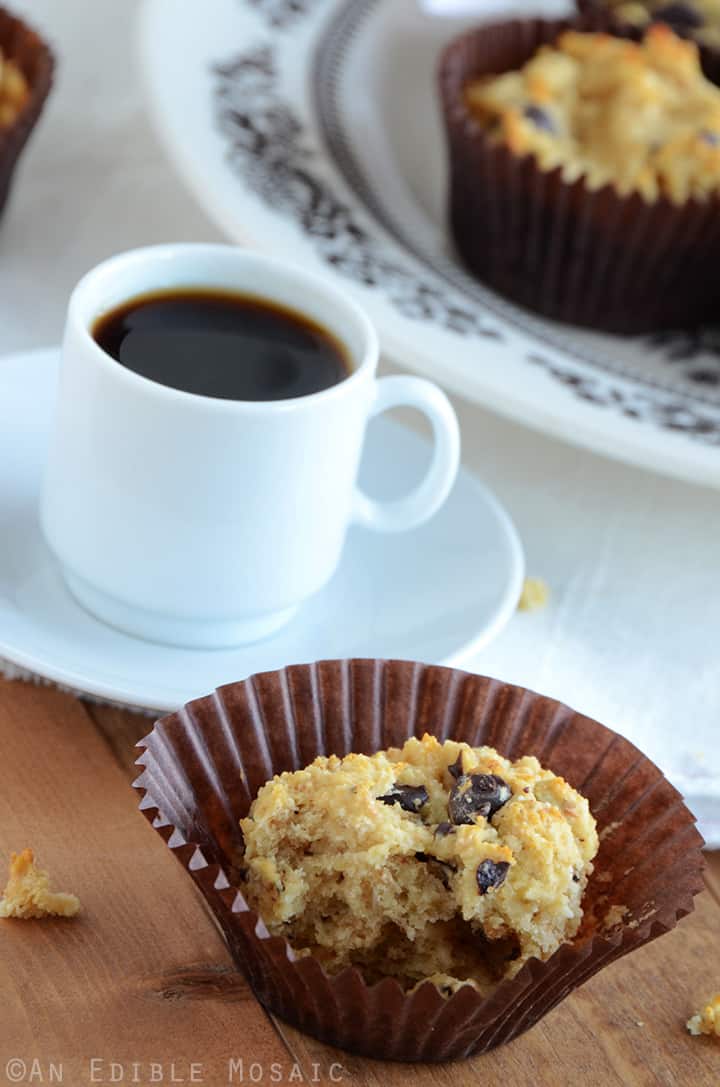 She looked at the muffins, and then picked one up. She took the bait.
Oooh, they're good! Chocolate chip with coconut?
And then I got to tell her what was actually in them. :)
I know a lot of you probably know about the nutritional benefits of coconut flour (it's low-carb, gluten-free, high in protein, and high in fiber, to name a few), but when coconut flour based-muffins get two thumbs up from a regular-food-loving lady, it really piques your interest, doesn't it? (You can read more about the health benefits of coconut flour on Pure Zing or Coconut Research Center.)
Ingredients
3/4 cup almond meal
1/2 cup unsweetened, flaked dried coconut
1 large egg
1/2 cup plus 2 tablespoons coconut milk (homemade or store-bought)
1/4 cup honey
2 tablespoons light olive oil
1 1/2 teaspoons pure vanilla extract
1 packet stevia
1/2 cup coconut flour
3/4 teaspoon baking powder
1/2 teaspoon baking soda
1/4 teaspoon salt
2 oz good-quality dark chocolate, chopped (see Note)
Instructions
Toast the almond meal and coconut in a large skillet over medium heat until golden, about 3 to 5 minutes, stirring constantly. Transfer to a bowl and cool completely (it will scorch if you leave it in the hot skillet); set aside for now.
Whisk together the egg, coconut milk, honey, oil, vanilla, and stevia in a large bowl. In a separate bowl, whisk together the almond meal/coconut, coconut flour, baking powder, baking soda, and salt. Whisk the dry ingredients into the wet and then fold in the chopped chocolate. Let the batter rest 3 minutes (it will be fluffy but fairly stiff), then scoop about 3 tablespoons of batter into each muffin well.
Bake until light golden and a toothpick inserted inside comes out clean, about 14 to 16 minutes.
Notes
Chocolate: To keep this paleo, use dairy-free, stevia-sweetened dark chocolate.
http://www.anediblemosaic.com/coconut-chocolate-chunk-muffins-gluten-free-naturally-sweetened/