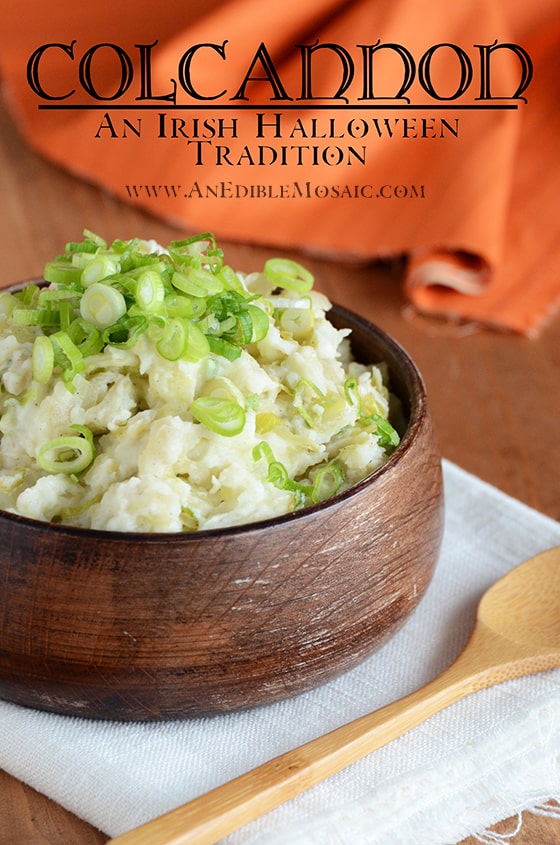 Halloween isn't my favorite holiday. I kind-of see it as a non-holiday holiday that must be endured before the real holiday season can be ushered in (and for this I apologize to my darling Halloween-loving readers!).
But…I will admit there are some fun things about it. Costumes, for example. And jack-o-lanterns. Scary movie marathons. And if you're still young enough to do so, trick-or-treating is always a blast (who would refuse free candy, right?). These are the traditions that I grew up associating with Halloween.
I think it's interesting to see how people in other parts of the world celebrate the same holiday, which is why I was intrigued when I recently found a recipe for Colcannon, a traditional Irish Halloween dish, in a cookbook called Irish Pub Cooking. Colcannon is basically mashed potatoes with cabbage (or kale) and some kind of onion. (The recipe I used called for scallion, but that just wasn't enough onion for me so I added a regular cooking onion as well; the book said you could substitute leeks if you prefer, so I'm guessing just about any kind of onion will do.) The recipe also has a somewhat obscene amount of butter and half and half (as do so many recipes for mashed potatoes), but in my humble opinion, this tastes so much better than most mashed potato dishes out there and at least it comes with added cabbage and onion.
So, a little bit about the custom. Years ago (or perhaps it's still done to this day?), it was traditional to serve Colcannon for Halloween and hide coins or small charms in Colcannon. If it was coins that were found, the finder would have good fortune in the upcoming year; if charms were used, the particular charm would determine the finder's future – for example, a button meant the finder would stay a bachelor for the year, and a thimble meant the finder would stay a spinster. I've also heard tales of Colcannon pertaining to marriage. Legend has it that an unmarried woman would put Colcannon into a stocking and hang the stocking on the door…apparently the next unwitting chap to come through the door was her future husband!  You can read more about Irish Halloween traditions and recipes on IrishCentral.)
I made this lovely dish for dinner with my parents' a couple weekends ago (I served it with a fantastic pantry-staple beef stew). I was tempted to put (thoroughly scrubbed) pennies into it, in keeping with tradition, but I feared my mom would see even scrubbed pennies as unclean (and no, I definitely do not blame her for that, lol!).
Coins present or not, this is comfort food at its finest.
Ingredients
2 lbs (about 4 medium) starchy potatoes, peeled and cubed
2 3/4 teaspoons salt, divided
1 stick (8 tablespoons) butter, divided
1 cup half and half (or milk if you prefer...I won't even suggest using cream ;) )
2 tablespoons canola oil
2 lbs (about 1 small head) green cabbage, quartered, core removed, and chopped (see Note)
1 medium onion, diced
1/2 teaspoon ground marjoram (optional; see Note)
1/4 teaspoon black pepper
6 scallions, white and green parts, thinly sliced and divided
Instructions
Put the potatoes in a medium pot and cover by 1 to 2 inches with cold water; bring to a boil over high heat, then turn heat down and simmer until tender, about 7 to 10 minutes; drain. Transfer to a large bowl and mash with 1 1/4 teaspoons salt and 4 tablespoons butter (leaving lumps if you like). Gradually mash in the half and half a little at a time so the potatoes absorb it all.
Add the remaining 4 tablespoons butter and the canola oil to a large skillet over medium-high heat; add the cabbage, onion, remaining 1 1/2 teaspoons salt, marjoram, and pepper, and cook until tender, about 10 to 14 minutes. Add 4 sliced scallions and cook 30 seconds more.
Stir the cabbage mixture into the mashed potatoes; taste and season with additional salt and pepper as desired.
Serve hot, with the remaining 2 sliced scallions sprinkled on top.
Notes
Recipe adapted from Irish Pub Cooking's recipe for Colcannon; published by Parragon Books Ltd.
Cabbage: I think Savoy or Napa cabbage could be substituted for the green cabbage, just be sure to decrease the cooking time accordingly (or if you prefer, kale can be used instead). Regarding the cooking method, in the cookbook, they shredded the cabbage and boiled it until tender, which is probably the more traditional way. I wanted to sauté it in butter, since I think there is little else in this world that's better than cabbage sautéed in butter.
Marjoram: Ground marjoram is my own twist on this recipe, since marjoram is one of my favorite herbs to pair with cabbage; feel free to omit it if you like.
http://www.anediblemosaic.com/colcannon-happy-halloween/