Today marks mine and Mike's 8th wedding anniversary, which seems completely crazy to me. (Crazy that eight years have passed, not that we've stuck together that long. Although, maybe it is a little crazy since we were so young when we got married…who says kids can't make good choices? Lol.) Anyway, people have been congratulating us all over the place for passing the "seven year itch", so I'll take our 8th anniversary as a really good omen.
I don't like PDAs (which includes PDAs on the blog!) so not to worry, I won't get all mushy here. But I will tell you a little something about our honeymoon…
We ate chocolate. Every.single.day.
Sometimes more than once a day.
We had velvety chocolate sorbets in sugar cones when we were out, spoonfuls of the creamiest chocolate ice cream eaten straight from the container in bed, and Swiss chocolate candy bars with whole roasted hazelnuts along with our Turkish coffee and Fairuz playing on the balcony in the mornings. It was bliss, no doubt the shortest three and a half weeks of my life.
Does anyone else see Batman in the pudding in the back? I don't think I could have done that as well if I had been trying. And yeah, Batman is definitely not romantic. 
Of course, being eight years older now, we don't indulge in nearly as much chocolate. But every so often, when I eat a certain kind of chocolate or when we drink Turkish coffee together in the morning or when I hear a certain song, I'll remember our honeymoon.
Last year I shared another chocolate recipe in honor of our honeymoon: Chocolate-Hazelnut Custard. That recipe is just as delicious as this one, but this one is a bit healthier; it boasts heart-healthy fats, antioxidants, and natural sweetener. This is definitely one chocolate treat I could get used to eating every day.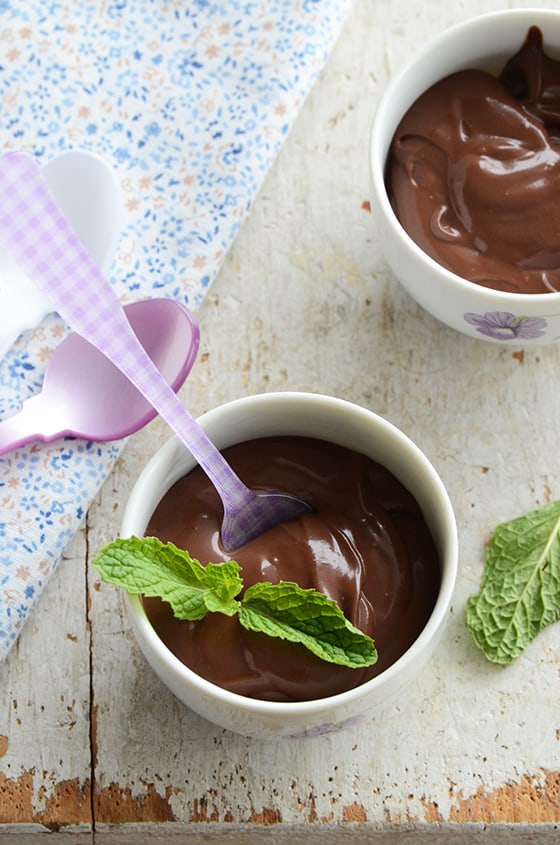 Ingredients
1 (14 oz/400 g) can full-fat coconut milk
1/2 cup (40 g) unsweetened cocoa powder, sifted
1/2 cup (120 ml) pure maple syrup
1/4 teaspoon instant coffee powder, dissolved in 1 teaspoon hot water
1/8 teaspoon coarse sea salt
1 teaspoon pure vanilla extract
Instructions
Whisk together the coconut milk, cocoa powder, maple syrup, dissolved coffee, and salt in a medium saucepan.
Bring to a boil over medium heat, then turn the heat down and simmer 15 minutes, whisking frequently. (It should be thickened, but not as thick as it is in the pictures because it will thicken more as it cools.)
Turn off heat and whisk in the vanilla.
Cool to room temperature (whisking occasionally to help the pudding cool more evenly), then transfer to an airtight container and refrigerate to chill completely before serving.
Serve chilled.
http://www.anediblemosaic.com/dark-chocolate-coconut-pudding-paleo-vegan/