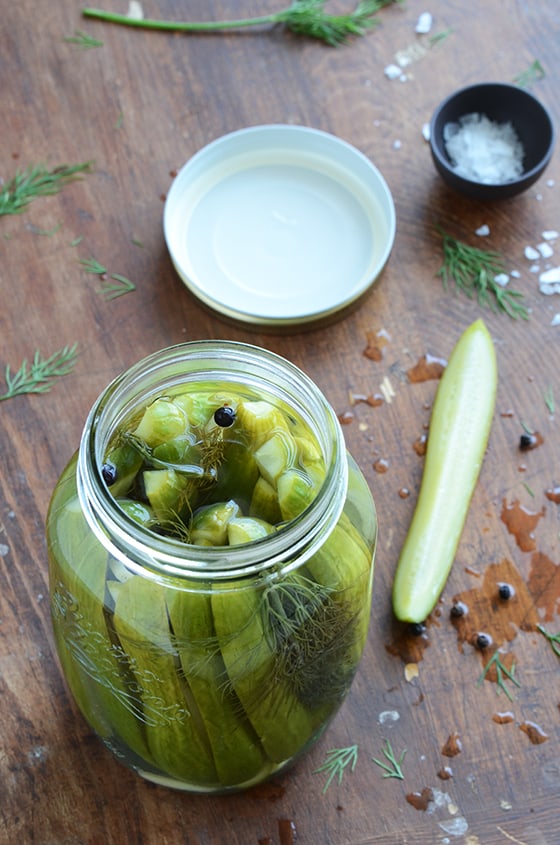 Few things in life are as rewarding as making homemade pickles.
Which, I know, sounds absolutely bizarre, but is completely true nonetheless.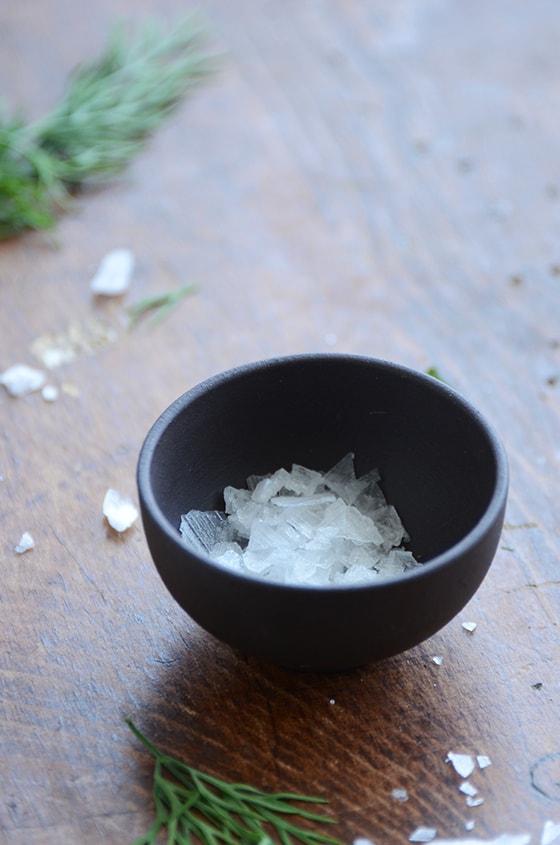 I used Maldon Sea Salt Flakes to make my pickles. Aren't they pretty?
Once you make these pickles and realize just how quick they are to make (of course not counting the two days they need to brine in the fridge – but I don't think we should count that time because you can absolutely forget about them then), and how delicious they are, I think you'll be hooked. And not only will you try to find a constant source of cute little pickling cucumbers, but you might just realize that next February in the dead of winter you most likely will not have access to fresh cucs, and therefore will not be able to make these pickles.
And I'm not speaking from experience or anything, but you might just be tempted to grow your own cucumber plant when that thought hits you.
They are that good.
But if lacto-fermentation is more your thing and you don't have a hankering for pickles that needs to be satiated in 48 hours, then my recipe for pickles in my cookbook is the one for you. Either way, your pickle craving is sure to be satisfied, and any pickle crises that may have possibly ensued from lack of pickles is sure to be averted.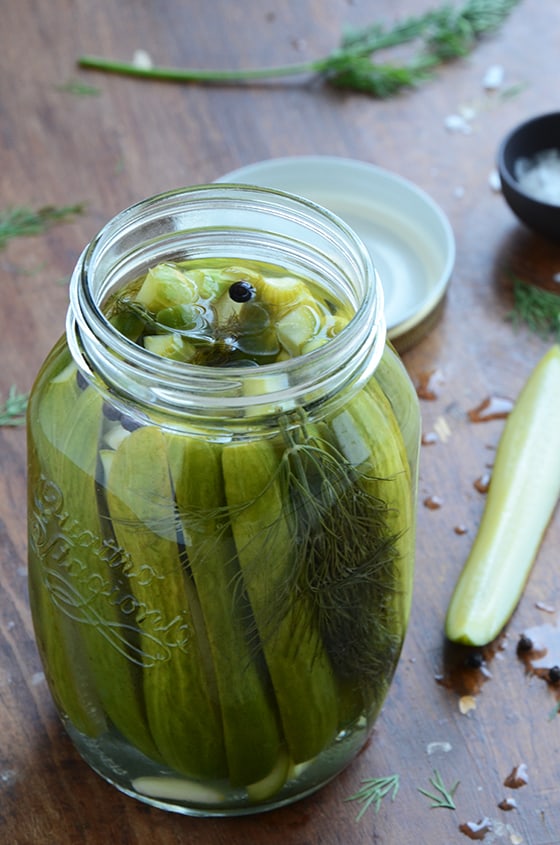 Ingredients
1 3/4 cups (415 ml) water
1/4 cup + 2 tablespoons (90 ml) distilled white vinegar
1 tablespoon sea salt flakes
1/2 teaspoon whole peppercorns
5 whole juniper berries
3 whole allspice berries
3 cloves garlic, peeled
7-10 Kirby cucumbers (also called Pickling cucumbers) cucumbers (about 625 to 675 g), washed and ends slightly trimmed
1/2 oz (15 g) fresh dill leaves (on the stem), rinsed (optional; this not only increases the dill flavor, but is also there for looks)
1 teaspoon dill seed (see note below)
Purified water, as necessary
Instructions
Add 1 3/4 cups water, the vinegar, and the salt to a small saucepan over medium heat; bring to a simmer, stirring to dissolve the salt, and then turn off heat. Add the peppercorns, juniper berries, and allspice berries and cool to room temperature. (Or for less pronounced flavors, add the spices to the liquid once it's already cooled.)
Meanwhile, sterilize a 1-liter glass jar.
Cut the cucumbers into spears by cutting them in half lengthwise, and then cutting each half lengthwise into 2 or 3 equal pieces, depending how large you like your pickles.
Put 2 cloves of garlic in the bottom of the jar. Add the cucumber spears and fresh dill (if using), and then add the remaining garlic and the dill seed on top.
Pour in the vinegar mixture (with the spices), then add enough purified water so that the cucumbers are completely covered, leaving about 1 inch of free space at the top.
Cover the jar and store refrigerated for 48 hours before eating. Stored in the fridge, these pickles will keep for up to a couple weeks.
Notes
Dill Seed: I took pictures of the first batch of pickles that I made, but they didn't have dill seed. Everyone said they could use more dill flavor, so for the next batch I made, I added 1 teaspoon of dill seed and everyone said they were perfect. The recipe here is the final updated version, but the photos are of the pickles without dill seed added.
http://www.anediblemosaic.com/garlic-dill-quick-refrigerator-pickles-small-batch/
Disclosure: This post contains Amazon affiliate links to products I believe in, which means that even though it doesn't cost you anything extra, I will receive a small amount of money from the sale of these items, which helps me keep this site alive – thank you for helping to support An Edible Mosaic!