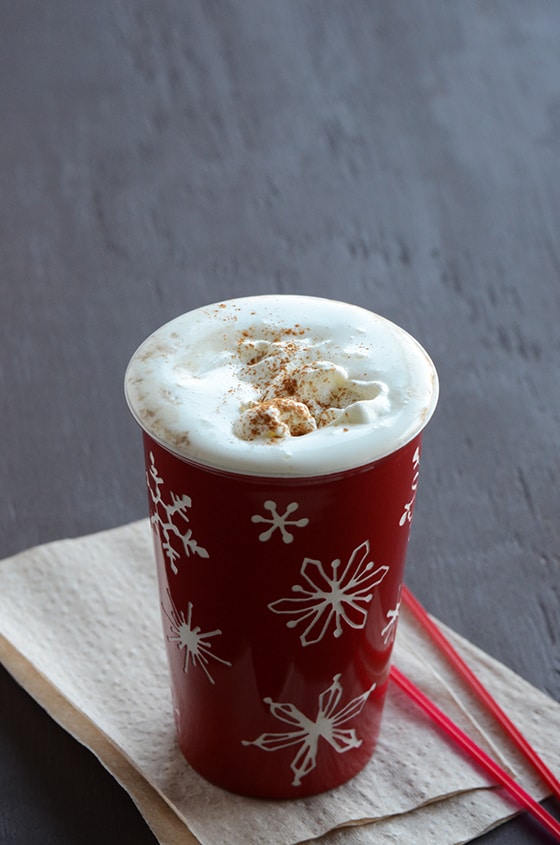 This adorable red snowflake mug was an early Christmas gift from my sweet mom – it's my new favorite! :)
I am so looking forward to the next three days.
We're a little early this year, but today Mike and I are doing our annual Christmas Godfather tradition. (And yes, I know that's weird and that The Godfather has nothing to do with Christmas. Try telling that to Mike, lol.)
We'll be roasting chestnuts, and spaghetti marinara is on the menu.
Anyone else see the Christmas tree design in the whipped cream? I would love to be able to say that it was purposeful, but I actually just noticed it when I was looking over my pictures on the computer! Really, I probably wouldn't have been able to do it if I had been trying, lol.
Tomorrow we're having our Christmas Eve appetizer party at my parents' house.
On Christmas morning we're having brunch at my parents', and in the evening Mike and I are hosting an intimate dinner party with friends, which I'm excited about. I'm thinking of either making roast beef dinner with a few sides, or instead making a French beef stew like Carbonade à la Flamande or Daube de Boeuf. And then for dessert perhaps Crème Brûlée…or maybe I'll just make it a little easier and pick up a few treats from a local pastry shop ahead of time (I won't tell if you won't, lol!). (Wish I had time to make homemade Profiteroles like I did last year!)
I'm getting ahead of myself though – back to this syrup.
This spicy festive syrup is going to be my Christmas morning treat for my family in the form of gingerbread lattes. We made homemade eggnog lattes on Thanksgiving and they were a huge hit so why not make it a tradition?
Ingredients
1 1/2 cups water
1 1/4 cups sugar
1 tablespoons ground ginger
1 1/2 teaspoons ground cinnamon
1/2 teaspoon ground nutmeg
1/4 teaspoon ground cloves
1/4 teaspoon sea salt
2 teaspoons pure vanilla extract
Instructions
Combine all ingredients except the vanilla in a medium saucepan.
Bring to a boil over medium heat, then turn heat down slightly and simmer until slightly thickened (to about the consistency of maple syrup), about 10 to 15 minutes. Swirl the saucepan as necessary to help the sugar dissolve, but don't stir.
Once thickened, turn off heat and add the vanilla.
Cool, and then pour into a lidded glass jar for storage.
Notes
Recipe inspired by and adapted from this recipe.
Storage: I store the syrup in a glass jar at cool room temperature and it keeps at least 10 days.
Serving Suggestions: Use this syrup to make gingerbread lattes, or as a topping for oatmeal, pudding, ice cream, waffles, pancakes, french toast, etc.
http://www.anediblemosaic.com/gingerbread-spice-syrup-for-homemade-gingerbread-lattes/