'Tis the season for pumpkin, as you all well know. I feel like I'm a latecomer to the party since I haven't posted anything with pumpkin yet this fall! 
I realize that there's no shortage of pumpkin recipes in the blogging world; nevertheless, I'm going to make it up to you. Every Friday from now until Thanksgiving I'm going to post a different pumpkin recipe. I decided to start with a savory dish, since pumpkin is most commonly used in sweet applications (and I guess I'm just a little bit of a rebel like that, lol).
This curry has a nice balance of sweet, spice, and heat, and I like to squeeze fresh lemon juice on top right before serving for a little tang. It's great served with basmati rice or naan bread, or eaten on its own as stew.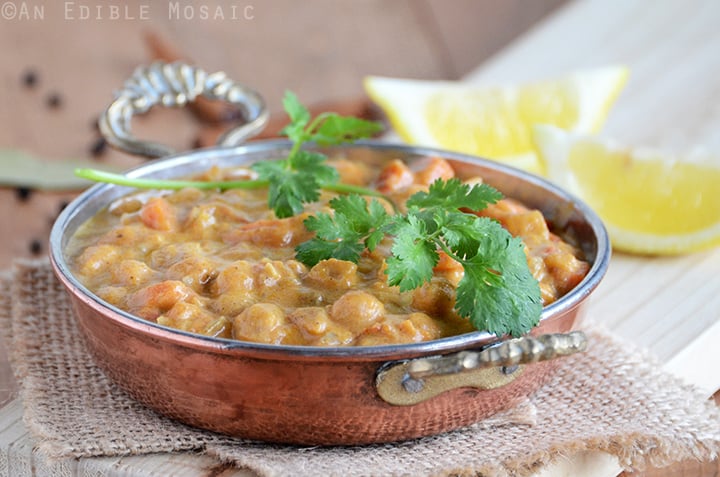 Ingredients
2 tablespoon olive oil
1 medium-large onion, diced
3 medium carrots, thinly sliced
1/4 teaspoon crystal salt
1 large tomato, diced
1-2 jalapenos, deseeded if desired, and minced (more or less to taste)
2 large cloves garlic, minced
1/2-inch piece fresh ginger, grated
1 1/2 teaspoons Garam Masala Spice Mix, divided
1/2 teaspoon ground coriander
1/4 teaspoon black pepper
1/8 teaspoon cinnamon
1 bay leaf
1 cup pumpkin puree
2 cups low-sodium vegetable stock
1 (15 oz) can garbanzo beans (chickpeas), rinsed and drained
1/4 cup canned full-fat coconut milk
Fresh lemon wedges, for serving (optional)
Fresh parsley or cilantro leaves, for garnish (optional)
Instructions
Heat the oil in a medium saucepan over medium-high heat; add the onion, carrot, and salt, and cook until the onion is starting to soften, about 5 minutes, stirring occasionally.
Add the tomato, jalapeno, garlic, and ginger, and cook 2 minutes, stirring constantly. Add 1 teaspoon Garam Masala, coriander, black pepper, cinnamon, and bay leaf, and cook 1 minute more, stirring constantly.
Add the pumpkin and vegetable stock; bring up to a boil.
Cover the pot (leaving the lid ajar), and turn heat down to simmer; cook until the carrots are tender, about 10 to 15 minutes.
Add the chickpeas and cook 3 minutes, then add the coconut milk and cook until warm throughout, about 2 minutes. Stir in the remaining 1/2 teaspoon Garam Masala.
Taste and season with additional salt and pepper as desired.
Serve with fresh lemon wedges to squeeze on top, garnished with fresh parsley or cilantro, if desired.
http://www.anediblemosaic.com/pumpkin-chickpea-curry/
I'm sending this recipe off to Swanson's 2011 Blogger Recipe Contest!