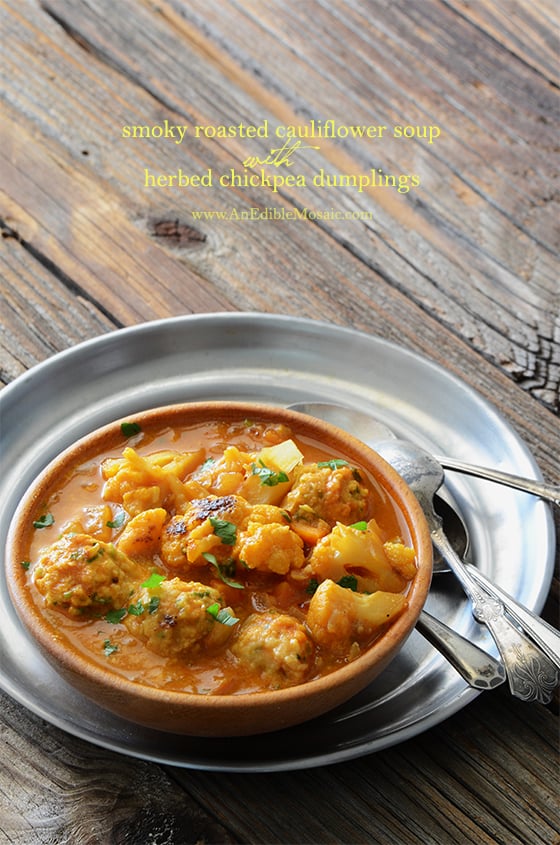 This soup is full of surprises.
For starters, if you're not crazy about cauliflower (no worries, we can still be friends…I had a bad experience a while back and I went through a cauli-averse phase myself…so I get it), this soup might win you over. The broth is off-the-charts flavorful, and by association the cauliflower is pretty fantastic too.
Another surprise, if you're a big meat eater, you might not miss meat even a little with this hearty soup. The herbed chickpea dumplings are not only rich in fiber and protein, but they kind-of look like meatballs so your eyes might start to play tricks on you.
And if you're seriously into grains and think they have a place at every meal (hi, Mom!), you probably won't miss them when you sit down to a bowl of this awesomeness. Grain-free dumplings made from high-protein chickpea flour give the illusion of a carb-y treat…but they're better. They're delicious, and so much more nutrient-dense.
I know a lot of the time smoky (as pertaining to food) = bacon. Not here, friends. Smoked paprika is beautiful in this dish, especially paired with sweet paprika and a touch of hot paprika. It's a trifecta of paprika perfection.
Take note, the dumplings are made from chickpea flour and they do taste like chickpeas! If that's not your thing, you can skip them and add one or two cans of any kind of beans you like (of course chickpeas would be perfect, but white beans would be equally great) to bump up the protein. Using canned beans instead of making the dumplings also shaves about 15 minutes off the cooking time!
Plus, I should mention, this meal is also relatively budget-friendly. If you have a well-stocked pantry, you'll probably only need to pick up a couple things from the grocery store to make it.
How is that for a fabulous weeknight meal?
Ingredients
Soup:

1 3/4 lbs (800 g) cauliflower florets, cut into bite-sized pieces (about 6 cups)
6 tablespoons olive oil, divided
1/2 teaspoon salt, divided
2 medium-large onions, diced
2 medium carrots, chopped
5 large cloves garlic, minced
2 bay leaves
1 teaspoon smoked paprika
1 teaspoon sweet paprika
1/2 teaspoon turmeric
1/4 teaspoon hot paprika (more or less to taste)
1/4 teaspoon black pepper
6 cups (1.4 liters) low-sodium vegetable stock
4 3/4 oz (135 g) tomato paste
1 teaspoon vegan Worcestershire sauce
1 teaspoon soy or tamari sauce

Dumplings:

1 1/2 cups (180 g) besan (chickpea flour, also known as gram flour)
3/4 teaspoon salt
1/2 teaspoon baking powder
3 scallions, green and white parts, thinly sliced
3 tablespoons minced fresh parsley leaves
1/2 cup (120 ml) water (or slightly more or less as needed)

Other:

Minced fresh parsley leaves, for garnish
Instructions
Preheat the oven to 400F. Toss the cauliflower with 3 tablespoons olive oil and 1/4 teaspoon salt. Spread the cauliflower in an even layer on a large baking sheet and roast until tender and browned in spots, about 20 to 25 minutes, tossing once halfway through.
Meanwhile, heat the remaining 3 tablespoons olive oil in a 5-quart pot over medium heat; add the onion and carrot and cook until slightly softened, about 10 minutes, stirring occasionally. Add the garlic and cook 2 minutes more, stirring constantly.
Add the remaining 1/4 teaspoon salt, the bay leaves, spices (smoked paprika through black pepper), vegetable stock, tomato paste, Worcestershire sauce, and soy sauce. Turn the heat up to high and bring to a simmer, then turn the heat down a bit to keep it at a simmer and cook for 10 minutes. Add the roasted cauliflower to the soup during the last 2 minutes of simmer time. Taste the soup and add additional salt and pepper as desired.
While the soup simmers, make the dumpling batter. Whisk together the besan, salt, baking powder, scallion, and parsley in a medium bowl. Use a wooden spoon to stir in the water a little at a time until it comes together into a thick dough (about the consistency of cookie dough).
Use a 1 tablespoon measure to drop the batter into the simmering soup. Lightly spoon a little broth over the dumplings, then cover the pot and cook until a toothpick inserted into a dumpling comes out clean, about 10 to 15 minutes.
Ladle the soup into bowls, sprinkle the minced fresh parsley on top if desired, and serve.
Notes
Non-Vegan: If keeping this soup vegan isn't a concern, feel free to use regular Worcestershire sauce and chicken stock instead of vegetable stock.
Reheating: Not to worry if some of the dumplings disintegrate into the soup as they're cooking – this is normal. Just a heads-up if you try to reheat the leftovers, try not to stir the soup too much because the dumplings will disintegrate even more. (Of course the soup still tastes fine this way…it just isn't as pretty.)
Time-Saver: Instead of making the dumplings, add 1 or 2 cans of chickpeas (rinsed and drained) to the soup instead.
http://www.anediblemosaic.com/smoky-roasted-cauliflower-soup-with-herbed-chickpea-dumplings-vegan-grain-free-gluten-free/