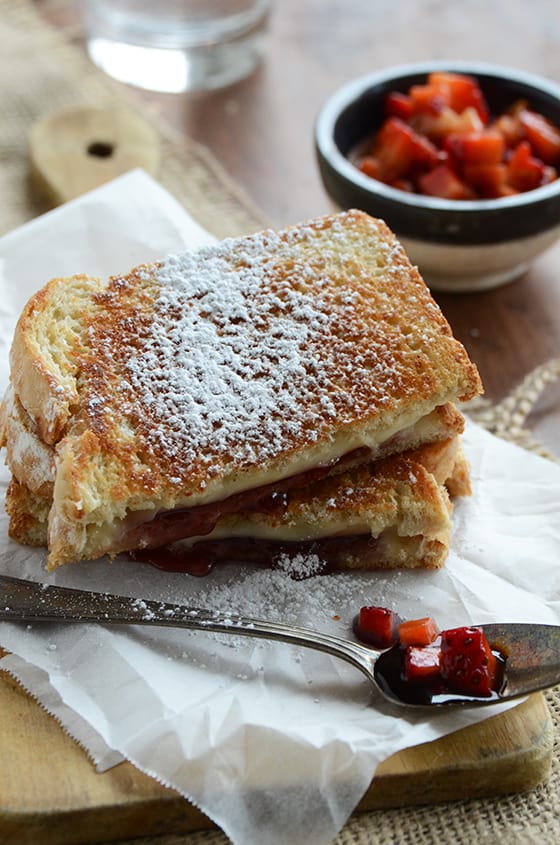 Grilled cheese, the iconic American sandwich, is a favorite of most kids growing up and never stops being comfort food, even to adults. Crisp and buttery outside and gooey with melted cheese inside, it's the perfect sandwich, even in its most basic form.
I grew up on American cheese-grilled cheese sandwiches, usually paired with tomato soup, which was of course the perfect accompaniment for dipping purposes. As my sister and I would greedily scarf down our sandwiches and soup, my mom would enjoy grilled cheese of a different kind: a much more grown-up version, usually with a sweet flair.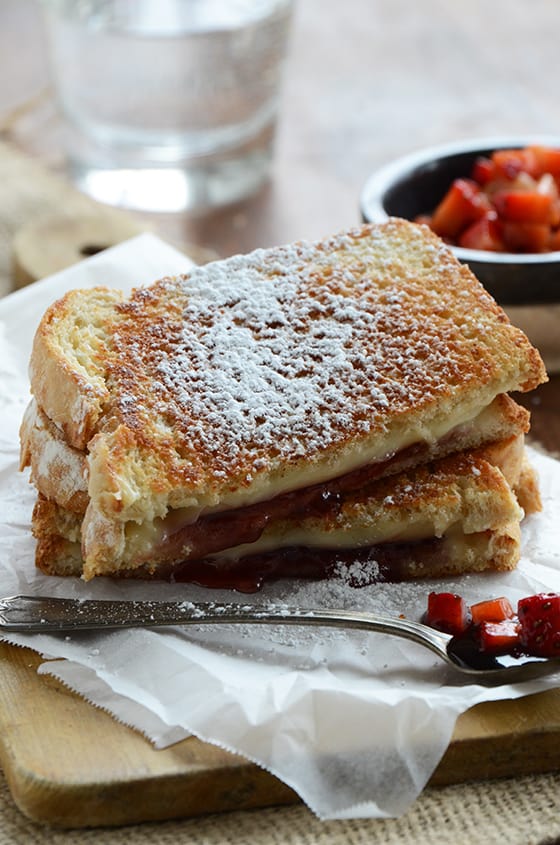 To my sister and I, American cheese was the only cheese that was acceptable in such a sandwich; mom thought differently, using other kinds of cheese, and not stopping there with her deviant ways: more often than not, she made a sweet version, spread with jam and sometimes sprinkled with a light dusting of powdered sugar. My sis and I disliked such concoctions that were so unlike the grilled cheese that we were used to.
Nowadays I enjoy mixing it up, giving grilled cheese a bit of a grown-up makeover or unexpected twist. Sometimes I make a much healthier version of my favorite calzone, adding veggies like spinach, onion, and garlic. Other times I keep it slightly sweet and very simple using classic flavor combos like cranberries, nuts, and cheese.
In honor of National Grilled Cheese month, I was excited to participate in Kitchen PLAY's "30 Days of Grilled Cheese" event, sponsored by Land O Lakes® Deli Cheese. With the sandwich I made, I took a cue from my mom and went with her favorite: strawberry jam and cheese, with a sprinkling of powdered sugar. It tastes like a cheese Danish; a fresh, piping hot, lovely cheese Danish.
Land O'Lakes takes pride in producing top-quality cheese products, and I was happy to find out that Land O'Lakes is a farmer-owned cooperative, consisting of independent farms, large and small. These farmers take pride in providing the best ingredients to go into all Land O'Lakes cheese products.
Throughout April until May 1, Land O'Lakes will donate $1 to Feeding America every time someone pins or repins a Land O'Lakes recipe on Pinterest. That's eight meals for a hungry family when you pin a recipe – and eight more every time anyone else repins it. Giving goes viral. Find your favorite Grilled Cheese recipe to pin on www.landolakes.com.
Ingredients
1 teaspoon honey (preferably raw, local honey)
1 teaspoon good quality balsamic vinegar
1/2 cup (75 g) diced fresh strawberries
4 slices of your favorite bread (I like sourdough for this sandwich)
4 teaspoons butter, at room temperature
3 slices Land O Lakes® Deli American Cheese
3 tablespoons strawberry preserves
1 teaspoon powdered sugar, for garnish (optional)
Instructions
Mix together the honey and vinegar in a small bowl and stir in the strawberries; set aside for the berries to macerate while you make the sandwiches.
Spread 1 teaspoon butter on 1 side of each slice of bread.
Place 1 slice of bread (butter side down) on a cutting board; top each with 1 1/2 tablespoons strawberry preserves and 1 1/2 pieces of cheese. Place the remaining slice of bread on top (butter side up).
Grill the sandwiches in a large skillet (or on a griddle) over low heat until golden on both sides.
To serve, transfer each sandwich to a plate and sprinkle on a dusting of powdered sugar if desired. Serve the sandwiches hot along with the macerated strawberries to spoon on top.
http://www.anediblemosaic.com/strawberry-grilled-cheese-with-fresh-strawberry-balsamic-relish/
Disclosure: This post was sponsored by Land O'Lakes as part of the Kitchen Play Sidecar series. As always, all opinions given are my own.