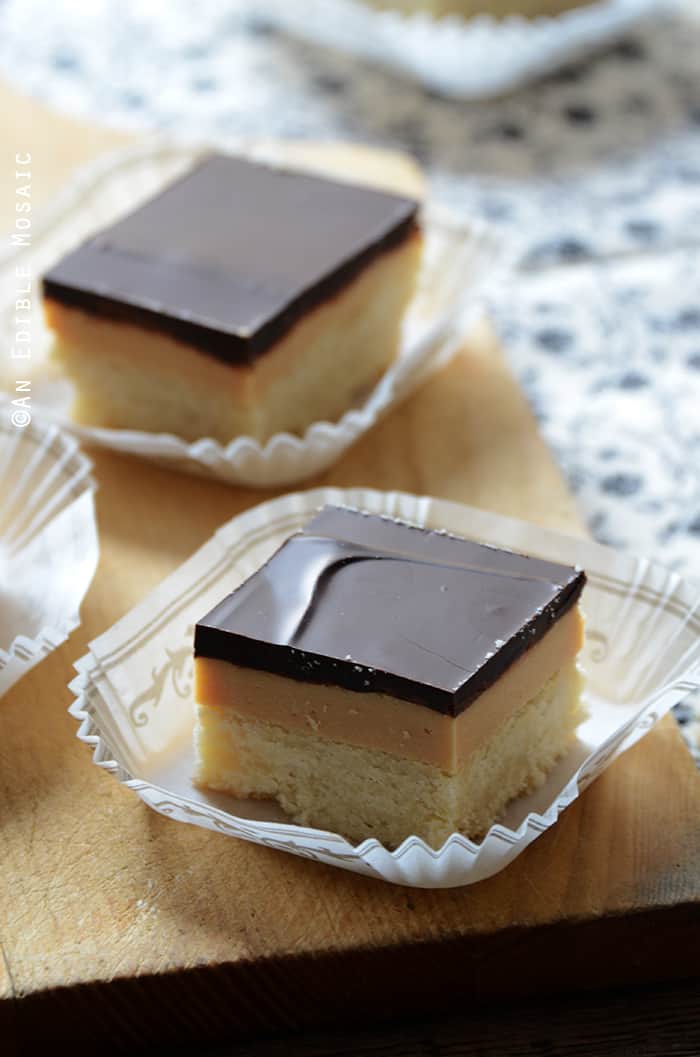 Twix is my husband's favorite candy bar, and I immediately knew I wanted to make him these bar cookies when I first saw the recipe for Millionaire's Shortbread on Joy of Baking.
Millionaire's Shortbread is nothing other than shortbread topped with a layer of caramel and then a layer of chocolate – just like Twix! It's a pretty simple and straightforward recipe to make; the only thing that's even a little difficult/time consuming is the caramel filling.
In her recipe on Joy of Baking, Stephanie uses sweetened condensed milk to make the caramel filling. She says to turn the sweetened condensed milk into caramel, you can either cook the milk down using a stovetop double boiler or the microwave. (I usually go with a stovetop double boiler, but to give you fair warning, it takes quite a bit of time and needs supervision, so plan on being in the kitchen for an hour and a half if you go with that method.)
Paula Deen explains another method for caramelizing sweetened condensed milk. In her recipe for Banoffee Pie, Paula uses the oven to turn the sweetened condensed milk into caramel. To be honest, I've had sketchy success with this method in the past, which is why I usually stick with the stovetop double boiler method. Another interesting method for making caramel from sweetened condensed milk is to boil it directly in the can; The Tough Cookie describes this method here. (Just be forewarned, cans have exploded, so be sure you read her post fully and take precautions if you go with this method!)
Last but not least, I recently stumbled on what looks like the easiest (and quickest!) method for making dulce de leche (aka milk caramel) from sweetened condensed milk. Claire Robinson uses a stovetop method but without the double boiler in her recipe for Millionaire's Shortbread, which is much faster! Next time I make these bar cookies I plan on trying this method.
So, about these cookies…they're a cute homemade twist on a classic candy bar and they always go over well at parties. They're also a fun addition to a Christmas cookie platter!
Ingredients
12 tablespoons (1 1/2 sticks) unsalted butter, at room temperature
1/4 cup white sugar
1 tsp pure vanilla extract, divided
1 1/2 cups all-purpose flour
1/4 + 1/8 teaspoons salt
1 (14 oz) can sweetened condensed milk
6 oz good-quality dark or semisweet chocolate (I use 65% cacao)
Instructions
For the shortbread, preheat the oven to 350F; line a 9 by 9-inch pan with 2 pieces of parchment paper so that the paper hangs over the edges. Cream together the butter, sugar, and 1/2 teaspoon vanilla until light and fluffy. Add the flour and salt and stir to combine. Press the dough into the prepared pan and bake until lightly golden, about 20 minutes. Cool on a wire rack.
For the caramel filling, add the sweetened condensed milk and remaining 1/2 teaspoon vanilla to a heatproof bowl set over a saucepan of simmering water (make sure the water level is low enough so that it isn't bubbling up onto the bottom of the bowl; periodically check the water level and add more as necessary so the pan doesn't run dry). Drape a piece of aluminum foil over the bowl and cook until the sweetened condensed milk is thickened and light caramel in color, about 60 to 90 minutes, stirring occasionally. If lumpy, transfer to a bowl and beat until smooth. Spread the caramel as evenly as possible onto the cooled shortbread and let the caramel cool to room temperature.
Once the caramel is cool, melt the chocolate in a double boiler or microwave. Evenly spread the chocolate over the cooled caramel, and allow it to set before cutting into squares.
Store leftovers wrapped in the fridge for up to 1 week.
Notes
Recipe adapted slightly from the recipe for Millionaire's Shortbread on Joy of Baking.
http://www.anediblemosaic.com/twix-bar-cookies/
Update (November 19, 2014): I made this dish again and snapped a few pictures, so I decided to update the photos in this post.