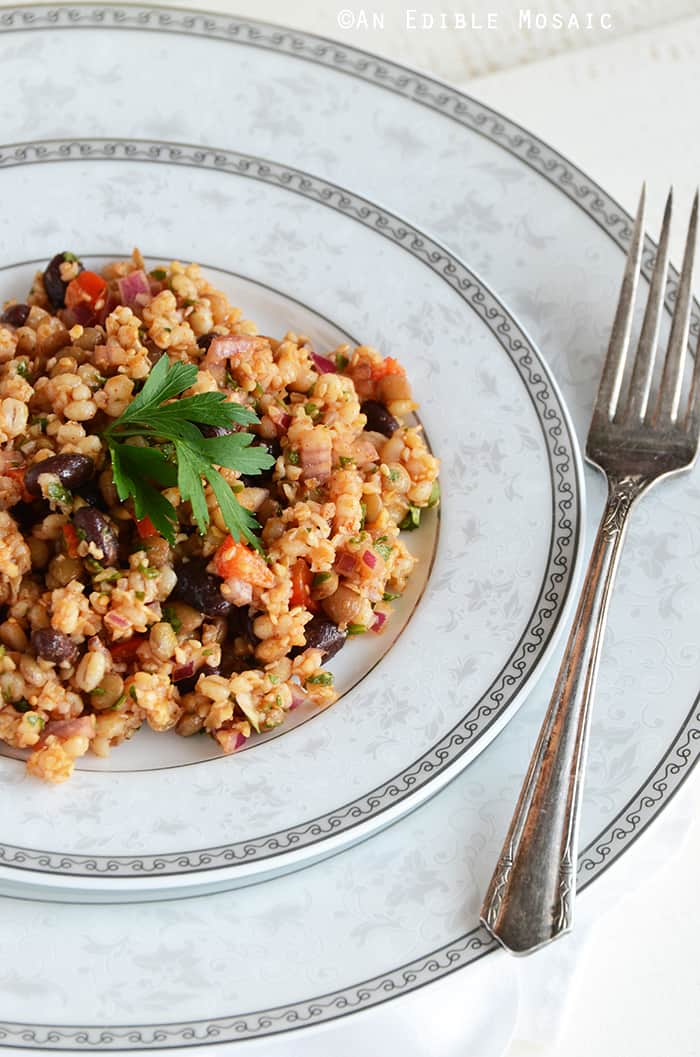 I don't know about you, but I prefer a romantic Valentine's Day meal at home over a meal at most restaurants. That way you get to enjoy a quiet meal with your loved one in the comfort of your own home without any waiting or traveling…and I'm guessing the food is just as good (or better!).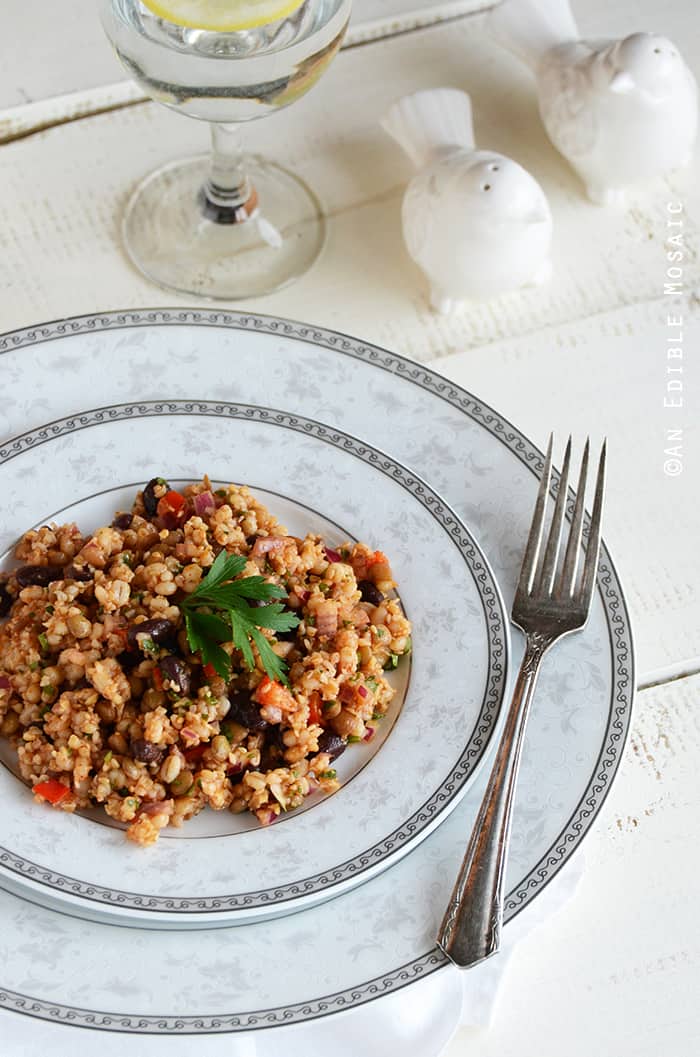 The only downside to having Valentine's Day dinner at home is the clean-up, but that's where enlisting your Valentine's help comes in. ;)
Here is the Valentine's Day menu I put together to share with you.
I made this meal for Mike a couple weeks ago (yup, before V-day…a windfall for him really, since he'll get another special meal on the actual holiday) and he just about thought he had died and gone to heaven, especially when he had the main course (roast beef for two)…but I'll tell you more on that soon. I'll be sharing each recipe in a separate post.
The first course was this beautiful salad, which is flavorful, hearty, and healthy. You'll have lots of leftovers, but don't worry, this salad keeps well in the fridge for about three to four days and leftovers make a fantastic lunch.
Ingredients
1/2 cup pearl barley
1/2 teaspoon salt, divided
1/2 cup medium-ground bulgur wheat
2 tablespoons toasted sesame seeds
3 tablespoons light olive oil
1 tablespoon sesame oil (or another 1 tablespoon light olive oil)
1/4 cup lemon juice
2 tablespoons rice vinegar
2 tablespoons tamari sauce (or soy sauce)
2 teaspoons maple syrup (see Note)
1 teaspoon sweet paprika
1/2 teaspoon garlic powder
1/4 teaspoon black pepper
1/8 teaspoon hot paprika or cayenne pepper (optional; more or less to taste)
1 small red onion, finely diced
1 red bell pepper, finely diced
1/4 cup minced fresh parsley leaves
1 cup lentils, rinsed and drained (cooked or canned)
1 cup black beans, rinsed and drained (cooked or canned)
Instructions
Put the barley and 1/4 teaspoon salt in a small-medium lidded saucepan with 1 1/2 cups hot water; cover, bring to a boil, then turn heat down to very low and simmer until the water is absorbed and the barley is tender, about 30 minutes, stirring occasionally. Strain through a fine mesh sieve to remove any excess water, then cool and fluff.
While the barley cooks, soak the bulgur. To do so, put the bulgur and the remaining 1/4 teaspoon salt in a medium bowl; add 1 cup boiling water, cover the bowl, and let it sit for 20 minutes. Strain through a fine mesh sieve to remove any excess water, then cool and fluff.
In a large bowl, whisk together the sesame seeds, canola oil, sesame oil, lemon juice, rice vinegar, tamari sauce, maple syrup, sweet paprika, garlic powder, black pepper, and hot paprika (or cayenne). Stir in the red onion, red bell pepper, parsley, lentils, black beans, barley, and bulgur.
Taste and season with additional salt and pepper as desired; refrigerate until serving and store any leftovers refrigerated for up to 4 days.
Notes
Maple Syrup: You can use honey instead if keeping it vegan isn't a concern.
http://www.anediblemosaic.com/valentines-day-menu-first-course-bean-barley-salad/