Pears, although beloved in my house, are one of the most underused fruits.  When fall rolls around I usually gravitate toward fruits like apples and grapes, but the truth is, every time I eat a pear I think wow, this is delicious…I should really start buying pears more often.  And yet, without fail, the next time I'm at the grocery store or farmers' market, I seem to find myself lured in by the other fruit.
Not this time, my friends.  I bought a huge, beautiful basket of pears and I've been enjoying them for days.  Since I seemed to barely even make a dent in the basket despite my latest pear-a-day-obsession, I thought I'd look for a way to use up a few more, which is how I stumbled upon this lovely recipe.  I found it on Smitten Kitchen, who adapted it from Sally Schneider at The Atlantic.  Like all recipes endorsed by Deb, this one was incredible.  That syrupy pear caramel that she speaks of is magic.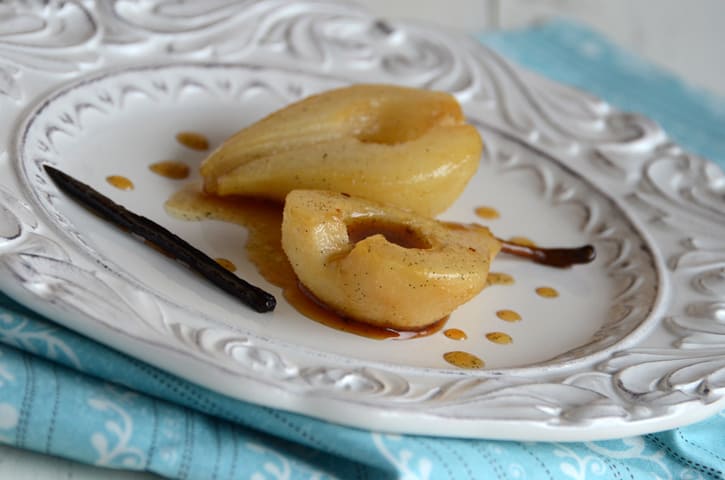 And since it's gorgeous, festive, and celebratory, this dessert was very timely, as a celebration was in order.
For what, you ask?
Alright, my lovelies.  Remember the Middle Eastern cookbook I told you I was working on?  After what literally feels like years of working on it — eating, drinking, breathing, and dreaming Middle Eastern food — I'm done.  I submitted my entire manuscript (photos and all) and I cannot say how good it feels…I'm still kind-of pinching myself actually.  The book is being published by Tuttle Publishing and is expected to be out in fall 2012, but I will keep you updated.
I know a lot of you out there (bloggers or otherwise) might be interested to know how my book came about…or how I got a publisher…or maybe even about how to write a book proposal.  Which is why I was thinking of writing a couple posts on my experience.  Please feel free to let me know any of your thoughts/comments/questions on this; I will be sure to answer any questions I can, and if I can't answer your question myself, I will try to find someone who can.
And finally, to the many friends/family members (you know who you are!) who I repeatedly invited over for lunch and/or dinner this summer and invariably served Middle Eastern food to every single time…thank you for being such willing recipe testers!  Mike and I are only two people and I had a lot of cooking to do…and there's only so much we can distribute to our neighbors and Mike's co-workers.  Which of course explains the doggie bags of Middle Eastern food I sent you home with time and time again.  ;)  
Vanilla Roasted Pears (Adapted from Deb at Smitten Kitchen, who adapted it from Sally Schneider at The Atlantic)
Serves 4 to 6
2 tablespoons white sugar
2 tablespoons brown sugar, lightly packed
1/2 of a vanilla bean, split in half lengthwise and seeds scraped out
6 medium (about 2 lb) pears, any kind you like (I used Bartlett)
2 tablespoons lemon juice
3 tablespoons water
2 tablespoons unsalted butter, diced
Preheat oven to 375F. Combine the sugars and vanilla seeds in a small bowl and set aside; reserve the vanilla pod.
Peel the pears (if desired), then cut them in half, scoop out round part of the core with a melon baller, and use a paring knife to cut out the rest of the core (leaving the stem intact, if desired).  Arrange the pears cut side up in a roasting pan.
Drizzle the lemon juice on top, then sprinkle on the sugar and dot the tops with butter.  Pour the water into the bottom of the pan and nestle the vanilla pod into the dish.
Roast until the pears are tender and caramelized (a paring knife inserted into the center should slide right out), and the sauce is slightly thickened, about 35 to 55 minutes (depending on how ripe your pears are).  While cooking, flip the pears once halfway through and occasionally spoon some of the juices from the bottom of the pan onto the pears.
Pour the pan juices into a small pitcher and serve alongside the pears to drizzle on top.