Here are 10 Easy Creamy Soup Recipes that are sure to become favorites in your home! From classic flavor profiles to international fusion flavors, there's truly something for everyone.
I love soup for so many reasons. A lot of people think of soup as a cold weather staple, but it's part of my year-round cooking repertoire!
Soup is a great clean-out-the-fridge meal to help use up whatever veggies, meat, etc. you have on hand. Additionally, soup is usually packed with nutrition. Also, it's the perfect meal for when you want to feed a crowd or don't know how many you have to feed. Lastly, soup is also relatively cost effective if you're cooking on a budget.
Creamy soup recipes are always a hit. Not only do they pack all the perks of soup in general, but they're comfort food in soup form. Who needs a carby bowl of mac and cheese when you can have Beer and Cheese Cauliflower Soup? And if you're trying to steer clear of fried foods, but love Buffalo wings, hello Buffalo Chicken Chowder.
And that's just the tip of the iceberg; you can remake just about anything into soup. Share your favorite creamy soup recipes in the comments below!
10 Easy Creamy Soup Recipes – There's Something for Everyone!
With inspiration from both Thai Panang Curry and Middle Eastern red lentil soup, this is probably the most unique soup in this creamy soup recipes round-up! The end result is a balanced Thai flavor profile with sweet, sour, salty, spicy, and umami components paired with the creaminess of red lentil soup, which is known as adas.
If you enjoy Thai flavors and are feeling adventurous, I highly recommend trying this!
Don't worry about the spicy-hot level of this soup, because it really isn't that spicy. And when you make it at home, it's easy to customize to suit your tastes (just reduce the hot sauce). With the flavor of Frank's RedHot, celery, blue cheese, and chicken, this chowder basically tastes like Buffalo wings in soup form.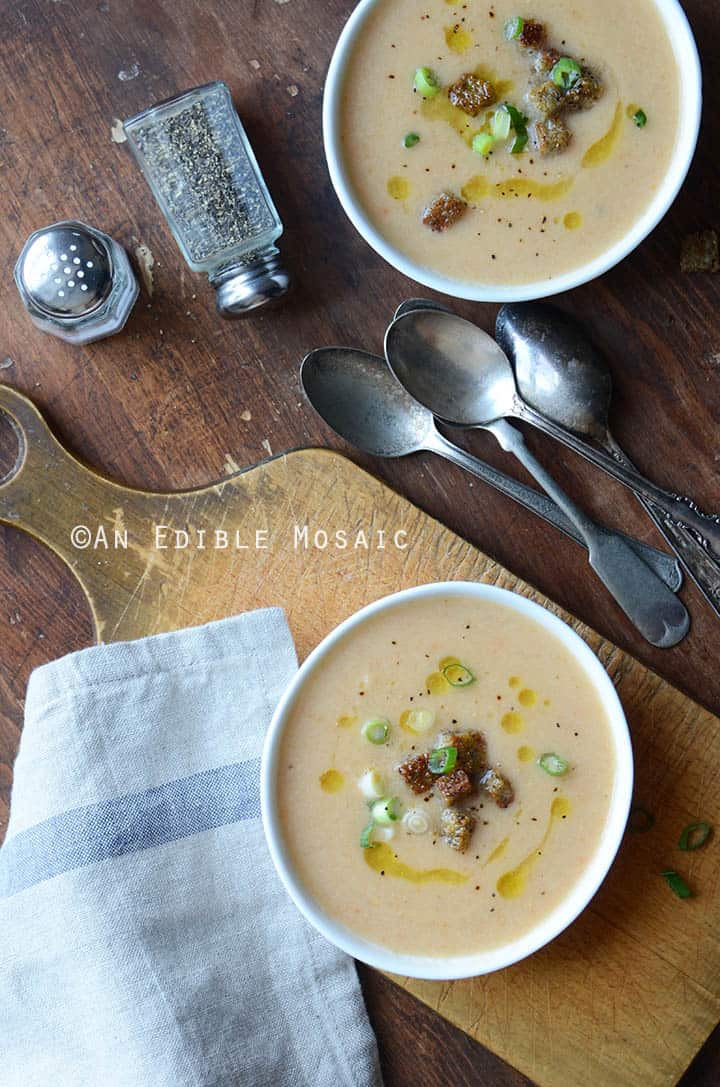 Beer and Cheese Cauliflower Soup
The beer and cheese combination is a classic one! In this recipe I use hickory-smoked sea salt and smoked Gouda cheese to lend complexity of flavor to this velvety smooth soup. And bonus, this creamy soup boats a full head of cauliflower, as well as carrot, celery, onion, and garlic for bumped-up nutrition and flavor.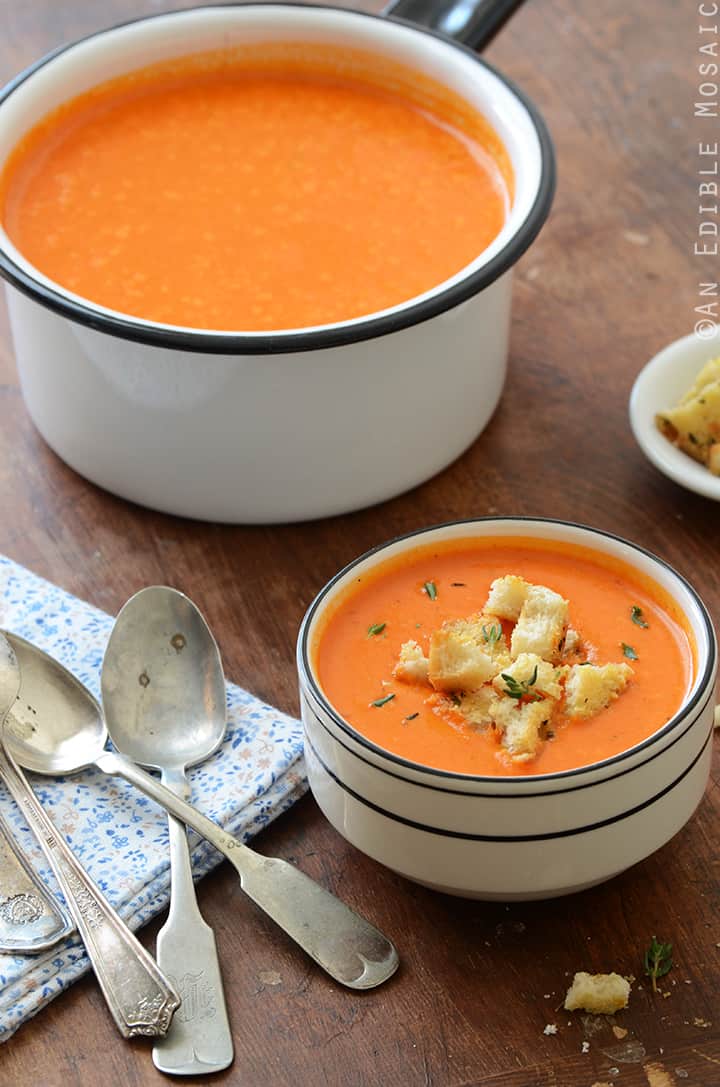 Roasted Red Pepper Soup with Cheesy Garlic and Herb Croutons
At first glance, this soup looks like creamy tomato. However, with roasted red peppers, onion, garlic, and a couple fresh herbs the flavor profile is quite different!
You can use dairy-free cream cheese or regular cream cheese in this recipe. Don't skip it because it adds creamy texture here, as well as a subtle tang.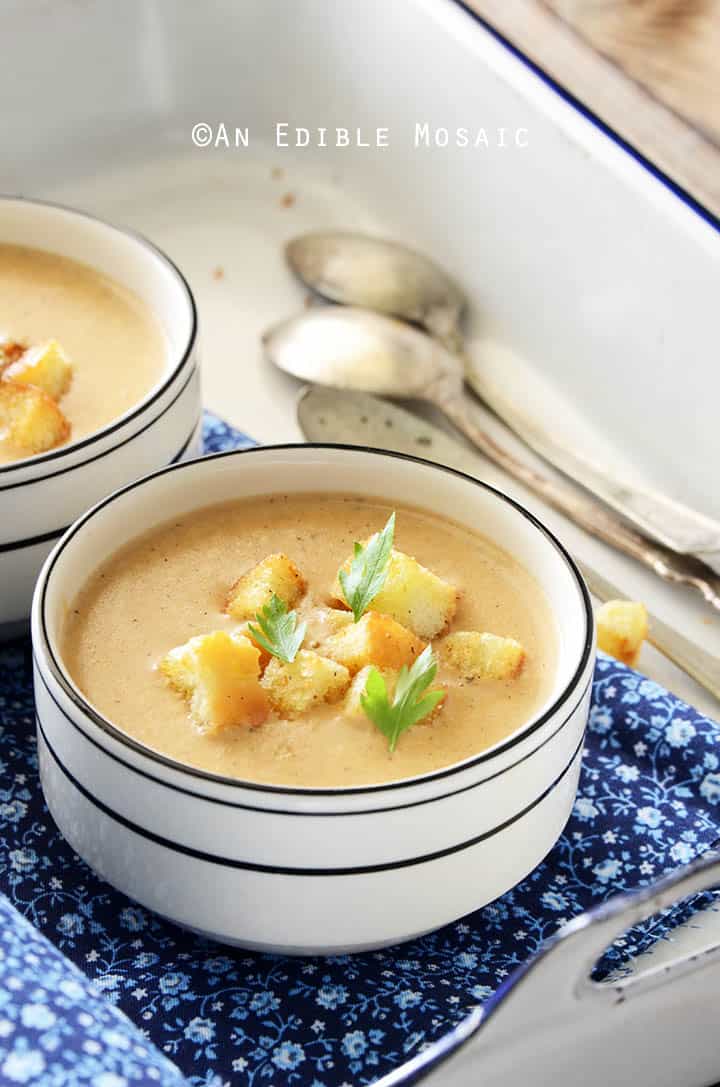 Cream of Caramelized Onion and Cheese Chowder with Homemade Croutons
The base of this rich soup is caramelized onion, which lends a subtle sweetness and depth of flavor. The other simple flavors in this dish, such as garlic, thyme, and Emmental cheese, shine through. Homemade croutons add great flavor and crunch to the dish.
Quick Creamy Chicken Paprika Soup
Sweet, smoky, and just a touch spicy, this soup features a balanced flavor profile with different forms of the same ingredient: paprika! Using sweet, smoked, and hot paprika make this a very special soup. Tomato paste, a little yogurt, and a splash of heavy cream thicken this soup.
And it freezes and reheats very well!
If you like the sandwich, you'll love the soup. This recipe is perfect for using leftover corned beef, but if you don't have any on hand you can always pick some up from the deli counter. It's loaded with vegetables (cabbage, onion, celery, and garlic), and a single potato lends body to the broth.
A touch of a caraway seeds helps mimic the flavor of seeded rye bread that's classic in the sandwich version of this dish.
Pro Tip: For the au gratin version, put the soup in a broiler-safe individual bowl and broil with Swiss cheese on top!
Roasted Carrot-Apple Soup with Paprika Brown Butter
Carrot and apple lend a subtle sweet earthy flavor to this soup, while brown butter gives it a nutty richness. Spices and aromatics such as ginger create complexity. And savory components like onion, garlic, and vegetable or chicken stock create balance.
Pro Tip: Garnish with crème fraiche and chives to make this soup is special enough to entertain with.
Of all the soups in this creamy soup recipes round-up, this one is probably the most classic. This soup starts with onion and garlic sautéed in butter. Potato adds luscious creaminess, and I leave a few pieces intact for texture. Use a good quality vegetable stock here because the flavor will make or break the soup.
Pro Tip: If keeping this dish vegetarian isn't a concern, use chicken stock to increase the richness and depth of flavor.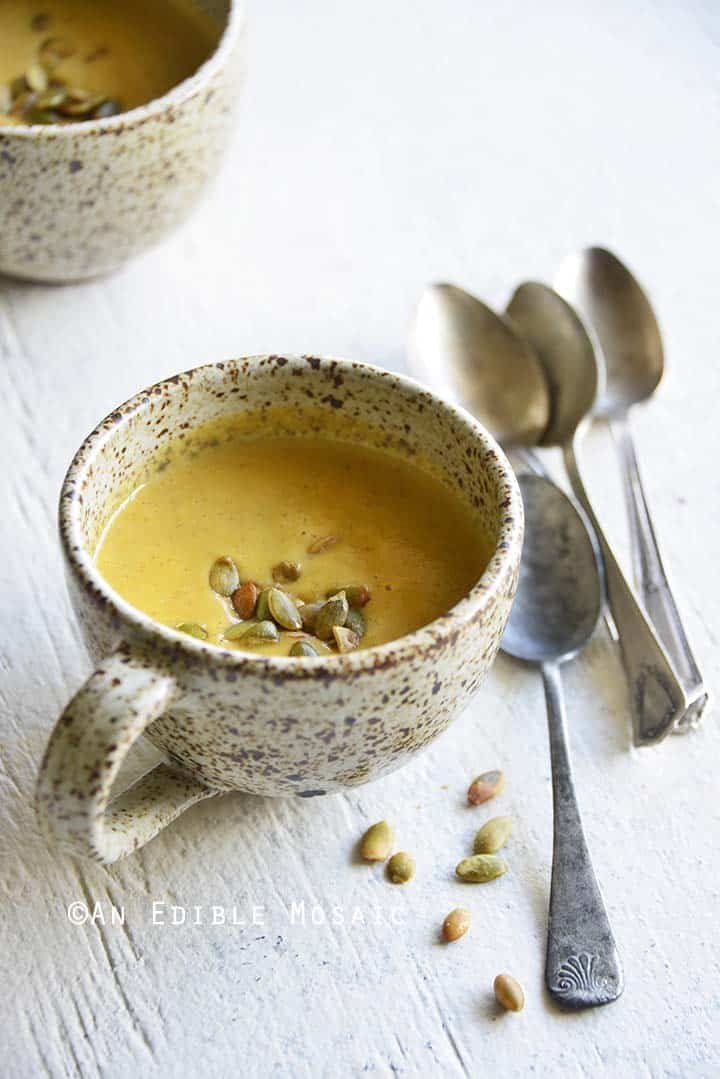 Easy Pumpkin Soup Recipe for One with Pumpkin Spice
I love pumpkin so much I have a can of it in my pantry at any given time, no matter what season it is. But this recipe is the perfect way to use up the little bit of pumpkin at the bottom of the can when you're making other things! Richly spiced with complex savory flavor, you won't believe that this recipe whips up in just 20 minutes from start to finish.
And you can easily adjust the ingredient amounts to make a bigger batch because leftovers are delicious!
Did you enjoy this article or make one of my recipes? Please rate it and leave a comment below because I love hearing from you! You can also tag @anediblemosaic on social media. To stay up-to-date FOLLOW ME on Instagram, Twitter, and Facebook. Xoxo, Faith