These 10+ Low Carb Breakfast Recipes for a Beautiful Mother's Day Brunch are easy to make, crowd-pleasing dishes that are perfect for a beautiful keto-friendly brunch or breakfast for any meal.
Brunch and Mother's Day seem to go hand-in-hand; with Mother's Day right around the corner, I wanted to share some brunch inspiration! I remember as a kid, my sister and I would wake up early on Mother's Day and head to the kitchen to make mom breakfast in bed. My sister would scramble up eggs and I'd make French toast and although we weren't the best cooks, mom would eat every single bite oohing and aahing.
If you (or mom) are keeping things lighter, a delicious low carb brunch is still easy to whip up! And it doesn't just have to be eggs (although eggs are a classic favorite). Below I share lots of ideas (there really is something for everyone), everything from a decadent-tasting pudding, to spiced zucchini bread, to a fruity drink (just click on the recipe title to go to the recipe).
I'm a firm believer that breakfast is perfect for any meal!
Low Carb Breakfast Recipes for a Beautiful Mother's Day Brunch or Any Occasion
Because we all have different tastes (and let's face it, sometimes we're sick of eggs!), I'm going to break down these low carb breakfast recipes by category.
Low Carb Breakfast Smoothie
Sometimes you want to feel like you're eating dessert for breakfast. This gorgeous smoothie is thick and rich like a milkshake with the flavor of raspberry chocolate truffle candy, with just 4g net carbs per serving!
Low Carb Egg Breakfast
This beautiful dish is easier to make than you might think, keto crust included! It's rich and savory with bacon, Gruyère cheese, and sautéed onion. Paired with a big green salad dressed with oil and vinegar, this is a satisfying meal.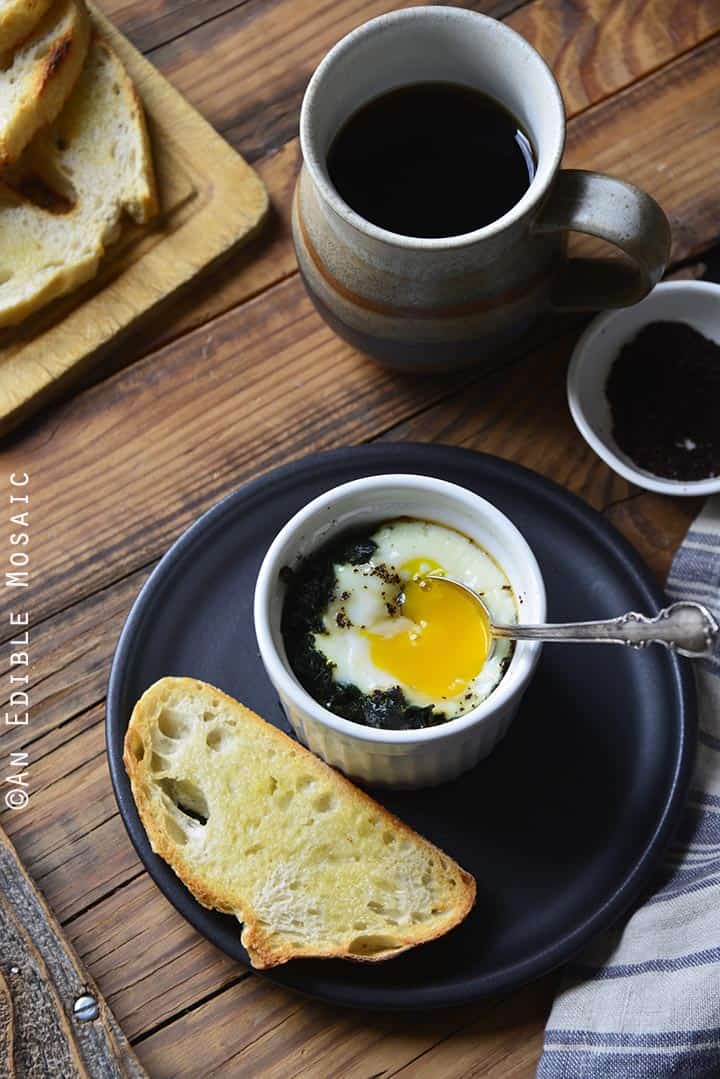 Garlicky kale with a hint of spicy heat and a pleasant slightly lemony tang from sumac serves as the base for baked eggs. Use double the amount of full-fat coconut milk (or substitute heavy cream) and add a sprinkle of cheese if you want. To keep it low carb, serve it along with a low carb or keto-friendly bread.
Nothing beats eggs baked in a creamy, cheesy mushroom mixture! This recipe serves two (along with a green salad and a slice of low carb toast), but can easily be adjusted up to feed a crowd.
This is basically a kicked up version of steak and eggs for breakfast! In addition to a glorious runny yolk (sunny-side-up, over-easy, or poached work well), the secret is in that oniony/garlicky/tangy sauce. No worries if you don't have leftover pot roast on hand, any kind of leftover meat will work, or you could even grill up a steak or brown up some ground meat. Just don't skip the sauce!
Low Carb Breakfast Without Eggs
I based the dough on the fabulous fat head method (using melted mozzarella), but the filling is where the real magic happens here. Carrot, nuts, coconut, and warm spices blend together for a cross between carrot cake and sticky buns.
A while ago I developed this recipe for my other site, The Keto Queens, and I was pretty thrilled at the result! Keto bread can be a tricky balancing act (and let's be real, overly eggy bread is never a good thing), but this recipe nails it, both with perfect texture and flavor.
Low Carb Drinks
Brunch deserves a beautiful drink! It's quick and easy to make your own blackberry syrup, and that way you get to control exactly what goes into it. The sweet/tart flavor of blackberry paired with lime is refreshing and perfect for cooling down with.
Low Carb Breakfast Muffins
Pancake cravings don't always wait for the weekend, and that's where this recipe comes in. You'll be shocked at just how much these muffins taste and smell like real pancakes (with a couple secret ingredients). People frequently ask me for low carb breakfast recipes for busy mornings and this one is perfect because you can whip up a batch on the weekend!
Grab and Go Low Carb Breakfast
Flavored like Black Forest Cake, but with rich, creamy pudding texture, this treat is sure to be a hit! You can't go wrong when something is healthy enough for breakfast but tastes decadent enough for dessert. I make these up and store them in little mason jars in the fridge; they make a perfect grab and go breakfast on busy mornings.
Low Carb Breakfast Cereal
If you miss the hearty, comfort factor of sitting down to a hot bowl of oats in the morning because you're living a low carb lifestyle, this is the recipe for you. This recipe yields one serving, so it's easy to adjust up to feed any number of people. If you're serving it as part of brunch, be sure to include a toppings bar with things like fresh berries, coconut, chia seeds, nuts, etc. so people can add their favorites.
Low Carb Breakfast Casserole
Completely full of vegetables, this quiche is a very nourishing way to start your day! The vegetables are pre-roasted before being baked into the quiche, so they add great depth of flavor. Basil brightens everything up, and pine nuts add nutty crunch. The carbs in this dish come from vegetables, but to lower the carbs even more, I like to use just half of a red bell pepper and half of an onion. These days I'll also usually swap out the almond milk for heavy cream, but either works fine.
More Low Carb and Keto Breakfast Ideas:
Did you enjoy this post or make one of my recipes? Please rate it and leave a comment below because I love hearing from you! You can also tag @anediblemosaic on social media. To stay up-to-date FOLLOW ME on Instagram, Twitter, and Facebook. Xoxo, Faith