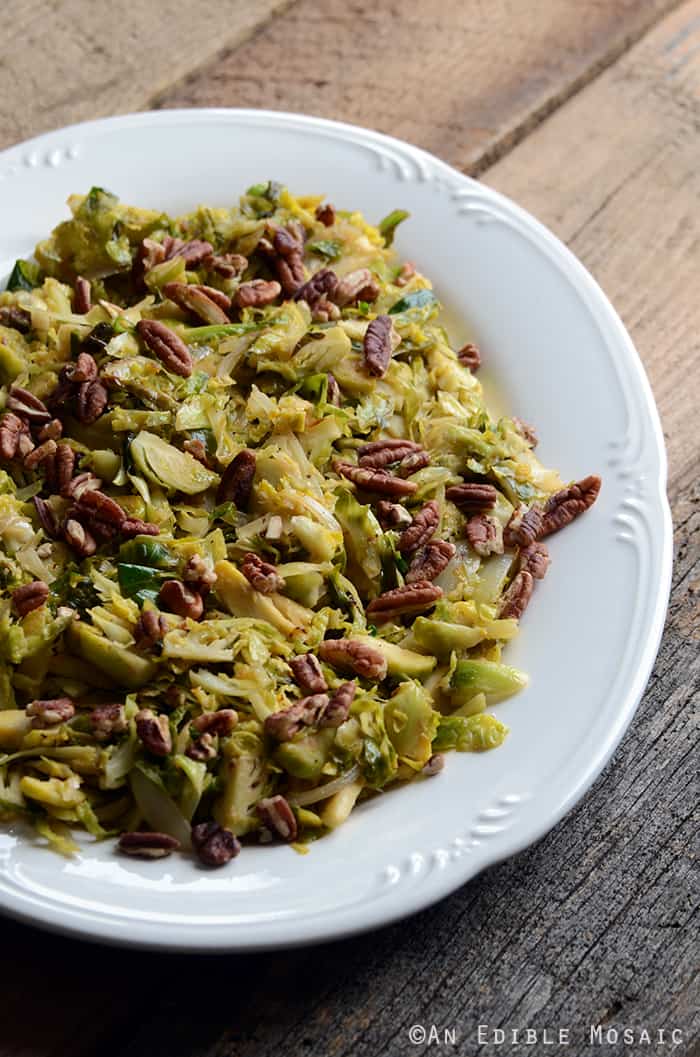 You know what I think is really weird?
How something I eat literally all.the.time can rarely make an appearance on the blog.
Like slow cooker recipes, for example…until this year I didn't have a single one up! I fixed that (a little bit, anyway) and now I have two posted: Slow Cooker Beef with Creamy Mushroom-Rosemary Sauce and Vegan Slow Cooker Mixed Bean Vegetable Soup.
And chicken for Mike and fish for me. We eat so much of it I can't believe my blog hasn't been overrun yet!
Brussels sprouts are another one. To date, I have a mere one recipe for them on my blog. (Granted, it's a pretty delicious recipe…Caramelized Brussels Sprouts with Dark Cherry Sauce + Hazelnut.) But it's absolute craziness because I make them all the time.
So here's another yummy way to make sprouts. Maple and Dijon and a few other savory flavors make this warm salad something pretty special. Plus it comes together in just 10 minutes, which makes it just as perfect for a weeknight meal as it is for a Thanksgiving side dish.
Check out the full recipe for my 10-Minute Warm Maple-Dijon Brussels Sprout Salad with Pecans on Bonbon Break!