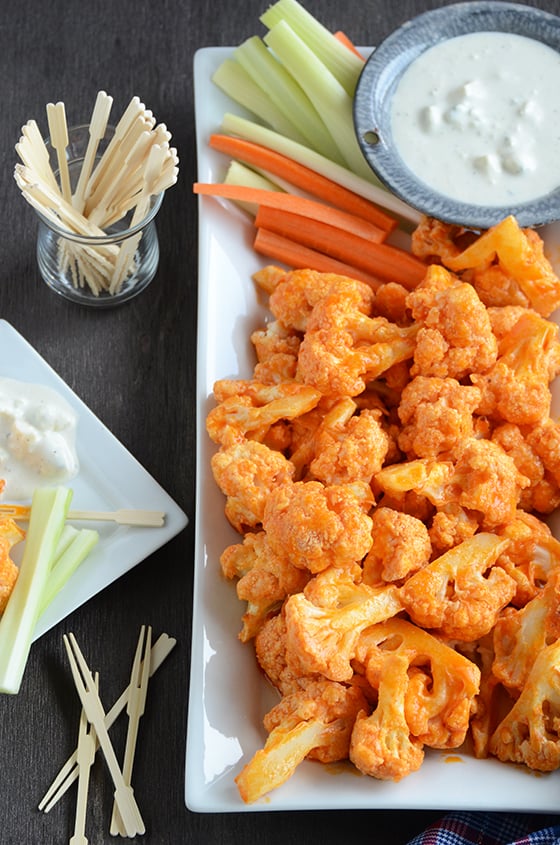 I'm a buffalo wing-lover from way back; of course, around here we just call them wings – the buffalo part is assumed. Even so, I should clarify that even in Buffalo, not all wings are created equal; as uncomplicated as a traditional buffalo wing is, it is surprisingly easy to mess it up (as evidenced by the fact that we have a select few places where we will order wings from). A few common problems: some wings are dry and overcooked, which is better than undercooked and pink, but still not ideal...some wings are dry in the sense that they don't have enough sauce…some are greasy…and surprisingly, the list of common mistakes goes on.
Buffalo wings are typically deep fried, but shouldn't be overly greasy if they're fried at the proper temperature and not overcrowded in the oil. Even so, I will admit to enjoying a tasty wing or two that's been baked, grilled, or broiled, such as these Sicilian Chicken Wings.
Buffalo wing sauce should be a very simple mix of butter and hot sauce (FYI, Frank's is the Buffalonian's hot sauce of choice for making wing sauce!). If you like it hotter, add less butter, and if you like it more on the mild side, add more butter. It's as easy as that.
Purists, avert your eyes from this next paragraph…I've known a few local restaurants that add just a little touch of garlic powder to their hot sauce, which I'm a big fan of since I think it adds a subtle flavor note that pairs well with the other flavors going on. I've also known some pizzerias to add a bit of ketchup to their mild sauce; as off-the-wall as that might sound, ketchup adds a nice sweet/tangy flavor that helps balance the heat. And – dare I say it? – I find it surprisingly wonderful, especially if I'm in the mood for mild wings (sacrilegious, I know). Although I have to admit, that's as far off the beaten path as I'll deviate from the classic buffalo sauce.
But.
I do love trying "buffalo" food in all forms.
Buffalo wing chowder, lasagna, mac and cheese, grilled cheese, pizza, cute little appetizer cups, wontons, nachos, and the always-fabulous buffalo wing dip, to name a few. And now a completely vegetarian version of wings in cauliflower form. It is so delicious in its simplicity, mostly because of the fact that the wing sauce adorning the cauli is buffalo wing sauce perfection.
I think I've rambled on about Buffalo wings long enough in a way that only a Buffalonian who is crazy about her wings can ramble, lol. Head over to the Tasty Kitchen Blog to see my Cauliflower Buffalo Wings guest post with step-by-step pictures.
If you're thinking this would make the perfect appetizer for a holiday party, you read my mind. :)
And that beautiful blue cheese dressing in the back there? That is none other than my recipe for Homemade Blue Cheese Dressing, which is just as delicious on a salad as it is on a buffalo wing - or a cauliflower buffalo wing.