Disclosure: I'm sharing #beyondordinary in my life as part of a Sahale Snacks® sponsored series for Socialstars™.
These 5 Super Simple Nourishing Desserts will rock your world…or at least your dessert!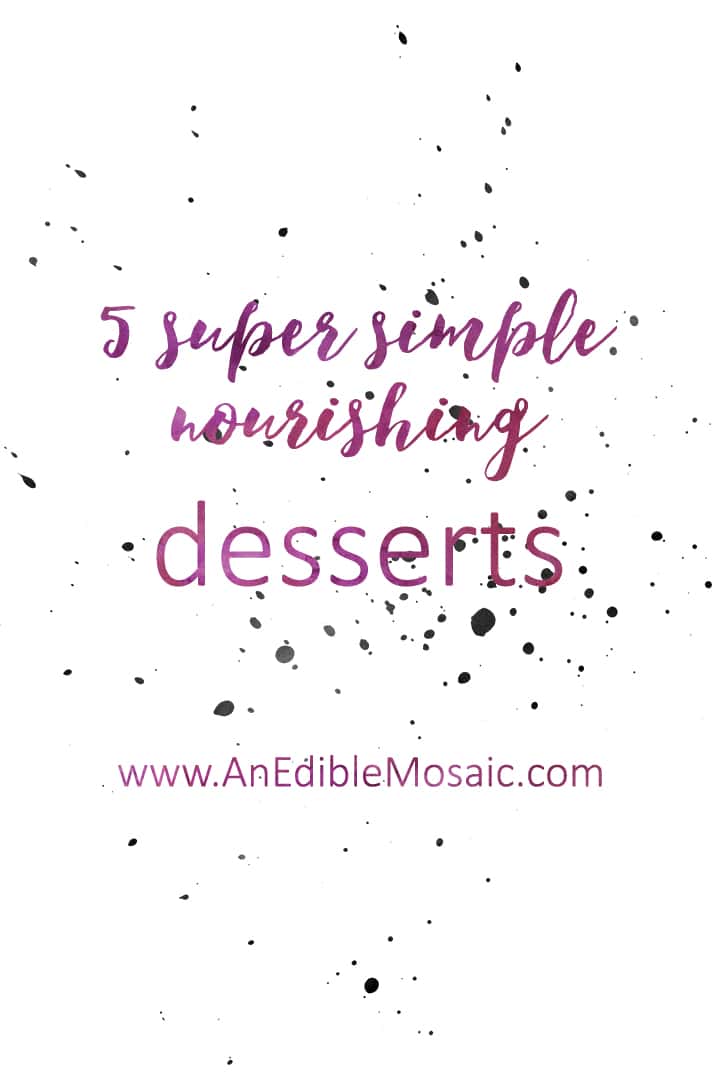 There is absolutely no reason delicious and healthy have to be mutually exclusive when it comes to dessert! And there's also no rule saying that a decadent-tasting dessert can't be whipped up in less than a minute.
Here I'm sharing five easy desserts that satisfy your sweet tooth without leaving you with a sugar crash after.
Yogurt with Seasonal Fruit
I go for the good stuff here: organic, whole milk, plain, unsweetened yogurt for me, please! Here I topped it with sliced oranges and pomegranate arils, but I vary the fruit by season, and sometimes I also like to add chia seeds, ground flaxseeds, raw nuts, or unsweetened shredded coconut for more nutrition, texture, and deliciousness. (Heads-up, this also makes a fabulous breakfast.)
Medjool Dates Stuffed with Coconut Butter and/or Almond Butter
The natural caramel-like sweetness of dates is perfect with nut or coconut butter, plus I find it a completely energizing snack! I got the idea for stuffing dates with coconut butter from the fabulous Amanda at Heartbeet Kitchen and almond butter-stuffed dates and I go waaaay back. And another delicious idea is tahini-stuffed dates!
Fruit and Cheese
You might not think of this as dessert, but it's commonly served as dessert in France and I think it somehow just works (add perhaps oddly enough, actually satisfies like dessert). Apple and sharp cheddar or pear and blue are two of my all-time favorite combinations. You just can't go wrong with the sweet crispness of fruit paired with the creamy tanginess of cheese!
Banana Split (Minus the Ice Cream)
In its most basic form, this is just a sliced banana drizzled with melted dark chocolate. Sometimes I'll add a little handful of raw nuts and/or unsweetened shredded coconut to make it even more fun. Melted peanut butter or almond butter is also pretty fabulous. And if I'm feeling particularly lazy (ahem, I mean unmotivated, lol) just a little handful of chocolate chips will do just fine instead of melted the chocolate to drizzle on top (but I admit, the melted chocolate does add a very decadent quality!). You won't even miss the ice cream here.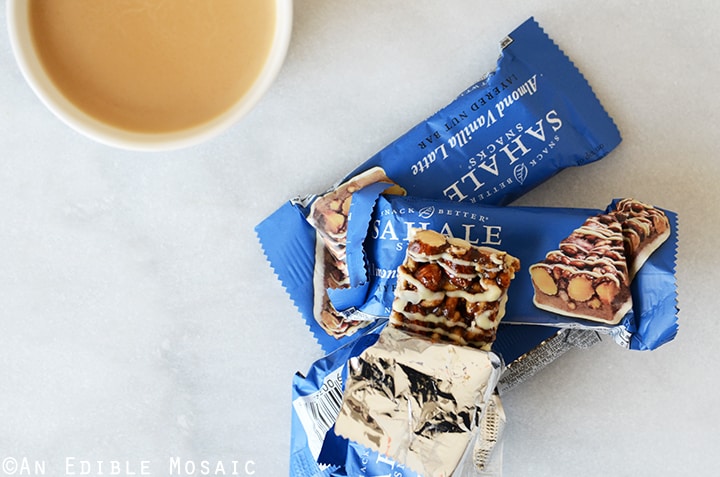 Sahale Snacks® Almond Vanilla Latte Layered Nut Bar
This bar is pretty fabulous, if I do say so myself…the combo of vanilla, espresso, and almonds is pretty hard to beat! And I really respect the thoughtful sourcing and artisanal crafting that they put into their products. Sahale Snacks® goes Beyond Ordinary™ when it comes to seeking out the highest quality ingredients for their products!
What's your go-to healthy but completely delicious dessert?