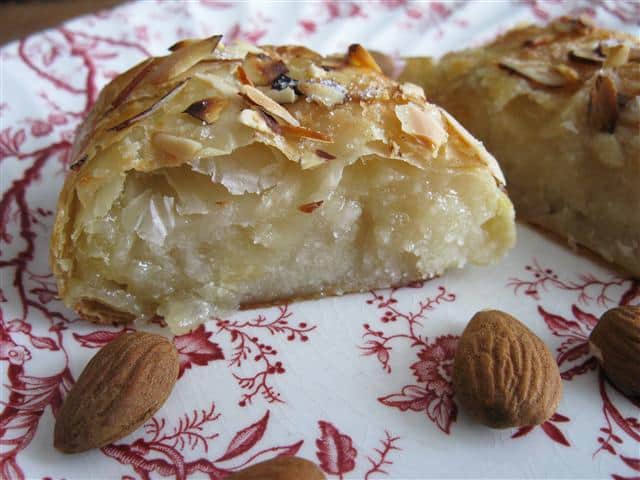 During high school I worked at a local pizzeria.  It was by far the most fun job I've ever had…not only because I loved the frantic pace when it got super busy as it had a tendency to do on holidays and weekends (really, no joke, I loved it when it got insanely, hectically busy!) but also because I got to work with some fantastic people.  One of my favorite co-workers was named Joan and she was a real character. 
She worked mostly on the slicer, efficiently churning out vat after vat of thin, perfectly sliced onions, tomatoes, turkey breasts, and other luncheon meats.  She was, shall I say, a woman of a certain age.  She had snow white hair and pronounced the word wash as "warsh", but her age didn't impede her sense of humor.  I still remember listening flabbergasted to some of the stories she told about what she and her hubby used to do on hot summer afternoons.  (Yeah, I'm pretty sure I wasn't nearly old enough for that kind of talk, lol.)
One of my favorite things about Joan was that on Sunday mornings she would always bring in some kind of pastry for breakfast.  Sometimes it was Cheese Danishes, sometimes Apple Fritters, but on very lucky mornings it was Almond Pastries, which were basically marzipan-filled puff pastry with sliced almonds on top.  I've been dying for this pastry and incidentally, this is the perfect time to share it, as it is a Dutch Christmas treat.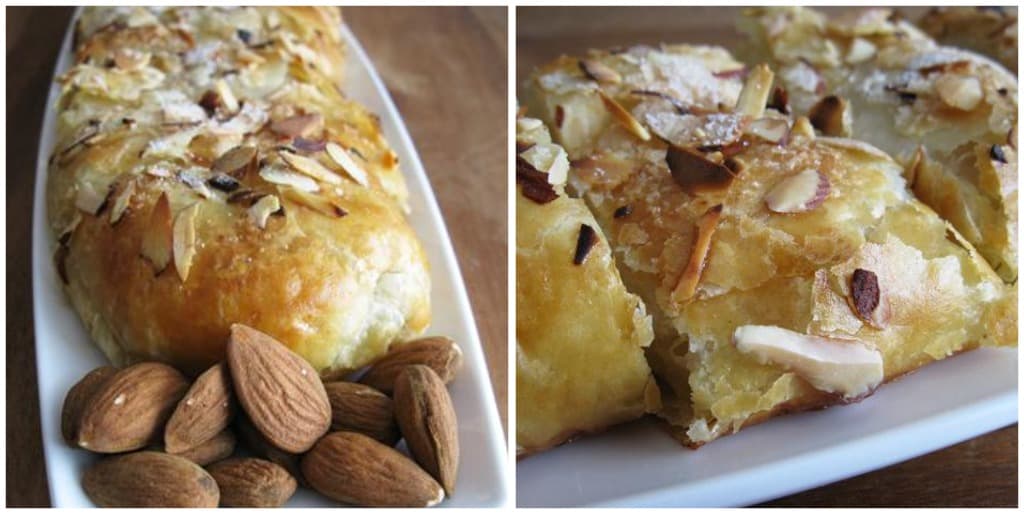 Banketstaaf (Dutch Christmas Log or Marzipan-Filled Puff Pastry)
(Yield:  2 pastry logs; about 20 servings)
24 oz (about 2 c) marzipan (homemade recipe below or store-bought)
1 sheet (1/2 lb) puff pastry
Flour (for rolling out the pastry)
1 egg beaten with 1 TB water (for eggwash)
3 TB sliced almonds
2 tsp sugar (optional, I wanted a frosted, snowy look)
If frozen, thaw the puff pastry at room temperature for 40 minutes.  Preheat oven to 425F and line a baking sheet with parchment paper or silpat liners.
Unfold puff pastry onto a lightly floured surface; lightly sprinkle the top with flour and roll it out to an 11- by 13-inch rectangle.  Cut dough in half the long way so that you end up with two 5 1/2- by 13-inch rectangles.  Divide the marzipan into 2 equal portions and roll each into a log about 10 1/2 inches long.  Place a marzipan log on a puff pastry rectangle and lightly brush eggwash along the edges of the pastry.  Gently but firmly fold the pastry ends up over the marzipan, then start at one end and roll up the marzipan in the puff pastry.  Repeat with the other marzipan log.  Put the logs onto the prepared baking sheet (seam side down) and refrigerate 20 minutes. 
Lightly brush the pastries with eggwash (you will have extra eggwash); sprinkle sliced almonds and sugar on top.  Bake about 22 minutes, or until the pastry is puffed and golden.  (Don't worry if a little marzipan oozes out while cooking.)  Resist its heavenly smell and cool completely before slicing and serving.
When it comes to marzipan, there are several routes you can take.  Of course you can use store-bought if pressed for time, but if you have a few minutes to spare, homemade is definitely the tastier option.  I knew I wanted to make homemade marzipan and my one stipulation was that it had to be fairly shelf-stable because I wanted to use it not only to make this pastry, but also to make chocolate-covered marzipan balls to add to cookie trays; I needed something that wouldn't go bad because the chocolate covered marzipan balls aren't cooked and I knew they would be left out at room temperature.  (I'm not overly concerned about a small amount of raw egg if eaten immediately – and if you're like me and enjoy raw cookie dough, then you're probably not either – but egg is definitely something I don't like to leave out at room temperature when raw and then eat later). 
In the end I decided to use a recipe that I found in a comment on All Recipes.  Here is the link , but note that I'm not using the recipe on All Recipes, I'm using the recipe that QUINGAL left in a comment on December 7, 2003.  A big thank you to QUINGAL, whoever you are!
Marzipan (Adapted from a recipe that QUINGAL left as a comment to the recipe for Marzipan on All Recipes)
(Yield:  About 3 1/2 c)
2 c sugar
1 c water
12 oz (3 c) almond meal/flour
2 large egg whites
1/8 tsp salt
1 tsp pure almond extract
12 oz (3 c) powdered sugar, sifted
To a 3-quart pot over medium heat, add sugar and water (you can swirl the pot, but don't stir it); cook until it reaches 230F on a candy thermometer.  Stir in almond meal, egg whites, and salt, and cook 3 minutes.  Turn off heat and stir in almond extract.  Immediately strain through a mesh sieve to remove any pieces of egg white that may have scrambled.  Gradually stir in powdered sugar; the marzipan will reach a moldable consistency, like a slightly softer version of Play-Doh (it will harden more as it cools). 
Once cooled, you can use the marzipan immediately or store it at room temperature for about a month.  (To store, wrap tightly in plastic wrap, then place in an airtight container.  When you want to use it, knead it a little and it should be moldable once again.  If it dries up a bit, you can knead in egg white 1 TB at a time until it reaches your desired consistency; if you add egg white, just remember it must be used immediately since the egg isn't being cooked.)