Bavarian Cream with Cherry Sauce is a velvety custard that's flecked with vanilla beans and topped with a quick homemade cherry sauce that's subtly spiced and scented with mahlab.
A while ago my friend Victoria (from Mission: Food) asked me to write a guest post for her at the end of September/beginning of October with a recipe that pertains to travel. I've known Victoria for at least a couple years now and I love her blog so of course I said yes; my mind immediately went to German food because of Oktoberfest.
Being in the midst of Oktoberfest, German fare abounds this time of year. I always seem to get a craving for sauerkraut, which is one of the reasons why I made Lazy Sauerkraut Pierogi Casserole last week…but other times something as simple Sausages & Sauerkraut is all I want. Lovely German breads, like Pumpernickel, Zwiebelbrot (Onion Bread – love this stuff!), and Pretzel also call to me. And then there are the glorious cakes and pastries. So, what to make?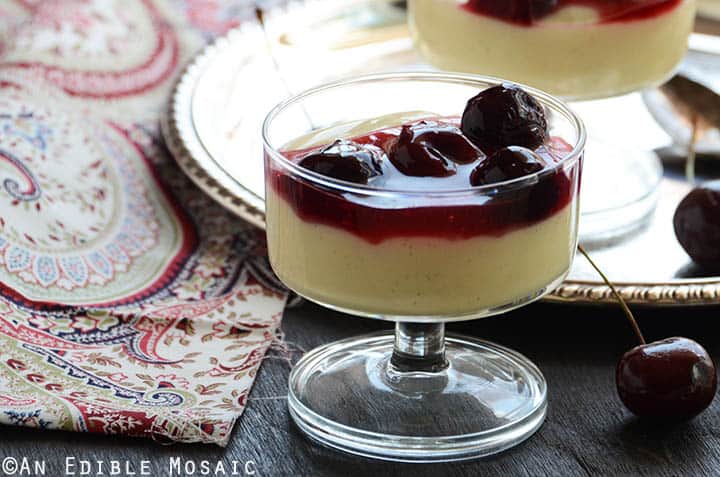 I was in the mood for something sweet. Even though German food boasts so many lovely sweets, after a German meal I usually choose a dessert that feels a bit lighter (though it isn't necessarily lighter calorie-wise), like Bavarian Cream. In the end this is what I decided to make.
I served my velvety Bavarian Cream with cherry sauced spiced with mahlab, which isn't traditional (as far as I know), but I never make anything cherry without a bit of mahlab. Try it and see – it takes anything cherry to the next level. (For more info on mahlab, you can check out my recipe for Cherry Sauce using dried cherries that I posted a while ago.)
Head over to Victoria's blog to read my post and check out my recipe for Bavarian Cream!
P.S. Any other German food-lovers out there?  :)