If you're looking for the Best Dip Recipes, look no further! There's a dip here for everyone; some are cheese-based, some are hummus-inspired, some are full of fresh veggies…and some of these dips are dessert!
Whether it's game day, a holiday party, summer potluck, or birthday gathering, appetizers are always on the menu. What are a few favorites on your buffet table? Cheese and charcuterie boards, cheese balls, vegetable platters, chicken wings, stuffed mushrooms, cocktail meatballs, and cheese-stuffed jalapeno poppers are all popular. But I always find that dips and spreads are a hit with everyone!
Here is a compilation of some of the best dip recipes. They're all gluten-free, some of them are low-carb and keto-friendly, and many of these healthy appetizers are loaded with veggies! If you've never made dip before, you'll be surprised at how easy dips are to make and how much fun they are to customize.
Classic Crowd-Pleaser Dips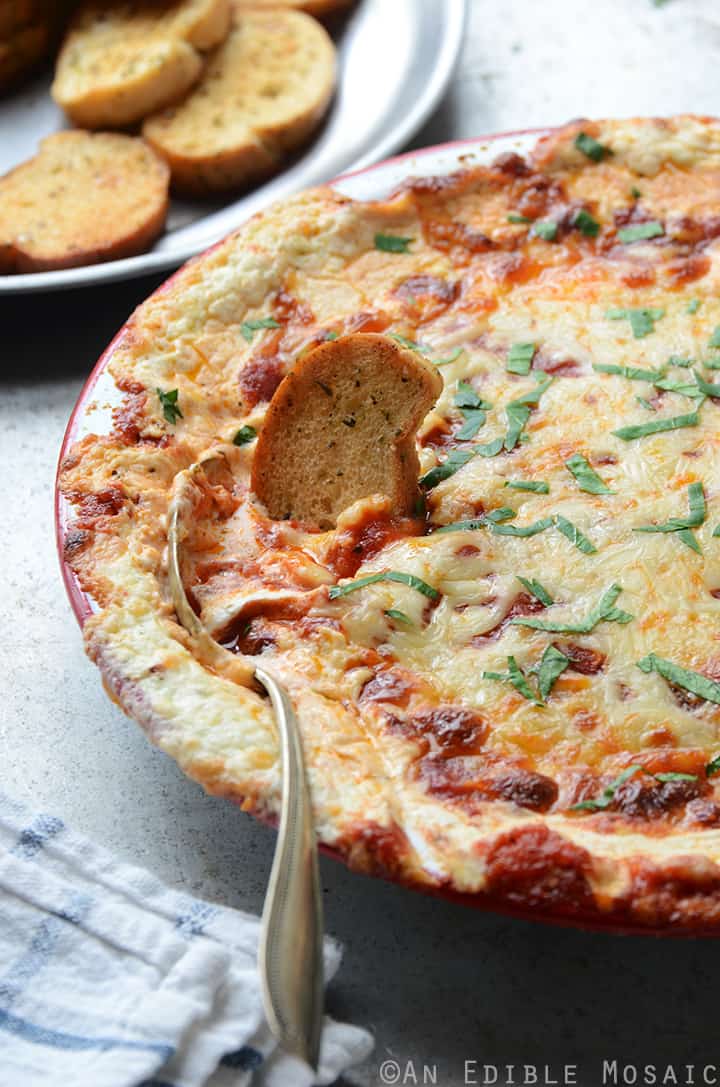 This one is for the pizza-lovers, and since I have yet to find someone who isn't a pizza-lover, this is the perfect to make when you need a snack or appetizer to feed a crowd. This Pizza Dip has all the same flavors as pizza, and to bump up the pizza appearance, before baking you can top it with any meats or veggies that you'd eat on your pizza. Some of my favorite toppings are turkey pepperoni, red onion, black olives, and green bell peppers.
Warm Cheesy Garlic and Kale Dip
Inspired by that classic dip that everyone loves, Spinach Dip, this Warm Cheesy Garlic and Kale Dip hits all the same notes. It's rich and creamy, flavorful with three different kinds of cheese, and absolutely loaded with veggies. Don't be surprised if this deliciously healthy appetizer disappears off the buffet table first and people start asking for more!
Bean-Based Dips Inspired by Hummus
This gorgeous green dip is as delicious as it is nutritious! With edamame beans and baby spinach as the base, this Edamame Dip is one healthy appetizer that's loaded with nutrients. It features a flavor profile that's similar to hummus, including olive oil, lemon juice, tahini, and garlic. If you like a classic hummus and are looking for a fun way to switch up the flavors a bit, this is the healthy dip for you!
This hummus-inspired dip features the balanced flavor profile of Thai curry: sweet, salty, sour, bitter, and spicy. Oh, and peanut for depth and richness, and because yuuuuum. Peanutty Thai Curry Hummus is one of the most fun fusion foods to ever come out of my kitchen!
Cheese Dips and Spreads
Pimento Cheese is a great dip or spread, and is equally delicious served hot or cold. Plus, it makes a mighty fine grilled cheese. It's a classic southern staple, but surprisingly, it's actually from New York! My recipe for Pimento Cheese uses a combo of mayo and cream cheese as the base, as well as yellow and white cheddar. I use piquillo peppers and a few seasonings to take it over the top and truly make it one of the best dip recipes.
Healthy Garlic and Chive Cottage Cheese Crema
This dip is proof positive that roasted garlic is magic. This cottage cheese-based dip is full of protein and flavored simply with roasted garlic, salt, black pepper, and chives. (This is one of my favorite healthy chip dips!) It just goes to show that so many times a recipe is much more than the sum of its parts.
Salsas
Restaurant Style Cheater's Salsa (Paleo and Whole30)
I named this Cheater's Salsa because it's almost too easy to make! Canned fire-roasted tomatoes add complexity to this pantry-staple salsa! If you enjoy the more liquid-y restaurant-style salsas as much as I do, this one will be a favorite. The great thing about making your own salsa is that you control the quality of ingredients that go in it, and it's easy to customize to suit your tastes.
Pico de Gallo (Mexican Salsa Fresca)
If fresh ingredients are more your thing when it comes to salsa, I have you covered there too! With just a handful of ingredients and the best tomatoes you can get your hands on, this fresh salsa is surprisingly addictive. It's also great for dipping or serving on top of salad bowl or grilled meat!
Sweet Dessert Dips
Easy Sugar-Free Turtle Cheesecake Dip
This dessert dip has the smooth, velvety texture of cheesecake mousse with the flavor of Turtle Candy, including pecans, caramel, and chocolate. The best part about this dip is that it's low carb and keto-friendly! This Easy Sugar-Free Turtle Cheesecake Dip as delicious eaten with cookies or crackers (if you like a sweet and salty flavor profile), or eat it with a spoon as you would a mousse.
5-Minute Candy Cane Dip or Spread
This peppermint-flavored dip is cream cheese and Greek yogurt-based. A few of my favorite dippers are shortbread cookies, gingerbread cookies, chocolate cookies, pretzels, or fresh fruit. This recipe is sweetened with powdered sugar and uses regular candy canes, but for a keto version you can substitute powdered erythritol for the powdered sugar and sugar-free peppermint candies instead of candy canes.
More of the Best Dip Recipes:
Share with me in the comments below, what's your best dip recipe?