After what seems like forever, Alyssa (of Everyday Maven) and I are thrilled to finally be releasing our smoothie e-books…today! It's the first day of summer and the timing couldn't be more perfect.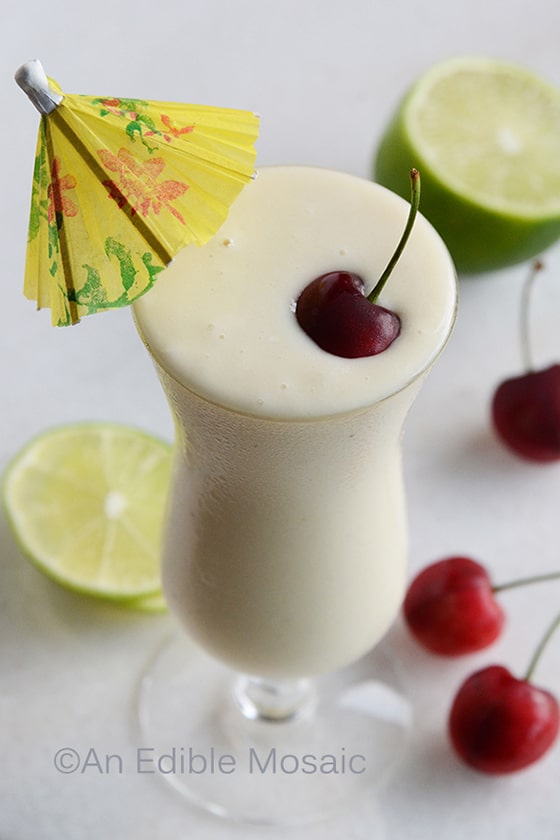 That beauty above is one of my go-to smoothies when I'm craving ice cream…our Pina Colada smoothie!
This project has been a labor of love for us since early 2012. We spent months creating, developing, testing, and photographing the recipes, and then designing the books. (In my announcement post, I talk more about the behind-the-scenes details of how this project came to be.)
Each recipe has a balanced gourmet flavor profile, is filled with superfoods, and tastes like an indulgence. The great thing is, although our smoothies are hand-crafted artisanal blends, we still use ingredients that can be found in most regular grocery stores, and we don't use long cooking processes (such as roasted fruit). Not that there's anything wrong with roasting peaches or strawberries for a smoothie, but like many of you out there, we just don't have time to do that on a daily basis, and we felt like drawn-out cooking techniques shouldn't prevent someone who leads a busy lifestyle from enjoying a fabulous smoothie whenever they want!
We love our smoothies so much we still drink them almost every day, even after working on perfecting the recipes for a year and a half. And we are confident you'll love them as much as we do.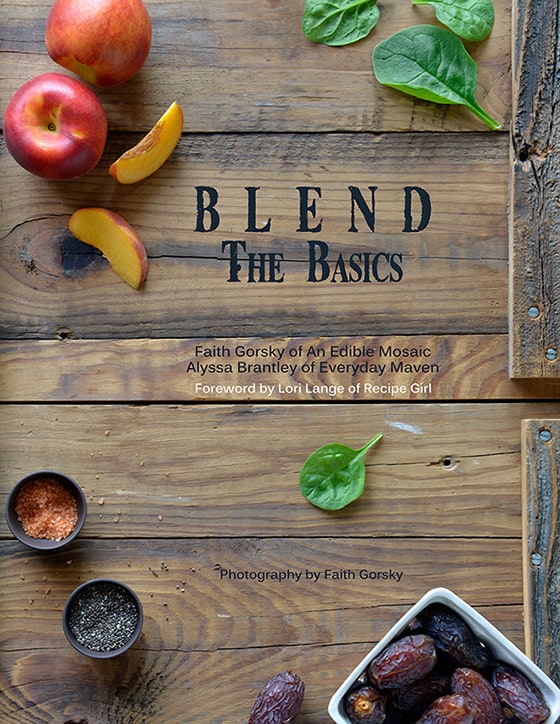 BLEND actually comes in two e-books, both of which are being released today! The first e-book is Blend: The Basics, which gives tons of tips and tricks to help you make the most of your smoothies, including how to wash fresh produce, flash-freeze fruit, make sure your smoothies come together as quickly as possible without sacrificing their artisanal flavor (including info on how to put together a "smoothie kit"), and much more!
BLEND: The Basics is FREE until July 5th, so don't wait to get your free copy!
After July 5th the price goes up to $7.99, or you can purchase it together with
Blend: Artisanal Smoothies for Food Lovers, Summer Volume 1
as a set for $14.99.
Here's what's in The Basics…
And a HUGE thank-you to the fabulous Lori of Recipe Girl for writing our Foreword for The Basics – we are honored!
The second e-book is called Blend: Artisanal Smoothies for Food Lovers, Summer Volume 1!
That beauty on the front is none other than our Almond + Joy smoothie!
It's a compilation of 25 summer and fall-themed smoothies (each with its own full-page color photo!), such as Gingered Apricot, Minted Strawberry Melon, Vanilla Fig, and Concord Grape + Greens. BLEND smoothies have a balanced flavor profile, whether it's achieved through just a few super fresh simple ingredients, or a well-thought out combination of a pinch of spice and a dash of extract. You probably already have many of the pantry staples on hand, and if not, they can all be easily found in any health food store, as well as most regular grocery stores. Not only are all BLEND smoothies made with clean, easy-to-find ingredients, but they are also dairy-free, gluten-free, and vegan in most cases!
Blend: Artisanal Smoothies for Food Lovers, Summer Volume 1 can be purchased for $9.99!
Here's what's in Summer Volume 1…
And Alyssa and I aren't going to stop at only one e-book of recipes – we have plans for at least two more seasonally-themed volumes!
That gorgeous, gloriously green smoothie above is our Sweet Green Goddess…but it's no ordinary green smoothie! A certain spice blends perfectly, lending intrigue and giving it an addictive quality!
I want to give a huge thank-you to all the other fabulous bloggers participating in this event who are helping to spread the word – check out their beautiful blogs and leave some comment love!
Maya from Alaska from Scratch
Marla from Family Fresh Cooking
Heather from girlichef
Joanne from Eats Well With Others
Jeanette from Jeanette's Healthy Living
Diana from Appetite for China
And now, of course, what would a party be without some goodies?! We're incredibly excited to be giving away over $1750 worth of smoothie-related prizes from the following sponsors: Blendtec, Navitas Naturals, KitchenAid, NuNaturals, OXO, Bob's Red Mill, Nuts.com, Scharffen Berger, Natural Delights Medjool Dates, Pacific Foods, and of course our BLEND e-books!
(I want to give a shout-out and thank-you to Alyssa who took the lead on organizing this fabulous giveaway as I worked on designing and compiling our e-books and designing our BLEND website! I think she and I make a great team and I had a blast working on this entire project with her…when work is this much fun, it doesn't really feel like work.)
Take note that there will be 31 winners for the giveaway, there are multiple ways to enter, and the only mandatory entry is to sign up for our BLEND newsletter…check out the details below, and good luck to all!
Win over $1750 in prizes during the BLEND: Artisanal Smoothies for Food Lovers Launch Party!