The holidays are without a doubt my favorite time of year.
Everything about this season feels magical…fall foliage (back home, anyway! There aren't too many leaves changing colors here in Kuwait, lol), fuzzy blankets, cozy comfort foods for dinner, shopping for Christmas presents, watching festive movies, and of course indulging in holiday flavored drinks. Lattes like Pumpkin Spice, Gingerbread, and Peppermint Mocha are just a few of my favs.
Like so many of you out there, I want to be able to enjoy these seasonal flavors while still eating clean. I want something that is fabulously delicious and equally nourishing, and above all, I don't want to feel deprived. It's a woman's prerogative to want it all, right?
Necessity truly is the mother of invention. After remaking some of our favorite candy bars (like Almond + Joy), cookies (such as Cinnamon Oatmeal Cookie), and ice cream sundaes (hello, Hot Fudge Sundae!) into healthy, indulgent-tasting smoothies for BLEND: Artisanal Smoothies for Food Lovers, Summer Volume 1, we were inspired to take it to the next level and develop a few holiday-flavored smoothies. We are so excited to share them with you!
Butter Pecan is one of our favorite autumn ice cream flavors…why not remake it into an amazingly delicious healthy Butterscotch Pecan smoothie? By the way, we are sharing the full recipe for this fabulous smoothie…it can be found here on our Simply Artisanal website!
If you can have a treat that tastes better, nourishes your body, is a fraction of the cost compared to buying it out, and can be whipped up right in your own kitchen, we'd consider that a win-win. And we're confident that you will too.
We are incredibly pleased and proud to present you with BLEND: Holiday Volume 1!
This holiday-themed recipe e-book is smaller than our first recipe e-book (Summer Volume 1); it has just 10 recipes in all, and it has a smaller price to match – only $3.99!!! We know that we probably don't have to point out that this price is less than what you'd pay for just one of these beverages at your favorite coffee shop, which means it will pay for itself over and over again in money saved!
Our holiday recipe e-book is a gorgeous compilation of some of our absolute favorite holiday flavors; it includes the following smoothie recipes divided into our four signature categories:
Indulgence
Butterscotch Pecan
Apple Pie
Caramel Turtle
Brownie Batter Swirl
Fruit
Honeyed Cranberry Apple
Spiced Fall Fig
Green
Peppermint Mocha
Honey Plum Spice
Coffee + Tea
Gingerbread Coffee
Pumpkin Spice Latte
As always, all of our smoothies have a balanced gourmet flavor profile, are filled with superfoods, and taste completely indulgent while utilizing ingredients that can be found in just about every regular grocery store. Chock full of clean, healthy ingredients, our smoothies are also refined sugar-free, dairy-free, gluten-free, and vegan in most cases!
The brownie batter in our Brownie Batter Swirl smoothie only tastes insanely indulgent…the fact that it's healthy is a total secret when you taste it!
There are a few surprises in this e-book…like how we get our decadent Caramel Turtle smoothie to taste just like "real" caramel without the use of sugar! The brownie batter in our Brownie Batter Swirl smoothie will leave you wanting to whip up this healthy treat every day to eat it off a spoon. And maybe the biggest surprise of all is the fact that there is a whopping serving of greens in our gorgeous Peppermint Mocha smoothie! (Don't tell anyone and they'll never know.)
If you're interested, you can take a look at the nutrition information for the smoothies in this e-book here.
Like our other BLEND e-books (Summer Volume 1 and The Basics), I photographed this one, and I am really happy about how it came together. Each full-page photo is meant to set the mood for the smoothie it's depicting. For example, just check out this Caramel Turtle photo…
Caramel Turtle Smoothie…mmm!
As Alyssa mentioned, when looking at the picture of this smoothie, it looks like you pulled up a chair in a baker or candy maker's kitchen and are about to settle in for a treat they just whipped up!
For just $3.99 this 10-recipe e-book would make the perfect little gift to surprise your mom, dad, daughter, son, niece, nephew, babysitter, co-worker, neighbor, or bestie with. Or gift-to-self, perhaps? It's a little more affordable than heading to the perfume counter at a local department store, lol.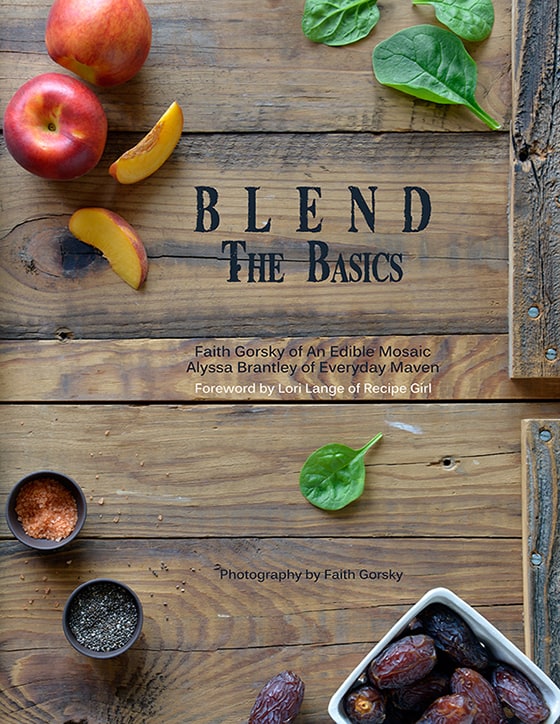 And don't forget about BLEND: The Basics, our helpful guide on smoothie-making in general! It has tips and tricks to help you make your smoothies the best they can be, including information on how to wash fresh produce, layer your blender, cold brew coffee and tea, utilize natural sweeteners, and much more!
If you want to purchase them together, we are making BLEND: The Basics and BLEND: Artisanal Smoothies for Food Lovers, Holiday Volume 1 available as a bundle for just $6.99! Yup, there's the proof that we love our readers and fellow smoothie-enthusiasts.
And, to show you how much we appreciate you, we are hosting a fabulous smoothie-related giveaway. Thank you to
Alyssa
who took the lead on organizing this giveaway, and thank you also to our wonderful sponsors:
KitchenAid
,
Big Kitchen
,
Pacific Foods
,
Peanut Butter & Co.
, and
Sweetleaf
!
The giveaway details are listed below in the giveaway widget; please use the widget below to enter, and good luck to all!