In-Print Cookbooks by Faith Gorsky
---
Keto Power Bowls (Skyhorse; July 21, 2020)
Written and photographed by Faith Gorsky.
Keto power bowls are the perfect way to pack a ton of nutrition into a single balanced meal for busy individuals and families on a keto diet! High-quality proteins, healthy fats, and non-starchy fruits and vegetables are the base of these customizable bowls. Use bases like zucchini noodles, cauliflower rice, and stir-fry, and add a protein, flavorful sauce, and nutrient-dense sides for one-bowl meals that are satisfying, easy to whip up (and can be made ahead of time), budget-friendly, and crowd-pleasing!

Featuring 75 easy-to-follow ketogenic recipes (that are also gluten-free and grain-free with no added sugar), Keto Power Bowls is for everyone—busy parents cooking for their families, singles who pack a healthy lunch for work, people who are trying to bulk up in the gym, and anyone who is short on time but doesn't want to sacrifice health. Learn to make breakfast, dinner, salad, soup, and desert bowls, as well as components like sauces and sides, with a variety of international flavors and dairy- and nut-free options.
Including information on how to meal prep power bowls, what a balanced meal looks like on a low-carb diet, how to swap out components to create new flavor profiles, and how to use power bowls to achieve different health goals (weight maintenance, weight loss, and weight gain), Keto Power Bowls is your ultimate guide for keto cooking and eating that will help you meet your macros.
Buy Keto Power Bowls here:
---
Keto Drinks (Adams Media; April 21, 2020)
Written by Faith Gorsky and Lara Clevenger.
125 easy and delicious recipes for low-carb blended drinks—including coffee, juices, milkshakes, smoothies, and more—perfect for any keto craving!
While typical smoothies, milkshakes, and other blended beverages include sugars and fruits that might prevent you from entering ketosis, that doesn't mean you can't still have your favorite drinks. These keto-friendly recipes focus on low-carb fruits, healthy fats, and a variety of vegetables so you can feel refreshed and satisfied!
A few of my favorites from Keto Drinks include:
Italian Tomato and Herb Beef Bone Broth
Miso Chicken Bone Broth
Blended Pecan Caramel Turtle Coffee
Iced Vietnamese Coffee
Candied Almond Vanilla Milkshake
Vanilla Caramel Swirl Milkshake
Pancakes and Syrup Milkshake
Blueberry Cheesecake Smoothie
Carrot Cake Smoothie
Golden Turmeric Coconut Smoothie
Salted Chocolate Macadamia Smoothie
Super Green Avocado Smoothie
Electrolyte Lemonade
Faux Sparkling White Sangria
Apple Cinnamon Infused Water
Chai Almond Cookie Tea
Stay satisfied (and in ketosis) all day long with these with these flavorful, keto-friendly drinks that will curb any craving!
Buy Keto Drinks here:
---
The Keto Meal Plan Cookbook (Skyhorse; March 3, 2020)
Written by Faith Gorsky and Lara Clevenger; photographed by Faith Gorsky.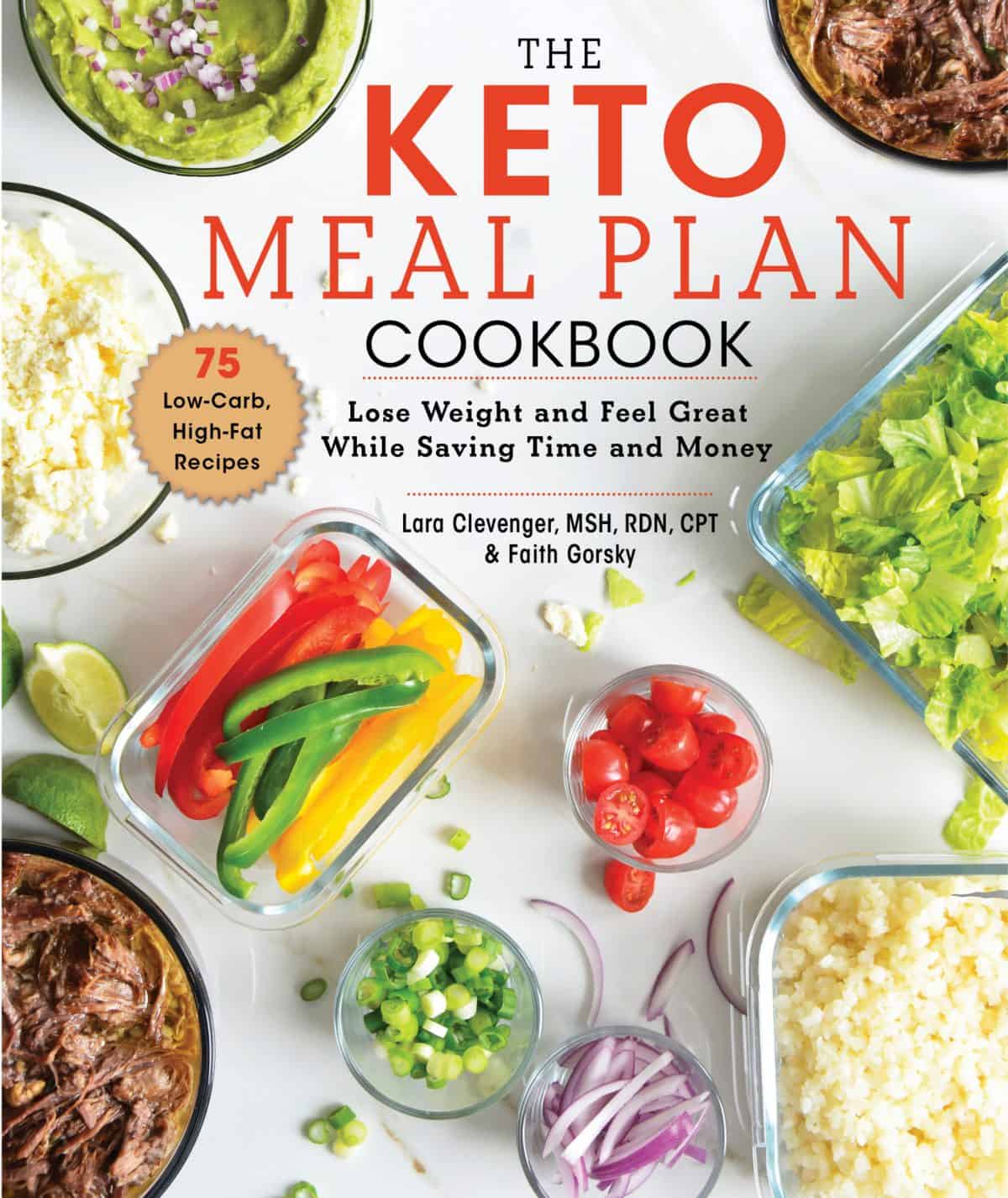 The ketogenic diet is available for everyone, even busy individuals who don't think they have the time for it. It's time to bust a myth: keto cooking can be quick, easy, budget-friendly, and absolutely delicious with the help of a meal planning guide!
Based on low-carb and high-fat principles, The Keto Meal Plan Cookbook will show you how to grocery shop, meal prep, and batch cook, while making a keto diet work for your personal health goals. Featuring 75 recipes that you can customize to fit your needs, whether it is weight loss, weight maintenance, weight gain, or overall health and well-being, The Keto Meal Plan Cookbook outlines a 12 week diet plan and menu with calorie levels between 1400 to 1700 kcals for anyone who wants to heal their bodies but who don't know where to start.
Whip up nutrient-dense breakfast, lunch, dinner, desserts, drinks, and snacks to promote ketosis, including:
Lemon Blackberry Chia Pudding
Taco Salads
Turkey Thai Lettuce Wraps
Bun-less Philly Cheesesteak
Mozzarella-Smothered Meatballs with Zoodles
Tuna Melt Casserole with Carrot and Celery
Almond Mocha Fat Bomb
Chocolate Avocado Fudge-sicles
Bulletproof Matcha Drink
Keto Trail Mix
Buy The Keto Meal Plan Cookbook here:
---
Keto Bread (Adams Media; September 10, 2019)
Written by Faith Gorsky and Lara Clevenger.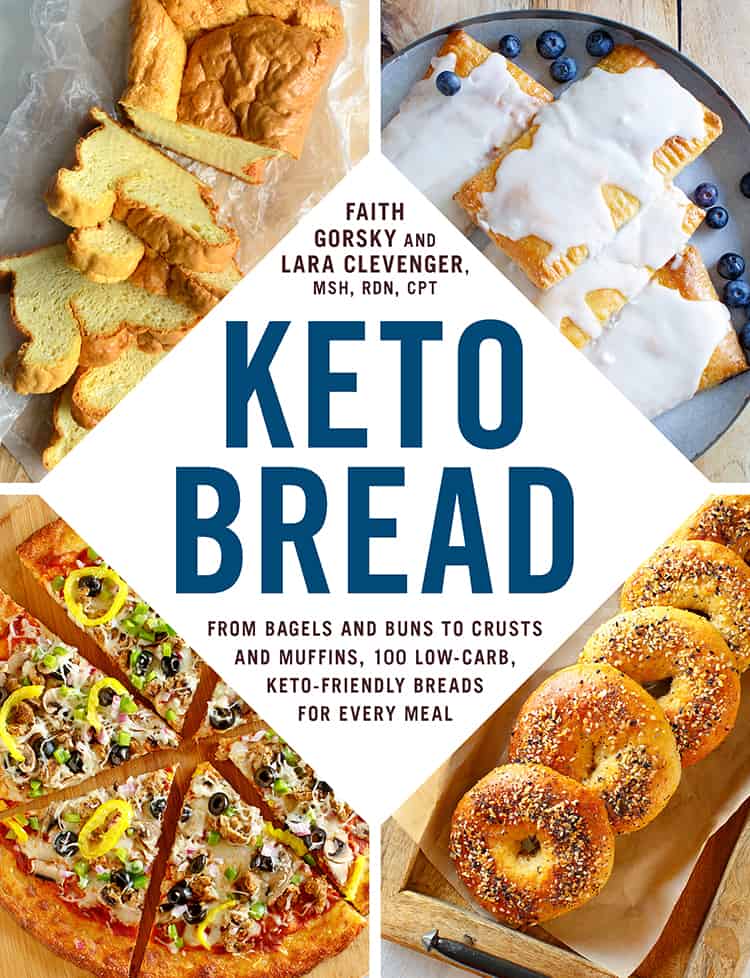 This cookbook reinvents pizza night, transforms birthday cake, and brings the beloved sandwich back into your life. It also gives you tons of keto options for both family-friendly and guest-worthy dinners.
Inside you'll find 100 keto-approved recipes to help you make your favorite high-carb baked goods into low-carb versions! You'll also learn keto baking basics and get a list of the best keto pantry staples for making low-carb baked goods in your own kitchen.
The recipes you'll find here are not just for breads. You'll also find items like pastry dough, pie crusts, graham crackers, and pizza dough. You can use these recipes over and over to make things like Chicken Pot Pie, Coconut Cream Pie with Graham Cracker Crust, Classic Cheesecake (that tastes like it came straight from New York!), and even Pepperoni and Cheese Calzones. Whatever you're craving, Keto Bread will make it accessible to you in a way that you can still remain in ketosis. These recipes will feel like a "cheat," but they're not!
Keto-friendly breads and baked goods are often important for your success on the ketogenic diet. They fill in the gap of what you're used to eating with the foods you now want to nourish your body with. By following the easy recipes and simple baking tips in this book, you can enjoy all of your favorite dishes in a low-carb way!
Buy Keto Bread here:
---
An Edible Mosaic: Middle Eastern Fare with Extraordinary Flair (Tuttle Publishing; November 6, 2012)
Written and photographed by Faith Gorsky.
Growing up on classic American fare, it wasn't until after Faith married that she had her first experience with the exotic flavors of the Middle East. Middle Eastern cuisine elevates food from bodily sustenance to an art form lying at the epicenter of gatherings with family and friends. After marrying, Faith spent a significant amount of time living and traveling in Syria and Jordan. There she discovered not only a love of the food and culture, but also a love of cooking. Luckily, Faith's Syrian mother-in-law Sahar, who happens to be a master at Middle Eastern cuisine, was willing to teach her.
In An Edible Mosaic: Middle Eastern Fare with Extraordinary Flair, Faith includes over 100 authentic Middle Eastern recipes that are streamlined just a bit for the way we cook today. Faith demystifies unique ingredients and uses cooking techniques that anyone can follow. Recipes for Falafel, Hummus, Stuffed Grape Leaves, and Chicken Shawarma are classic favorites, and easy-to-follow directions make more complex recipes like Kibbeh, Maqluba (Upside-Down Rice Casserole), and Ma'amoul (Date-Filled Cookies) manageable for home cooks. With an emphasis on healthy foods (beans and legumes are staples just as much as meat is, vegetables are always abundant, and healthy fats like olive oil are commonplace), Middle Eastern cuisine offers something for everyone.
Buy An Edible Mosaic: Middle Eastern Fare with Extraordinary Flair here:
---
E-Cookbooks by Faith Gorsky
---
12 Easy Low Carb Meals: In 30 Minutes or Less
Written and photographed by Faith Gorsky.
If you're looking for low-carb family dinner ideas, look no further! This e-cookbook has 12 recipes with something for everyone. It features classics we grew up with, as well as international favorites.
A few of the recipes included in this e-cookbook are:
Broccoli Cheese Soup
Cheeseburger Salads (complete with Big Mac Sauce!)
Indian Butter Chicken
Egg Roll in a Bowl (aka Crack Slaw), Dan Dan Noodles
Thai Coconut Fish Curry
There are recipes that are family-friendly and also recipes that you can entertain with. Not only are these meals delicious, but these meals will elevate your weeknight dinners; each one whips up in 30 minutes or less!
Buy 12 Easy Low Carb Meals on Amazon.
---
10 Mid-East Inspired Sweet Treats: Contemporary Twists on Classic Treats
Written and photographed by Faith Gorsky.
This e-cookbook contains 10 lovely Middle Eastern-inspired dessert recipes, each with its own beautiful full-page photo. Some recipes are classic Middle Eastern sweets, like Warbat bil Ashta (Flaky Pastries with Cream Filling), Medloua (Layered Pudding Pastry Cake), and Ma'arouta (Rolled Spiced Date Cookies).
Other recipes are based on classic Middle Eastern flavor combinations, such as Cardamom-Spiced Mocha Truffles (which was inspired by Turkish coffee with cardamom) and Coconut Mousse with Vanilla Bean Syrup (which Faith dreamed up while thinking about the classic Arabic pudding called Layali Lubnan, meaning "Lebanese Nights").
And there are also some recipes that are Faith's own creation entirely with a wink and a nod to something she had or saw in the Middle East.
If you're enticed by the exotic flavors of Middle Eastern sweets, this e-cookbook is for you.
Faith dedicated this e-cookbook to the people of Syria and is donating 100% of the profits from sales for the first year (from November 24, 2014 through November 23, 2015) to helping the children of Syria get essential supplies, medicine, and clean water through UNICEF.
Read more about this project and buy 10 Mid-East Inspired Sweet Treats: Contemporary Twists on Classic Treats in my post "To Syria, with Love".
---
BLEND: Artisanal Smoothies for Food Lovers, Holiday Volume 1
By Faith Gorsky and Alyssa Brantley; photographed by Faith Gorsky.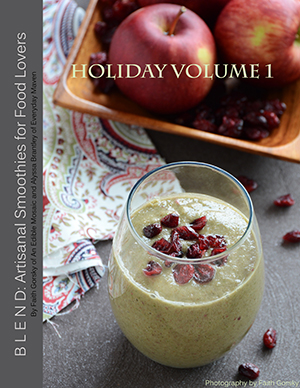 If you enjoy seasonal flavors (read: if you're the girl or guy who can't pass by the local coffee shop without picking up a Pumpkin Spice Latte), firstly, we can relate! And secondly, we have you covered! This lovely 10-recipe e-cookbook has a full-page color photo of every smoothie, and is full of festive treats that are big on both flavor and nutrition.
Some of our favorites in this e-cookbook are:
Butterscotch Pecan
Apple Pie
Caramel Turtle
Brownie Batter Swirl
Peppermint Mocha
Honey Plum Spice
Gingerbread Coffee
BLEND: Holiday Volume 1 is currently unavailable.
---
BLEND: Artisanal Smoothies for Food Lovers, Summer Volume 1
By Faith Gorsky and Alyssa Brantley; photographed by Faith Gorsky.
This breathtaking full-page-color-photo-for-each-recipe e-cookbook is a compilation of 25 of our favorite summer and fall-themed smoothies. While there are many seasonal flavors in it, this e-cookbook also features several of our favorite indulgence beverages. Additionally, it's full of coffee and tea-based drinks that we cannot get enough of. We enjoy most of these delicious flavor profiles year-round!
A few of our favorites from this e-cookbook include:
Gingered Apricot
Minted Strawberry Melon
Vanilla Fig
Concord Grape + Greens
Chocolate Cake Batter
Peanut Butter + Jelly
Black Forest Coffee
Double Tea Blackberry Pear
Mocha Coffee Chip
BLEND: Summer Volume 1 is currently unavailable.
---
BLEND: The Basics by Faith Gorsky and Alyssa Brantley
By Faith Gorsky and Alyssa Brantley; photographed by Faith Gorsky.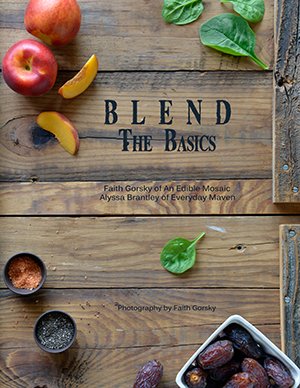 This gorgeous e-book is full of helpful smoothie-making tips and tricks! We include instructions on how to flash-freeze fruit, make sure your smoothies come together as quickly as possible without sacrificing artisanal flavor, put together a "smoothie kit", cold brew coffee and tea, and much more!
This e-book is an absolute necessity for smoothie lovers who want to take their smoothies to the next level. This e-book is meant to go along with every BLEND recipe volume we make.
BLEND: The Basics is currently unavailable.
---