My grandmother made latkes (or potato pancakes, as my mother calls them) all the time while my mom was growing up. My mother has a serious dislike for latkes so she never made them (not even once!) when I was a kid. I tasted my first latke at a friend's house and it was love at first bite.
To reduce the fat, I baked these latkes in the oven instead of frying them. The latkes in this recipe have a slightly sweet taste because of the caramelized onion, which balances perfectly with the tangy yogurt sauce.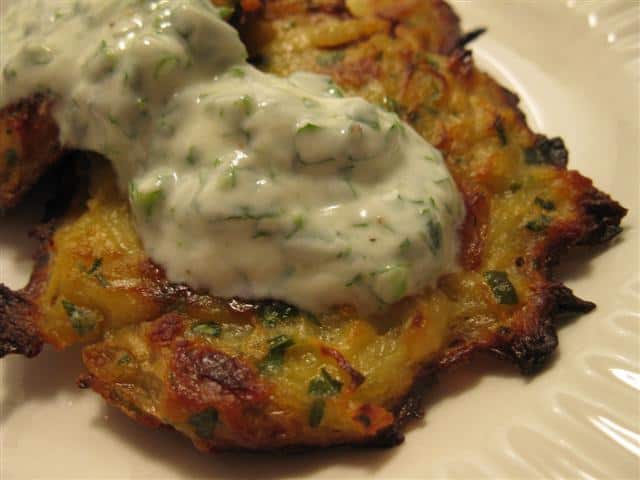 Caramelized Onion and Potato Latkes with Herb Yogurt
(Yield: 12 (~3-inch) latkes)
Caramelized Onion and Potato Latkes:
1 small/medium onion, thinly sliced
1 ½ TB plus 1 tsp olive oil, divided
1 tsp butter
1 lb (~1 large) Yukon gold potatoes, peeled
2 TB minced fresh flat-leaf parsley
1 egg (or 2 egg whites)
2 TB matzo meal (or all-purpose flour if not Passover)
¼ tsp baking powder
Salt and pepper to taste (I use ¼ tsp salt and 1/8 tsp pepper)
Herb Yogurt:
1 TB minced fresh flat-leaf parsley
1 TB minced fresh chives
¼ c plain low-fat yogurt (if you want it extra thick, you can use Greek yogurt)
Pinch salt and pepper
Sieve
Baking sheet
In a small pan melt 1 tsp of olive oil with 1 tsp of butter on medium-high heat; add the onions and cook until caramelized (until they're dark brown and soft). You won't need to add any more oil to the onions, but you might need to add a little water as they cook down; if the pan gets too dry or the onions start to burn (blacken) instead of caramelize add water 1 TB at a time and turn the heat down a touch.
Preheat the oven to 425F and put the baking sheet in the oven to pre-heat. On a box grater or food processor with a shredding blade, grate the potato. Let the grated potato sit in a sieve for 5-10 minutes so most of the water can drain off. Mix the potato, caramelized onion, parsley, egg, flour, salt, pepper, and baking powder.
Remove the baking sheet from the oven and evenly coat it with 1 ½ TB olive oil. Place a heaping tablespoonful of latke batter onto the oiled baking sheet and flatten the batter to make a 2-3 inch latke; repeat until the batter is gone. Bake for 8-12 minutes on the first side (or until golden…I like mine extra crispy!), and then flip and bake for 3-5 minutes on the second side. Let the latkes drain on a plate lined with paper towels.
Mix together all of the ingredients for the herb yogurt. Serve the latkes hot from the oven or at room temperature topped with herb yogurt.