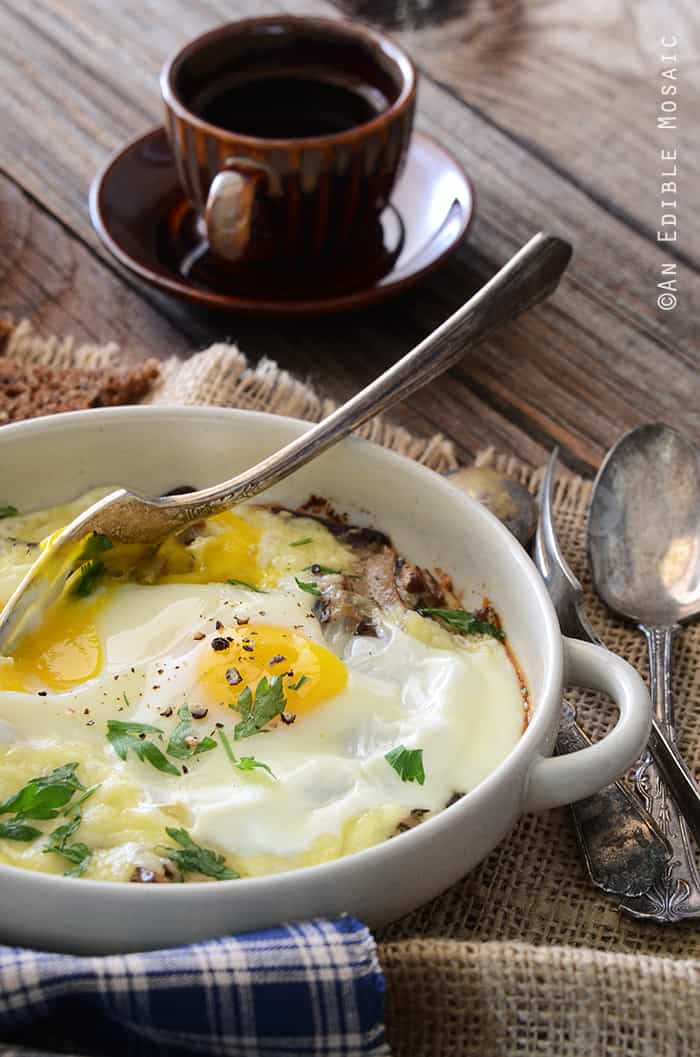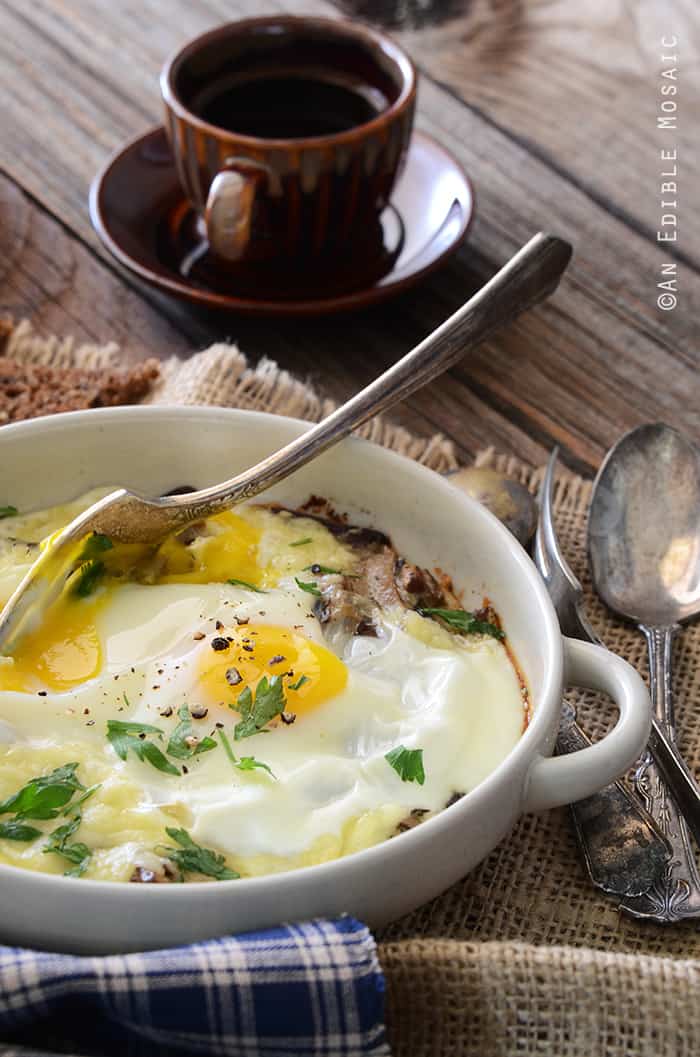 I always love the idea of going away for a romantic weekend with my hubby.
Even though we live alone (since we don't have kids yet) and technically every weekend could feel like a mini-getaway, they usually don't.
(When you're in your own environment, there is always more work to be done, especially if you work from home. There's always a load of laundry that I could throw in, a few quick dishes I could wash up, or a blog post or two that I could get a jump start on.)
Sometimes a change of scenery is the only thing that works when you want to take a little break.
That's why the idea of going away holds such appeal; staying at a romantic bed and breakfast in the country, or at a chic boutique hotel with all the amenities in the city. No matter where the change of scenery is, a full breakfast spread – made by someone other than me, lol – is something I always look forward to.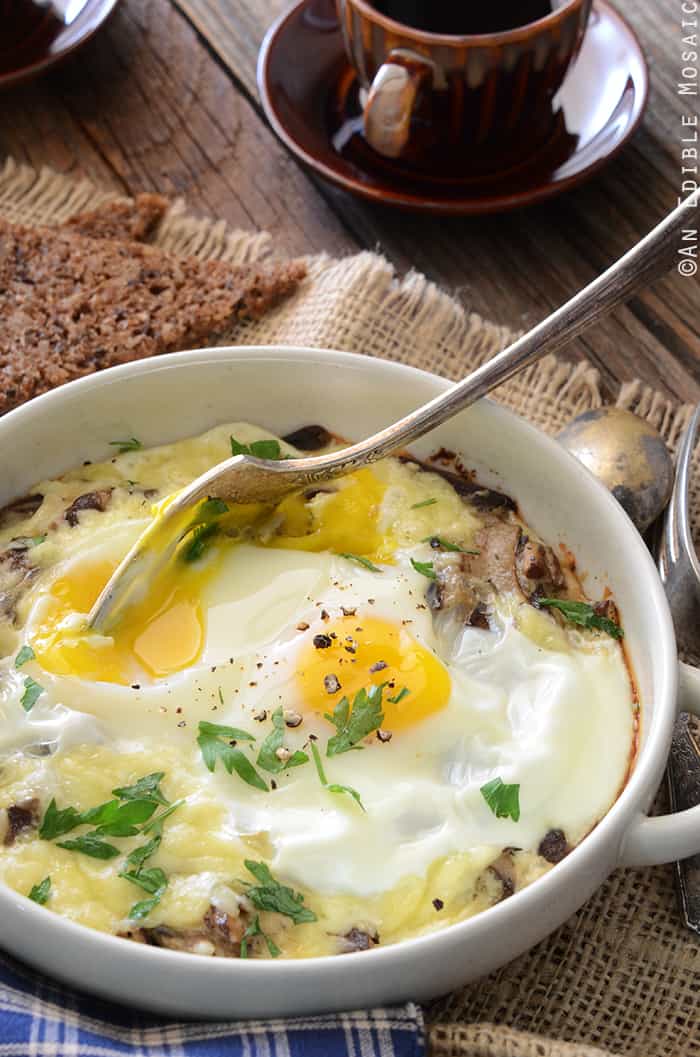 A while ago, I did a round-up post of recipe ideas for Thanksgiving brunch. One of the recipes I included was Baked Eggs with Mushrooms and Parmesan from Kalyn's Kitchen. I have been dying to make this dish since I first saw Kalyn's lovely recipe, and I was excited to put my own spin on it.
Earthy mushrooms pair perfectly with Emmental cheese, and a few simple flavorings like salt, pepper, garlic, and thyme compliment the dish nicely. This is the sort of brunch that makes a weekend morning at home feel like you're on vacation…especially if you share it with your sweetie.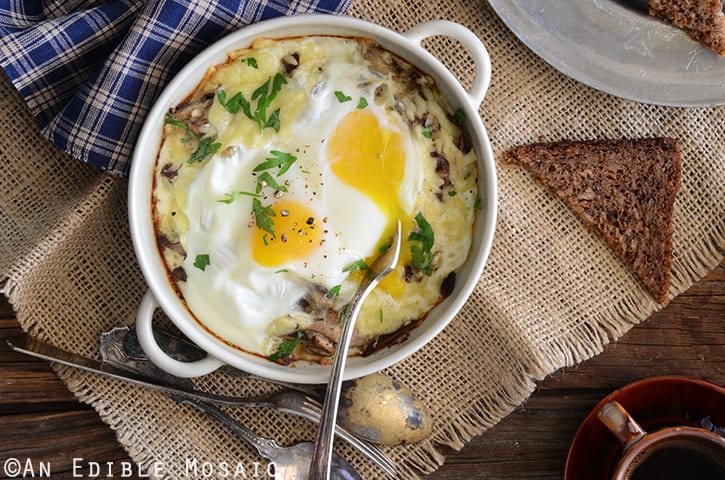 Cheesy Mushroom Baked Eggs for Two
Prep time:
Cook time:
Total time:
Ingredients
2 tablespoons unsalted butter
3½ oz (100 g) shiitake mushrooms (or any mushrooms you like), wiped clean and coarsely chopped (about 1½ to 2 cups)
1 pinch sea salt
1 pinch black pepper
1 large clove garlic, crushed
¼ teaspoon dried thyme leaves or ¾ teaspoon minced fresh thyme leaves
1½ tablespoons heavy cream
1½ oz (40 g) Emmental cheese (or any Swiss cheese you like), shredded (about ⅓ cup)
2 large eggs
2 teaspoons minced fresh parsley leaves, for garnish
Toast, for serving (optional)
Instructions
Preheat oven to 400F.
Add the butter to a medium skillet over medium heat; once the butter is melted, add the mushrooms and a pinch of salt and pepper. Cook until softened, but not browned, about 6 to 8 minutes. Add the garlic and thyme and cook 2 minutes more, stirring constantly. Stir in the cream and turn off the heat.
Pour the mushrooms into an individual-sized oven-safe gratin dish and sprinkle the cheese on top. Make 2 wells and crack the eggs into them.
Bake until the cheese is melted and the eggs are cooked how you like them (I like mine with set whites and runny yolks, which takes about 10 minutes).
Sprinkle the parsley on top, and serve immediately.