I am thoroughly enjoying sharing my monthly posts with you in my series A Happier Healthier You 2015, and I think this is one of the most exciting installments yet. My guest of honor is none other than Myra Goodman, who I had the absolute pleasure of meeting in person at Earthbound Farm last fall.
Myra and her husband Drew founded Earthbound Farm; they started on a 2.5-acre raspberry farm in California's Carmel Valley and made the commitment to farming organically from the very beginning. Earthbound Farm has grown to about 50,000 acres and remains committed to organic farming (you can read more about the Earthbound Farm story here).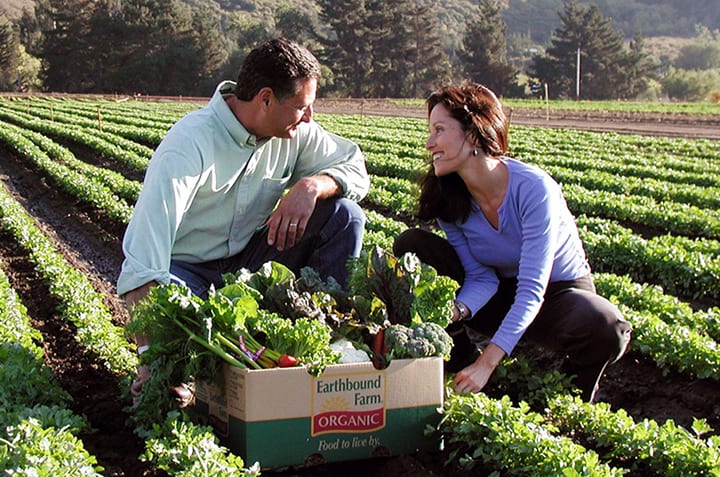 Myra and Drew Goodman
Myra and Drew are no longer owners of Earthbound Farm, but they still function as advisors and remain dedicated to what they started. I met Myra for dinner at the Farm Stand in Carmel Valley; she is truly lovely. She is intelligent, sweet and so much fun to talk with, and her passion is contagious. When I approached my point person at Earthbound Farm to see if Myra would be interested in being featured on my blog, I happened to mention that I featured Denise Austin in February and I was informed that Myra actually met Denise at the Farm Stand! Here's the inside scoop from Myra on that…
I believe Denise approached us about sponsoring her fitness show, and that included making a commercial at our Farm Stand. I remember spending a day with her while we took photos of the two of us by the Earthbound Farm sign. Our kids were of similar ages, and our daughters all played lacrosse, so we had lot to chat about.

Denise is an amazing lady. I think of myself as high energy and very productive, but she sure trumped me! She was very warm-hearted, sincere, energetic and fun. We had a great time and kept in touch for a few years. I'm so glad I got up-to-date on her by reading Faith's interview with her!
And it also came up in conversation that Myra has met quite a few other celebrities (how glam is she, right?!). Here's what Myra said when asked about the celebrities she's met:
No one has ever asked me this question before. As I think about it, it is surprising to have met so many celebrities with a career in farming. Here are a few:

On the farm: Olivia Newton John has had lunch at the Farm Stand and loved it. I met her through our mutual friend, Nancy Chuda, who founded Healthy Child Healthy World. Earthbound has supported that charity for decades, and Olivia was the original spokesperson.

We had a great event at our Farm Stand with the well-known holistic doctor Andrew Weil where a group of us walked through the fields him while he explained how he cooked different items and their health benefits, followed by a wonderful luncheon.

Dozens of people through our Cooking for Solutions brunches on the farm. We've had famous chefs, including Jacques Pepin, Rick Bayless, and some stars, like John Cleese.

Through fundraisers Earthbound supported for nonprofits like EWG, the Environmental Media Association, Healthy child Healthy World and NRDC, I spent time with my favorite singer, Bonnie Raitt, and briefly met many celebrities, including Larry David, Sheryl Crow, Darryle Hannah, Wendi Malick, Laura Dern, Kelly Preston, and Ashton Kutcher.

I was on some huge shows talking about organic food, like Oprah, and Regis and Kelly (now Kelly and Michael – Donald Trump was filling in for Regis the day I was there), and on my book tour I hung out with many cool people in various green rooms around the country, like Sarah, Duchess of York (who tried to hire me to be her personal chef!), Barbara Eden (I Dream of Jeannie was one of my favorite shows growing up, so I was really happy to meet her), Deepak Chopra, and the sport legend, Mike Ditka, who was incredibly nice. He sent signed books for my son.

The first celebrity I ever spent time with was Leonardo DiCaprio in 2003, when we both received Millennium awards from Global Green USA. I was surprised how nervous he was before our acceptance speeches when acting was his profession. I think it was because he wasn't playing a role. He was reading a personal speech he had written about his commitment to help raise awareness and combat global warming. I sat next to his mother at the dinner. She was very nice and very proud!

Now at different events that bring together thought leaders in the food world, I'm privileged to be able to spend time a lot of brilliant and committed people, including Michael Pollan, Mark Bittman, Marion Nestle, Julie Packard, and Tom Colicchio.
Myra was also kind enough to answer a few questions for us…
1)  How did you and Drew decide to transplant your lives from one coast to another and start farming?
I grew up in New York City and moved to California to attend UC Berkeley. I was planning to go to graduate school in International Relations, and expected to end up in Washington DC or New York. But first I needed to study for my entrance exams and become fully bilingual. When my husband Drew and I (we were dating at the time) were offered the opportunity to live on a little raspberry farm in Carmel Valley and to help fix up the place in exchange for rent, we jumped at the chance. Living off the land for a year seemed very romantic to us, and I loved the idea of getting strong from hard physical labor outdoors before returning to spend the rest of my life in a city. Neither Drew nor I had any idea that farming would become our lifelong occupation.
2) What caused you and Drew to make the commitment to organic farming early on?
The farm we moved onto was a conventional farm, and we got a tutorial from the outgoing farmer about how and when to apply all the chemicals. There were fertilizers to put in the drip lines, insecticides and fungicides to spray on the plants at different stages of their growth. But when it was time to use all these chemicals, we were afraid to handle them and we didn't want to eat food grown with them. After living on that farm for only a very short time, we could actually sense a complex and miraculous synergy between the plants, animals, air, soil and sunshine—and we believed that we could and should be able to produce beautiful, delicious food without all that forceful chemical interference. We believed we could work in cooperation with nature, rather than learn how to conquer it—and happily, we were right!
3) As the first company to successfully launch prewashed, packaged salad for retail sale back in the '80's and as one of the largest growers of organic produce in the world, Earthbound Farm is quite impressive! What are you most proud of and what makes you the happiest?
I love that Earthbound Farm was one of the pioneers of truly healthy "fast food." After a long day's work on the farm, Drew and I were rarely motivated enough to harvest and wash our salad greens, even though they were growing right outside our kitchen window. We realized early on that we would eat salad every single night if it was pre-washed and ready to go in the fridge, so we washed, dried and bagged a big batch every Sunday afternoon. That's how the idea of packaged pre-washed greens came about.
I'm proud of how many pounds of conventional agricultural chemicals Earthbound Farm keeps out of our food supply and environment—more than 16 million pounds in 2015 alone. I am thrilled that my husband and I were able to make a successful living as organic farmers, and that the company we started was a leader in the organic food revolution.
4) What would you say to someone who is considering switching over to purchasing organic food?
Great decision! It will help protect your family's health, the wellbeing of the farmers that work in the fields, and the health of our soil and water supply, wildlife and aquatic life. Thank you for being willing to spend more to support organic farmers and a healthier food system. It's putting your money where your values are.
5) How has eating organically impacted you and your family personally?
I really feel best about the food I serve when I know it was produced in a responsible way. I worry a lot about the negative impacts of all the chemicals we are constantly exposed to in our air, water, food, body care products and many of the materials we come into contact with. I believe that eating organic food has been one of the most powerful ways I have protected my family's health as well as our environment.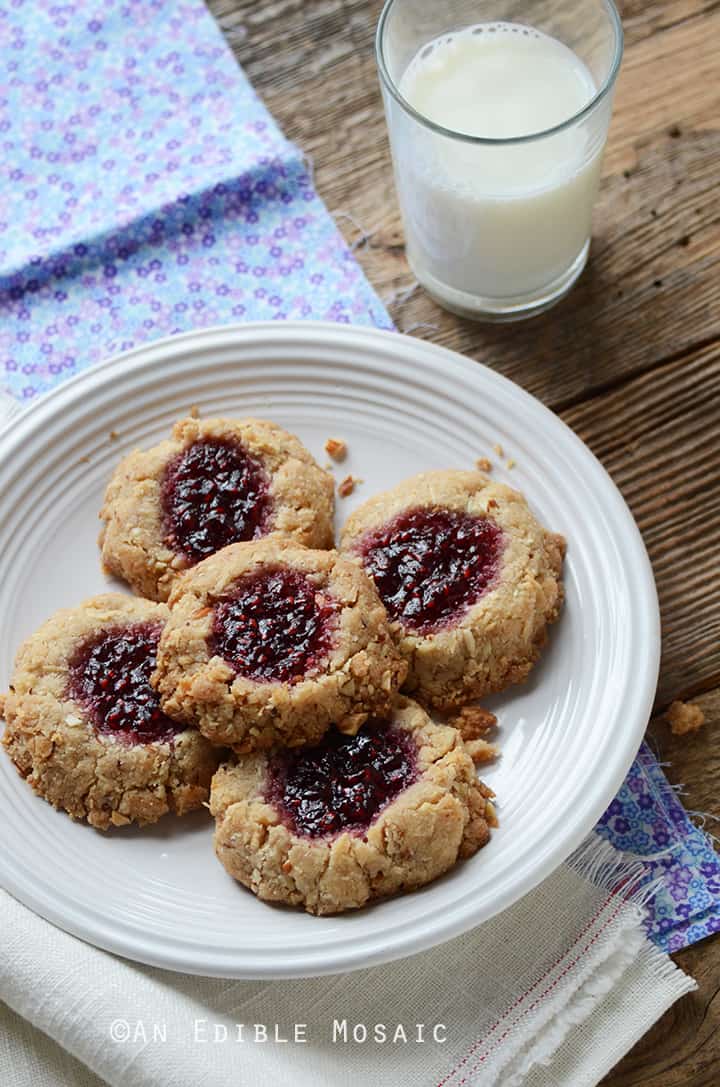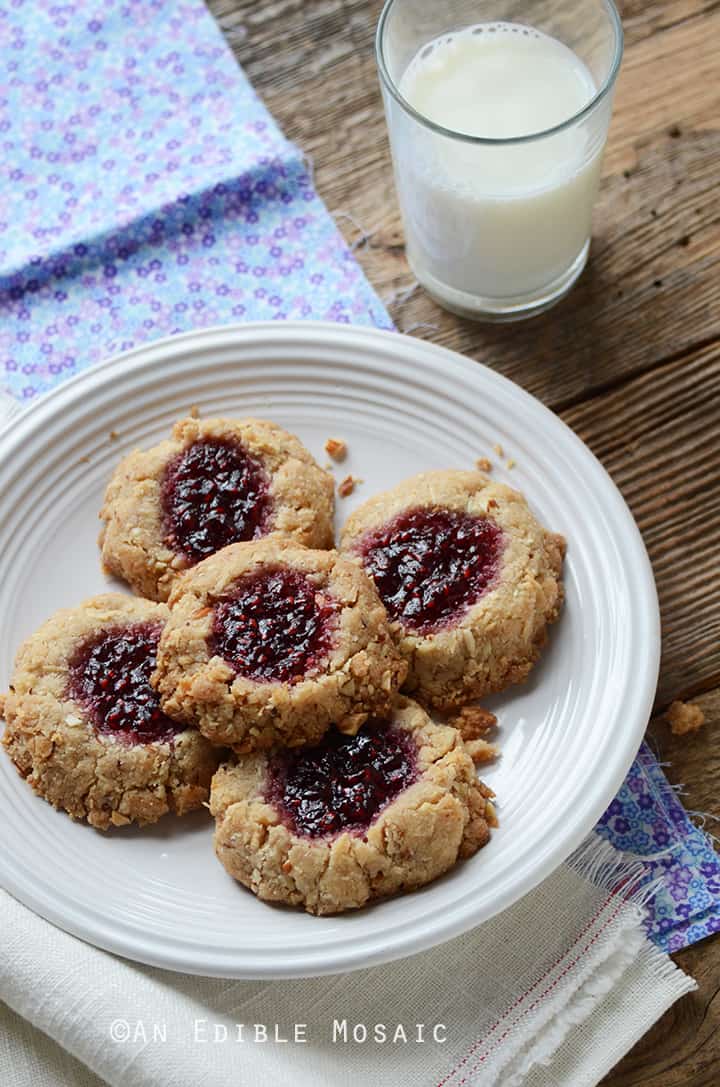 And now about those Coconut, Almond, and Raspberry Jam Thumbprint Cookies. They were served for dessert at the Farm Stand last fall, and they are the sort of thing that you don't forget easily (I've made them at least three times since then!). The recipe is from the Straight From the Earth cookbook by Myra Goodman and her daughter Marea Goodman.
Now, first a bit about this cookbook. It's full of exciting ideas and unique flavor combinations that keep healthy foods fresh and fun. The recipes are vegan (and chock full of healthy ingredients!), but I can tell you right now that these recipes will satisfy everyone. Dishes like Quinoa-Banana Skillet Bake; Cress, Belgian Endive, Persimmon, and Hazelnut Salad; Teriyaki Tofu Broccolette on Wild Rice; Plantain Tacos with Pureed Black Beans and Mango-Lime Salsa; and Pomegranate-Roasted Pears are all on my to-make list, and that's just the beginning.
If you're looking for new ways to jazz up salads, you'll go crazy for this cookbook, and you'll probably also want to check out Myra's other cookbooks, The Earthbound Cookbook and Food to Live By, both of which are full of wholesome delicious recipes and feature fabulous sections on salad. (Because I don't know about you, but I find that if I can keep salad from being boring, I will eat it every single day! And Myra is the queen of fabulous salads.)
But back to these cookies, which are a compelling combination of coconut, toasted almond, and raspberry. In her cookbook, Myra notes that you can use any good-quality jam to make them, but because it all started on a raspberry farm, I wanted to stay true to that and I decided to stick with raspberry jam. All I can say is try them! And then expect to have a new favorite cookie.
I can't thank you enough for being here, Myra! Take a peek at Earthbound Farm's Organic Bound for more healthy living inspiration.
Follow Earthbound Farm on Facebook, Twitter, Pinterest, and Instagram.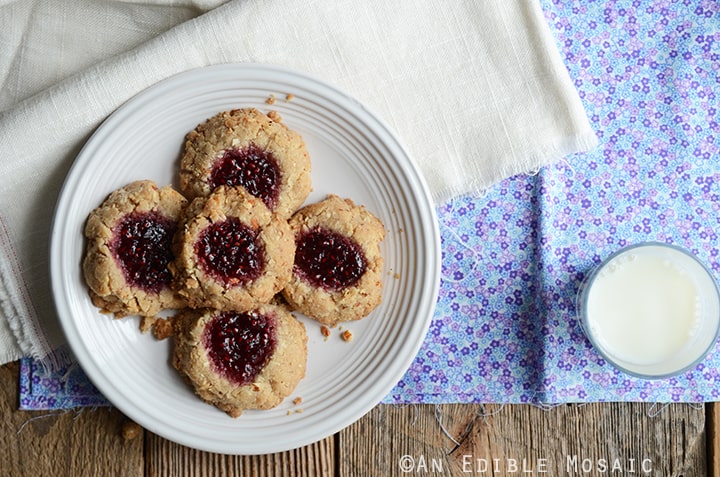 Coconut, Almond, and Raspberry Jam Thumbprint Cookies
Prep time:
Cook time:
Total time:
Ingredients
1 tablespoon ground flaxseed
2 tablespoons very hot water
½ cup (120 ml) melted coconut oil
½ cup (100 g) sugar
1 cup (140 g) whole-wheat pastry flour
¾ teaspoon baking powder
¼ teaspoon salt
¼ cup (40 g) raw, unsalted almonds, lightly toasted and finely chopped
½ cup (40 g) unsweetened shredded coconut
5 tablespoons (75 ml) raspberry jam
Instructions
Place a rack in the middle of the oven and preheat it to 325F. Lightly grease a large baking sheet (or line it with a silpat liner) and set aside.
Combine the ground flaxseed with the hot water in a large bowl, and let it sit until thickened, about 5 to 10 minutes (this is our egg substitute). Whisk in the oil and sugar.
Whisk together the flour, baking powder, and salt in a medium bowl. Stir the flour mixture into the wet ingredients until just combined, then fold in the nuts and coconut. The mixture will be dry and crumbly, but will hold together when squeezed.
Use a 1-tablespoon measure to scoop out 15 slightly heaping tablespoons of dough and roll them into balls. Place the balls on the prepared baking sheet and press down until they are about 2 inches/5 cm wide and ⅓ inch/8 mm thick, pressing the sides together to keep them from breaking apart. Using your thumbs, press indentations in the center of each cookie that are big enough to hold 1 teaspoon jam, repairing any big cracks as you go. Fill each indentation with jam.
Bake the cookies until golden brown, about 15 to 20 minutes. Transfer the baking sheet to a wire rack and let the cookies cool for a few minutes before transferring them directly onto the rack to cool completely.
The cookies can be stored in an airtight container at room temperature for up to 1 week.
Notes
Reprinted with permission; recipe from Straight From the Earth by Myra Goodman and Marea Goodman (Chronicle Books; March 2014).
: : GIVEAWAY : :
Thanks to the generosity of Earthbound Farm, I am thrilled to be giving away a prize pack of the following items to one lucky winner: one of each of Myra's books (including a copy of Straight From the Earth, The Earthbound Cookbook, and Food to Live By), a reusable shopping bag, and free product coupons! (A huge thank-you to Earthbound Farm for sponsoring this giveaway!)
To participate in this giveaway, just leave a comment on this post telling me what's in your favorite salad.
For extra entries, you can do any of the following (please leave a separate comment for each):
You do not need to have a blog to enter this giveaway. For shipping purposes, this giveaway is only open to U.S. residents. This giveaway ends on April 23, 2015 at 11:59 PM EST. Once the giveaway ends, the winner will be randomly chosen and notified via email. The winner will have three business days to respond with his or her mailing information, otherwise a new winner will be randomly chosen. Good luck to all!
Disclosure: Earthbound Farm is providing the prize pack for this giveaway; as always, opinions stated are my own. This post contains Amazon affiliate links to products I believe in, which means that even though it doesn't cost you anything extra, I will receive a small amount of money from the sale of these items, which helps me keep this site alive – thank you for helping to support An Edible Mosaic!