In the overwhelming sea of cookbooks, every so often one comes along that truly stands out. Calls to you, speaks to you, and beckons to be cooked from, again and again. This is one such book.
Before I even saw it, I was pretty excited to get my hands on Steeped: Recipes Infused with Tea. The author is none other than the incredibly talented and genuinely sweet Annelies Zijderveld, who I happened to have the pleasure of meeting for lunch one day not too long ago. (And let me just say, the food was pretty fabulous, but the company was even better!)
Annelies blogs at the food poet, and if you're familiar with her blog, you know what a gifted writer she is. She has the ability to weave words into intricate patterns that paint a picture of exactly what she's trying to convey; to call it mesmerizing is almost an understatement. I knew her book would be something special.
In Steeped, Annelies said the idea for the book came from the question: What would it look like to invite tea into every meal of the day? Her cookbook beautifully responds to that question with recipes like fresh, bright-flavored Matcha Chia Pudding Parfaits, subtly nuanced Sweet Tea Jelly, perfectly balanced Fresh Fennel Lychee Spring Rolls with Black Tea Dipping Sauce, comforting Chamomile Corn Chowder, and whimsically fun Mini Cherry Chai Cream Pies with Sweet Tea Glaze.
I think it's pretty incredible how Annelies manages to use tea so creatively, sometimes even multiple ways in one recipe. It's enlightening to think outside the preconceived confines of an ingredient, and this book will make you think of all kinds of new uses for tea. Here are a few recipes I've made from Steeped so far, but I'm by no means finished. My appetite for cooking with tea has only just begun.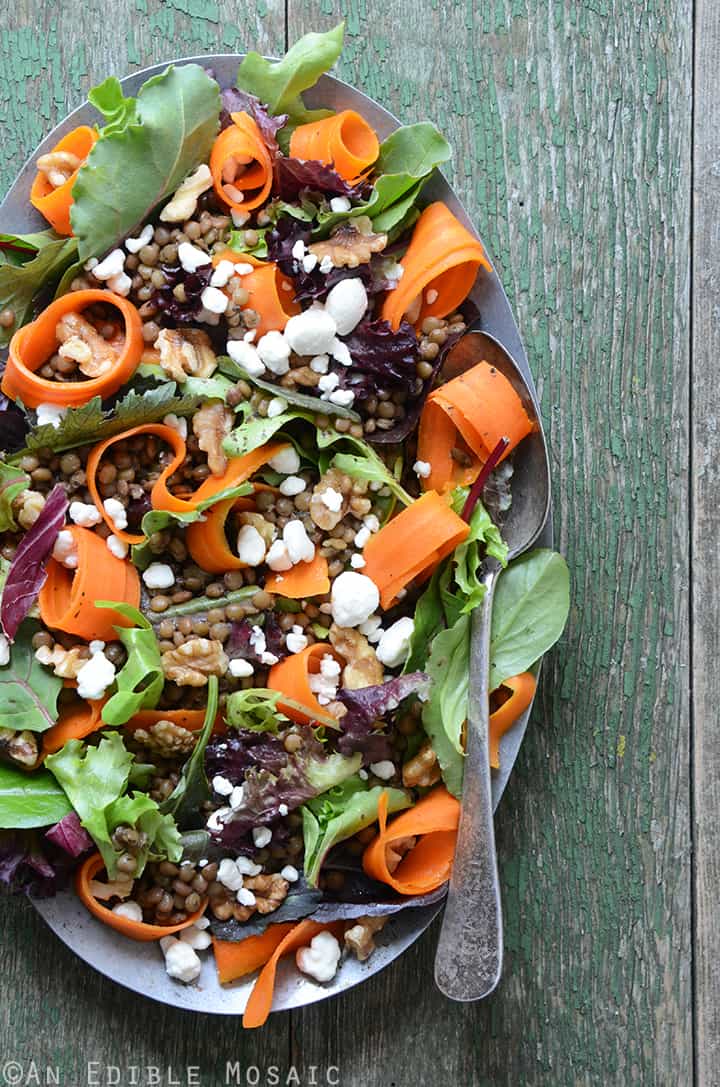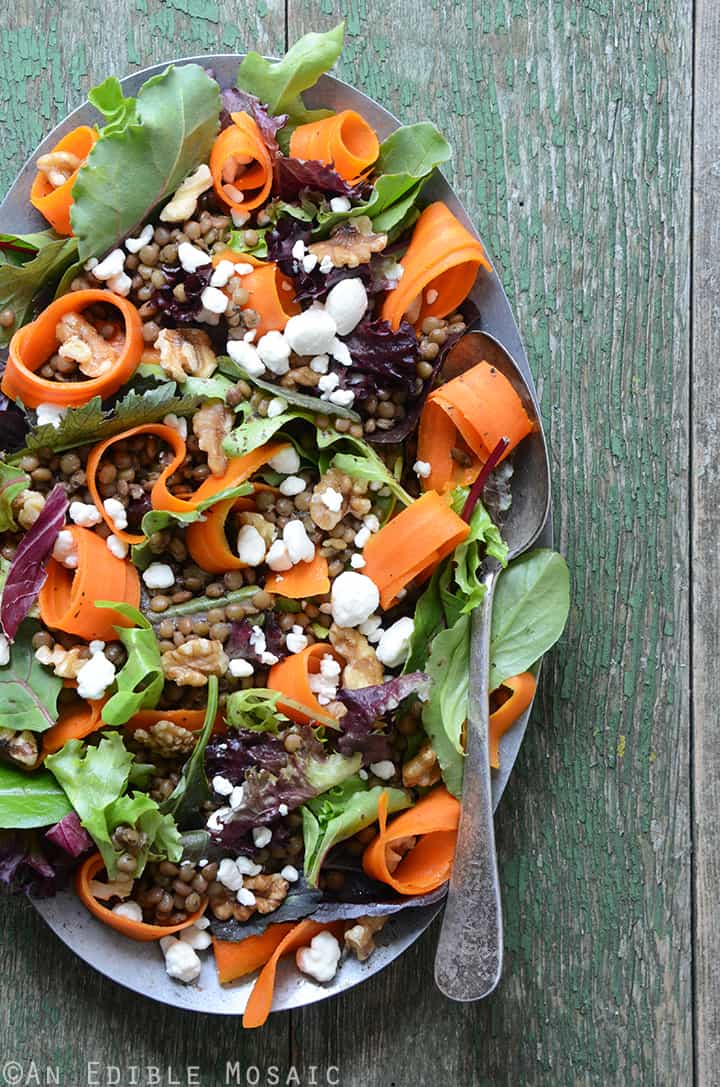 French Lentil, Carrot Curl, and Moroccan Mint Sauce Salad
In Steeped, this dish is actually tea toast; the lentils and carrots are served on toasted walnut bread. What a way to dress up tea time, right? Instead of going that route, I went a low-carb, grain-free route and served it on a bed of mixed greens with walnuts sprinkled on top for lunch. I bet the tea toast is every bit as fabulous as this salad is though.
The smokiness of the tea-infused lentils works perfectly with the Moroccan Mint Green Tea Reduction Sauce here. And while we're on it, that sauce…its killer. It's fresh and bright, with a touch of grassy flavor that nicely compliments the natural earthy sweetness of carrots. The combination is an explosion of flavor and really highlights the versatility of tea.
Chai Frozen Hot Chocolate Malts
I'm going to go out on a limb and say that anyone who's ever had Frrrozen Hot Chocolate at Serendipity 3 in New York City needs to try this (and I promise I don't say that lightly). Hands-down, this blows every other frozen hot chocolate (including the original) I've ever had out of the water.
Annelies' version is lusciously thick and creamy with great chocolate flavor. Masala chai and a touch of malt add complexity and depth. The flavor profile going on here is equal parts simple and genius. Forget homemade ice cream, I will be making this again and again (and again) this summer to cool off with.
Cauliflower Steaks with Tea Umami Sauce
A long-time fan of Middle Eastern fried cauliflower with tahini sauce, I immediately knew I had to try this dish when I spotted it. It practically jumped off the page at me.
Here cauliflower "steak" gets seared in a hot skillet and then quick-roasted in a hot oven, creating a lovely contrast between the crispy outer portion and the almost creamy inner cauliflower. And that's just the beginning…
Tahini and smoky lapsang souchong tea make up the base of the sauce; the flavor is balanced with a touch of maple, and a few other enhancements transform it into something that will have you coming back for another taste of this sauce before it even makes it to the cauliflower steak. The sauce is such a perfect blending of flavors that if you didn't know the ingredient list, you wouldn't be able to pull out everything going on in it.
Earl Grey Whey Soda
I make labneh (yogurt cheese) quite frequently as both my husband and I enjoy it, and I like to find other uses than smoothies and bread-making for the whey. I've used whey to make a Probiotic Arnold Palmer, and I was intrigued by its use in this soda.
Annelies likens this bubbly drink to Orange Creamsicles, and I'm inclined to agree. The subtly citrusy flavor of Earl Grey provides a lovely backdrop for the slight tang of whey, making it as refreshing as it is delicious. It's quick and easy to make too, and I think this will be my drink of choice in warmer months.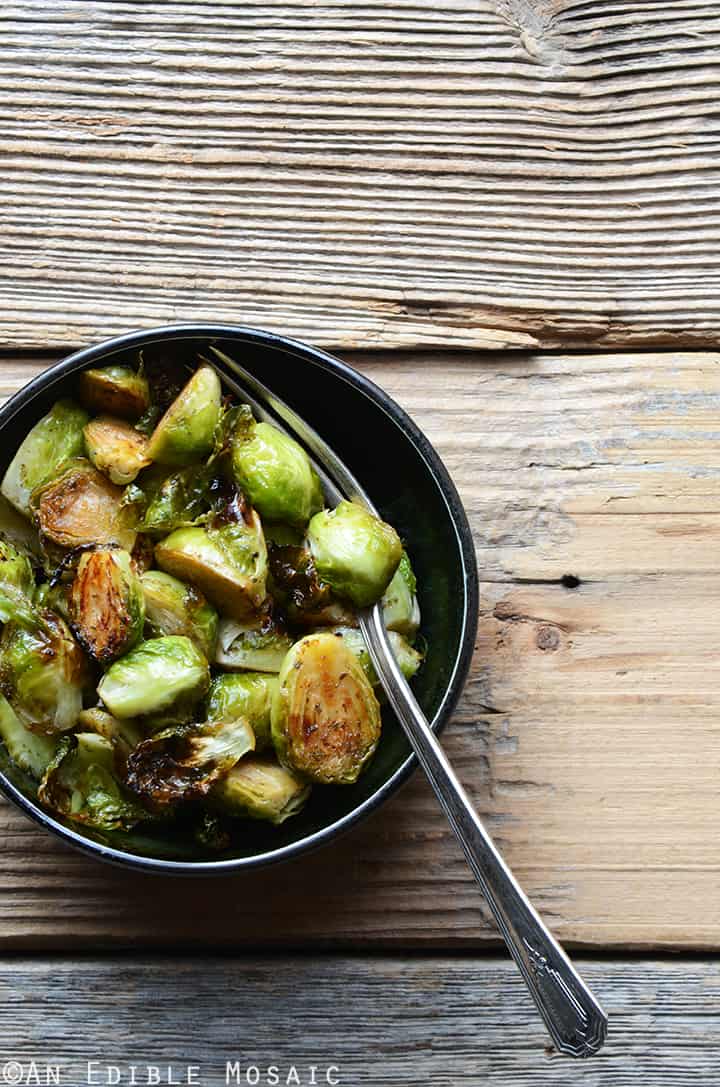 Orange-Jasmine Brussels Sprouts
I am a big fan of sprouts. They're one of those things that I find myself inclined to order when I see them on a menu, and a big bag of sprouts can usually be found in my fridge for times when a quick meal is in order (I like them topped with a fried egg!). Naturally, I felt compelled to try this recipe.
I find that Brussels sprouts love a sweet/savory combo of flavors; here Annelies captures it perfectly. There's an underlying sweet and spicy thing going on that's complimented by earthy floral notes of jasmine green tea. Orange-Jasmine Brussels Sprouts are addictive, the same way that popcorn is. They'd be perfect paired with grilled fish or chicken, but they're so tasty I could eat munch on them for an evening snack and be totally satisfied.
And that's just the beginning, literally. I'm not done making the recipes from Steeped, and I don't think Annelies is done creating tea-infused delicacies. Cheers to that.
Grab your copy of Steeped on Amazon, check out Annelies' blog the food poet, and follow her on Facebook, Twitter, Pinterest, and Instagram.
Disclosure: I received a free review copy of Steeped (Andrews McMeel Publishing; April 2015); as always, opinions are my own. This post contains Amazon affiliate links to products I believe in, which means that even though it doesn't cost you anything extra, I will receive a small amount of money from the sale of these items, which helps me keep this site alive – thank you for helping to support An Edible Mosaic!