Easy Polenta Pudding Parfaits with Stovetop Cherry Sauce come together in less than half an hour for a beautiful weekend breakfast or weeknight dessert.
Sometimes we all need a little help in the kitchen to keep things exciting, both in terms of avoiding food boredom and to prevent cooking from feeling like a chore. And sometimes, let's face it, there just isn't a whole lot of time in the day to cook. The conundrum is, of course, that we still need to eat!
There are a few tools I have up my sleeve that I like to think of as a personal assistants in my kitchen.
My Vitamix is one of them (I literally use it at least every other day, to make everything from mayo, to fudge, to lusciously thick soups), and my basic French press is another (it's perfect for making loose-leaf tea, cold-brew coffee, and of course a perfect cup of joe in the morning). Kitchen help is also available in the form of what we think of shortcut ingredients at the grocery store; things like canned beans, pre-made broth, yogurt, and nut butters, and pre-chopped cabbage, melon, and onions. And then in a class of their own, cookbooks that give us tips and tricks in addition to fabulous recipes.
One such cookbook is Make it Easy by Stacie Billis, the culinary mind behind One Hungry Mama. I had the absolute pleasure of meeting Stacie for an Earthbound Farm event in California a couple years ago; what immediately caught my attention about her is her practical, approachable way of feeding your family healthy meals.
From her book:
In this book, we're going to reclaim scratch cooking for busy, modern life. Sometimes scratch cooking means going all out, while other times it means using a few carefully chosen but exceedingly helpful store-bought ingredients to make a meal. And it always means cooking smart, with an eye toward mixing and matching recipes that you can combine endlessly and use repeatedly without getting bored. Because this saves time and money.
Stacie was kind enough to answer a few questions and give us a few more practical tips…
How does your cookbook help busy parents put a meal on the table quickly without sacrificing quality in terms of both taste and nutrition?
Cookbooks are, by nature, an encouragement to cook from scratch. While Make It Easy fits the bill, it's also different than other cookbooks I've seen in that it supports using store-bought shortcuts when you need to move faster. As much as we need to be careful about processed foods, the unnerving number of chemicals in packaged food products, and the cloak of secrecy that many companies keep pulled over their food production practices, there are lots of products that are reliable, healthy, and helpful that you can grab at the supermarket. If these better-for-you products make the difference between cooking a fast dinner using some fresh produce and less fat and salt than take out, then I say they are worth it. The Supermarket Guide in Make It Easy is a list of brands and products that can help parents throw together simple, wholesome, modern meals using store-bought shortcuts that don't undermine the health value of cooking from scratch. 
Fish Tacos (Photograph by Naomi McCulluogh)
What are your best tips for helping picky eaters want to try new (healthy) foods?
Picky eating habits start to fade as people develop an enjoyment for food; and this is not just true with kids, but also with picky adults. I talk a bit about picky eating in my book, with lots of concrete suggestions and questions to ask yourself that will help you come up with solutions that fit your parenting style. All of them, though, come back to this idea of trying to get the family, namely the anxious parent and the picky child, to start enjoying food. So, number one, ease up! Giving picky eating so much emphasis creates anxiety in parents and children. Also, serve food that you love to eat so that you can be excited about sitting at the table and modeling healthy eating. Let your picky eater have some reasonable say; it sounds crazy, but I give specific suggestions in the book that work with my clients! And stop fighting with your kids about food so much.
Store-bought ingredients (like premade marinara sauce, chicken stock, hummus, sandwich bread, etc.) can be a huge time-saver in the kitchen, but are there any foods that you find are relatively uncomplicated to make and well worth the effort to do so?
Yes! The first recipe chapter in Make It Easy is called "Homemade Supermarket Staples" and has recipes for ingredients that you might normally reach for at the supermarket, but are well worth considering homemade. In order for a recipe to make the cut for this chapter, it had to be truly easy to make and there had to be a reason to make it homemade, such as it's hard to find a store-bought version made without chemicals and/or preservatives, homemade tastes significantly better, or homemade is much more cost effective. Some example recipes you'll find are: corn and flour tortillas (which are hard to find without preservatives), almond milk and fresh ricotta cheese (both are so easy to make that you'll be amazed), chicken and vegetable broth (homemade tastes significantly better and is often healthier too), and nut butters (DIY costs way less than buying store-bought and you can adapt them with endless flavors as you wish). 
One-Bowl Lemon Ricotta Pound Cake (Photograph by Naomi McCulluogh)
What ten items are always in your fridge and/or pantry?
Pasta and soba noodles (endless easy dinners)
Hard boiled eggs (a quick protein that can make breakfast, lunch or dinner happen on a moment's notice)
Hummus (protein-rich snack and the base of one of my favorite no-cook dinners, a Hummus Bowl that's described in the book)
Cooked beets (we all love them; sometimes I roast a big batch on the weekend, other times I buy them precooked at the market, and either way a nutrient dense veg is always ready and waiting in the fridge when I don't have time to cook)
Milk and almond milk (staples; my big kid doesn't like cow's milk, so he gets almond)
Tortillas (because filling them with nearly anything—from canned beans and scrambled eggs to cheese and deli meat—can make a last minute meal)
Sandwich bread (I think this one goes without saying!)
Coconut water (this has nothing to do with the book, but I'm a chronic don't-drink-enough-water type and always need to be sipping on something super hydrating!) 
Beans (mostly canned, but lots of dried, too, to help me boost protein in meatless meals and sides like salads)
Avocados (we can't live without them)
What are a couple of your family's favorite pantry-staple meals for busy nights?
My kids love the Cold Soba Salad in the book, which is basically cold soba noodles (as in, you can cook them in the morning while breakfast is happening and don't even need to warm them back up in the evening), my Ginger Lime Vinaigrette (also make ahead, so it can be waiting in the fridge), and raw, cut up veggies. I also love making the Mushroom and Lentil Bolognese because lentils, which are always in my pantry, cook nice and fast. My kids always want the Vegetable Fajitas, which are easy because they are basically a sheet-pan meal made with sweet potatoes and onion, which I always have since they keep for so long, and peppers, which I also always have because they are a good lunchbox veggie. Spice all those up, roast and wrap in a tortilla; it's perfect and SO healthy!
Cold Soba Noodle Salad (Photograph by Naomi McCulluogh)
How do you keep cooking fun when it can sometimes feel like a chore?
That's a great question and I wish that I had a magical answer that could change things for everyone, but alas, no such solution exists. Sometimes, it's just a chore. When that's the case, because I'm incredibly busy or just not feeling inspired, I rely on those store-bought shortcuts to get me through. I also have a glass of wine and crank the music when it's time to cook! Seriously, though, finding ways to get simple, healthy meals on the table without taking it all too seriously is the key, if you ask me!
In her cookbook, Stacie includes basic cooking tips, flexible mix-and-match recipes, and a handy supermarket guide. It's the sort of cookbook that gets you excited about cooking again.
Looking through Make it Easy showed me how uncomplicated it is to make fresh ricotta cheese; reminded me yet again how versatile things like hummus, guacamole, and granola bars truly are; and is a testament to the fact that sometimes simple flavors are all you need (like Stacie's Fruit with Citrus Sugar, Cold Soba Noodle Salad, Meat Sauce, Roasted Cauliflower with Garlic Toasted Breadcrumbs, and Apple Cider Gelatin).
I was torn between a few things to try first, but then I spotted a gem of a recipe in the Breakfast chapter: Blueberry Almond Polenta. Now, polenta is one of those foods that is total comfort food for me; I love its creamy texture and the fact that you can easily go sweet or savory with it. And like Stacie mentions in her book, it feels elegant!
I made a few changes to the original recipe; cherries are my all-time favorite summer fruit, and they cook up quickly into a delicious sauce on the stovetop, so I swapped them out for the blueberries (plus I am a huge fan of the cherry/almond combo!). And to continue with the theme of rustic elegance that polenta perfectly embodies, I went with layered parfaits instead of a comforting bowl of polenta. The end result is an easy and elegant dish that can double as breakfast or dessert! I know this is just the beginning of the inspiration that I'll get from Stacie's beautiful book.
Follow Stacie on social media: Facebook, Twitter, Pinterest, and Instagram!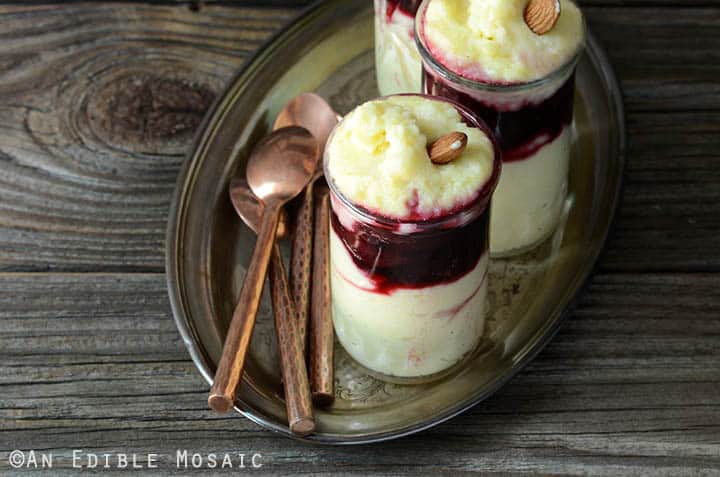 Easy Polenta Pudding Parfaits with Stovetop Cherry Sauce
Prep time:
Cook time:
Total time:
Easy Polenta Pudding Parfaits with Stovetop Cherry Sauce come together in less than half an hour for a beautiful weekend breakfast or weeknight dessert.
Ingredients
Cherry Sauce:
1 heaping cup of fresh whole sweet cherries, washed, pitted and stemmed, and halved
2 tablespoons water
1 tablespoon sugar
Polenta:
2 cups (475 ml) whole milk
6 tablespoons quick-cooking polenta
4 tablespoons almond flour (I used Bob's Red Mill)
2½ tablespoons sugar
1 pinch sea salt
2 tablespoon unsalted butter
½ teaspoon pure vanilla extract
¼ teaspoon pure almond extract (or ⅛ teaspoon ground mahlab)
Other:
Almonds, for garnish (optional)
Instructions
For the cherry sauce, add the cherries, water, and sugar to a small saucepan. Cover and bring to a boil over medium heat, and then reduce the heat, cock the lid, and cook until the cherries are softened and most of the liquid is evaporated, about 6 to 8 minutes. Set aside to cool.
When the cherries are cooling, make the polenta. Bring the milk to a simmer in a medium saucepan over medium heat. Whisk in the polenta, almond flour, sugar, salt, and butter; turn the heat down to medium-low and cook until thickened, about 1 to 2 minutes, whisking constantly. Turn off the heat and whisk in the vanilla and almond extracts.
To make the parfaits, divide ⅔ of the polenta between 4 (6 to 8 oz) glasses. Spoon the cherry sauce on top, and divide the remaining ⅓ of the polenta on top.
Serve immediately, while the polenta is still warm (because the polenta will stiffen as it cools).
Notes
Recipe adapted from Stacie Billis' recipe for Blueberry Almond Polenta in
Make it Easy
.
Disclosure: I received a review copy of Make it Easy from the publisher for free; as always, opinions stated are my own. This post contains Amazon affiliate links to products I believe in, which means that even though it doesn't cost you anything extra, I will receive a small amount of money from the sale of these items, which helps me keep this site alive – thank you for helping to support An Edible Mosaic!