This roundup of Man Food Recipes is perfect for the Super Bowl or any gathering where you need no-fuss crowd-pleasing comfort food. Heads-up, the ladies will love these dishes too!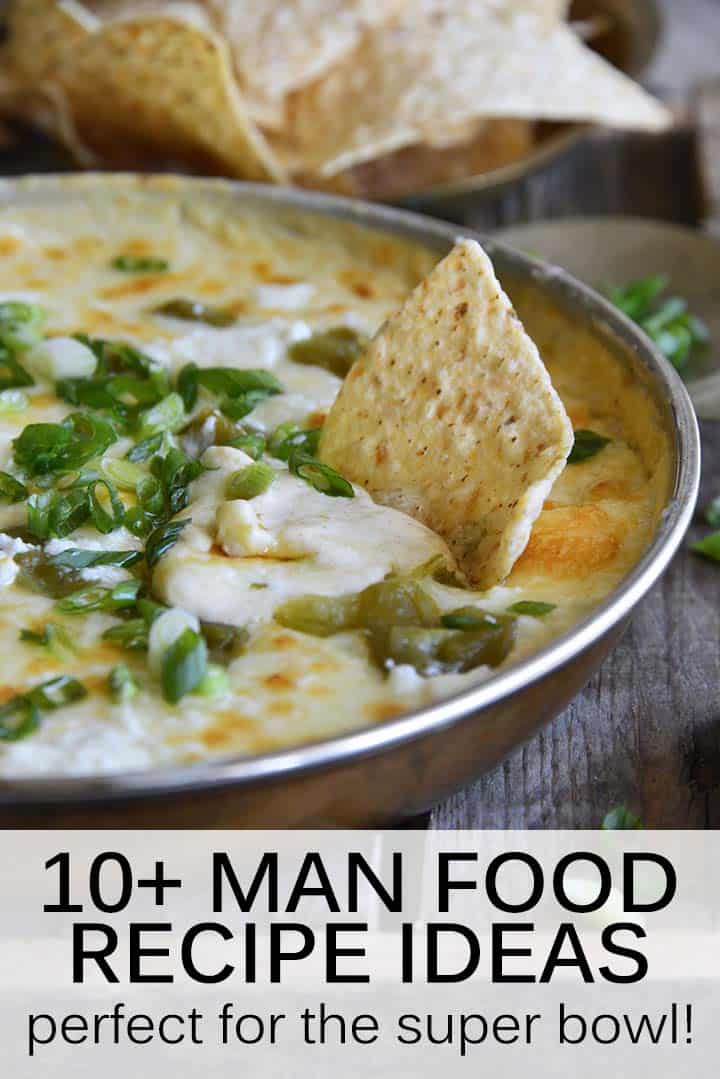 Here are a few beef, pizza, chili, and even a couple decadent dessert recipes (because I know guys have a sweet tooth too!) that are great for your Super Bowl party.
These man food recipes are also perfect for any gathering where you need really good no-fuss comfort food to feed a crowd.
Chili
When we're talking about man meals, I absolutely had to include a chili recipe here, and for obvious reasons! (What says guy food more than chili, right?!)
My favorite version happens to be beanless (as well as low carb), and completely packed with flavor. Plus you can make it in the Instant Pot (which basically means it makes itself), so you can focus your efforts on other things (like actually enjoying the party!).
And remember, if beans in chili are your thing, feel free to add two cans of your favorite beans (rinsed and drained) to this recipe and stir it in at the end just to warm them.
I know this one looks almost too pretty to call guy food, but trust me here! It packs a nice little kick of heat from jalapenos (that you can easily adjust up or down to suit your man's taste preference), that's mellowed just enough with two kinds of cheese.
Bonus, rotisserie chicken is perfect in this white chili, so your job just got a little easier. (And this one is also low carb!)
Like any chili, serve it with a full toppings bar of avocado, cilantro, scallion, and crumbled or shredded cheese.
Beef
Short Rib Tostadas with Pineapple Salsa and Cotija
One of the things I love most about short ribs is how they just sort of melt into tender perfection. If you like a delicious, rich, and tender meat, this cut of meat for you!
I shred the beef and serve it as tostadas with a sweet and spicy fresh pineapple salsa to add flavor and brightness.
This recipe is really convenient; you can make it a few days in advance and just reheat it when you want to serve it (the flavors of the leftovers only get better!).
Instant Pot Mississippi Pot Roast
Again with the beef because, well, beef is always a hit with guys. You could of course just grill up a few steaks, but pot roast is more cost effective, easy to play with the flavor profile, and bonus, you won't have to stand outside in the cold to cook it like you would with grilled steak!
You can easily make this recipe in a Dutch oven, slow cooker, or Instant Pot.
To serve it as game day-food, make it into sandwiches and serve it along with the cooking liquid for dipping.
Pizza, The Ultimate Man Food
Does it get any more indulgent than combining two comfort foods into one rich, cheesy, beefy, carby dish?
If you need guy food to feed a crowd, make a double batch and serve it with shredded mozzarella or grated Parmesan for sprinkling on top.
And if you and your guy prefer a low carb alterative, feel free to use steamed cauliflower instead of the pasta in this recipe.
Cheese on top of cheese on top of cheese, plus a flavorful tomato sauce and fresh basil is what you'll get with this recipe.
It delivers big pizza flavor and will be one of the first things to disappear from your buffet table.
You can serve it with crackers or bread for dipping, but my favorite way to eat it is with a spoon.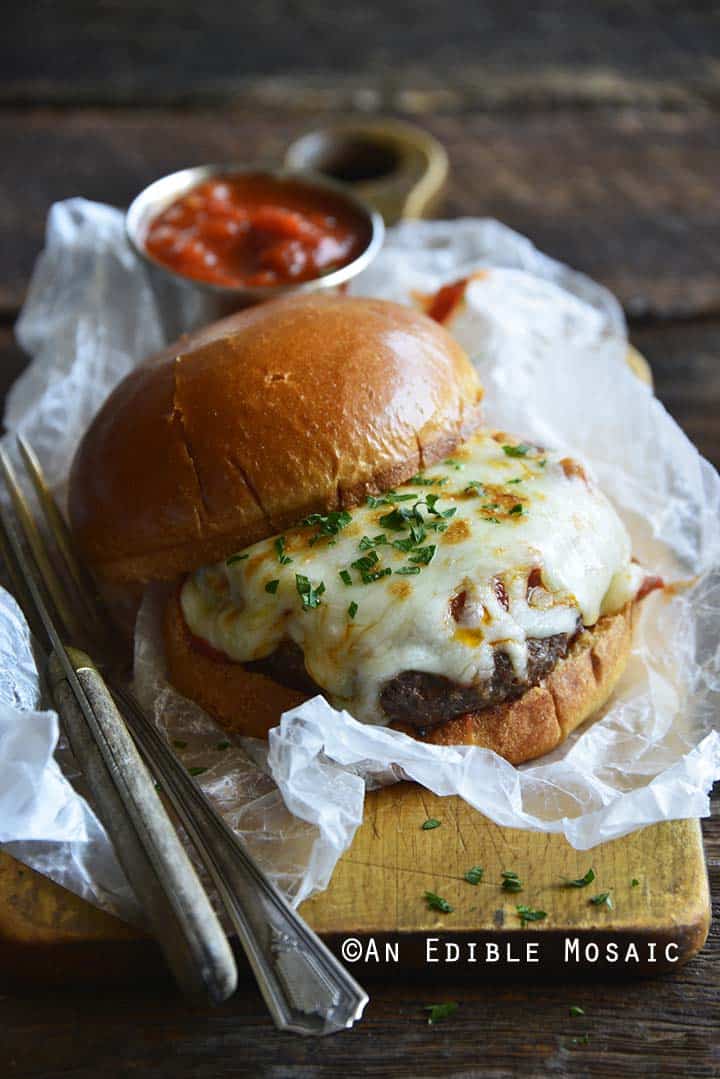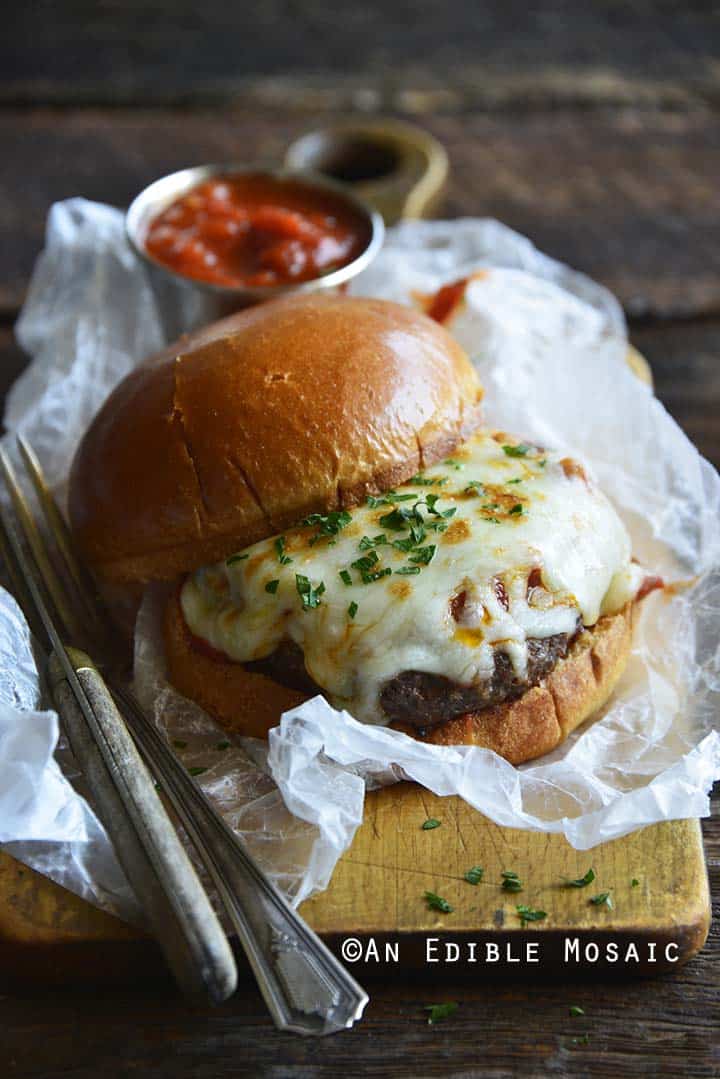 Pizza Burgers are a thing because you should never have to choose between burgers or pizza! Whip up a batch of basic burgers, top them with sauce and cheese, and broil.
Serve them on buns or low-carb style, no bread needed!
Finger Foods
Ok, here's where things get fun. Who doesn't like hot dogs snuggled into cornbread?
The real kicker here is that this recipe is also keto, but I don't think anyone will know if you don't tell them!
Serve these Corn Dog Bites up with ketchup and mustard, or with cheese sauce for extra fun man food. Along with pickles, of course.
Easy Low Carb Chili Relleno Dip
Do you consider dip a finger food? Served with tortilla chips (or keto tortilla chips to keep it low carb), I sure do! And every party needs some kind of dip (or three, lol), right?
This dip has it all…a touch of heat mellowed out with three kinds of cheese plus taco spice mix and fresh scallion. Man food in just 15 minutes!
Desserts
Loaded Kit Kat Peanut Butter Brownies
Rich chocolate peanut butter brownies with crunchy Kit Kat candy, topped with a gooey peanut butter-based frosting, and finished off with a drizzle of chocolate. Need I say more?
But if low carb brownies are more your thing I have you covered there too! My Low Carb Cheesecake Brownies are pure decadence, and if you're looking for a classic, go with my Fudgy Keto Brownies with Walnuts and Chocolate Frosting.
Salted Chocolate Peanut Butter and Snickers Brown Butter Blondies
There's something about the chocolate/peanut butter combination that just about every guy is crazy about. It speaks to them on a primal level (am I right, guys?).
Thanks to the use of browned butter, these blondies have a slightly nutty flavor with notes of caramel. A little sprinkling of sea salt balances out the flavor profile and pulls everything together.
Ladies, I think you'll love these blondies just as much as the guys do!
More Man Food Inspiration (That the Ladies Will Also Love):
What's your go-to party food? Leave a comment below because I love hearing from you! You can also tag @anediblemosaic on social media. To stay up-to-date FOLLOW ME on Instagram, Twitter, and Facebook. Xoxo, Faith