This collection of Holiday Cookies That Are Perfect for a Cookie Exchange will make sure you put together a gorgeous cookie tray!
I need to ask, does anyone actually partake in a cookie exchange anymore? I absolutely love the idea, first because it's a great way to try a whole bunch of new (or new to you) cookies. But also, cookie exchanges remind me of when I was a kid; my mom loved them! The nostalgia surrounding this idea is like the nostalgia surrounding the holiday season itself; it's what makes it special. But even if you aren't going to a cookie exchange, these holiday cookies are sure to put you in a holiday mood!
I put together a collection of a few of my favorite holiday cookies that I think will easily become some of your favorites as well. They're gorgeous, and most of them are fairly easy to whip up. Of course, there are a couple mixed in that you can save for if you're feeling adventurous when it comes to baking. Happy holiday baking, dear readers!
If you enjoy the sweet and salty flavor combination, these Maple Pecan Potato Chip Shortbread Cookies are for you! They taste similar to pecan sandies, but with an amped up crunch factor and a bit of salty flavor from potato chips. Plus, these holiday cookies don't get stale for a while, so they're great if you need something you can make a few days ahead of time.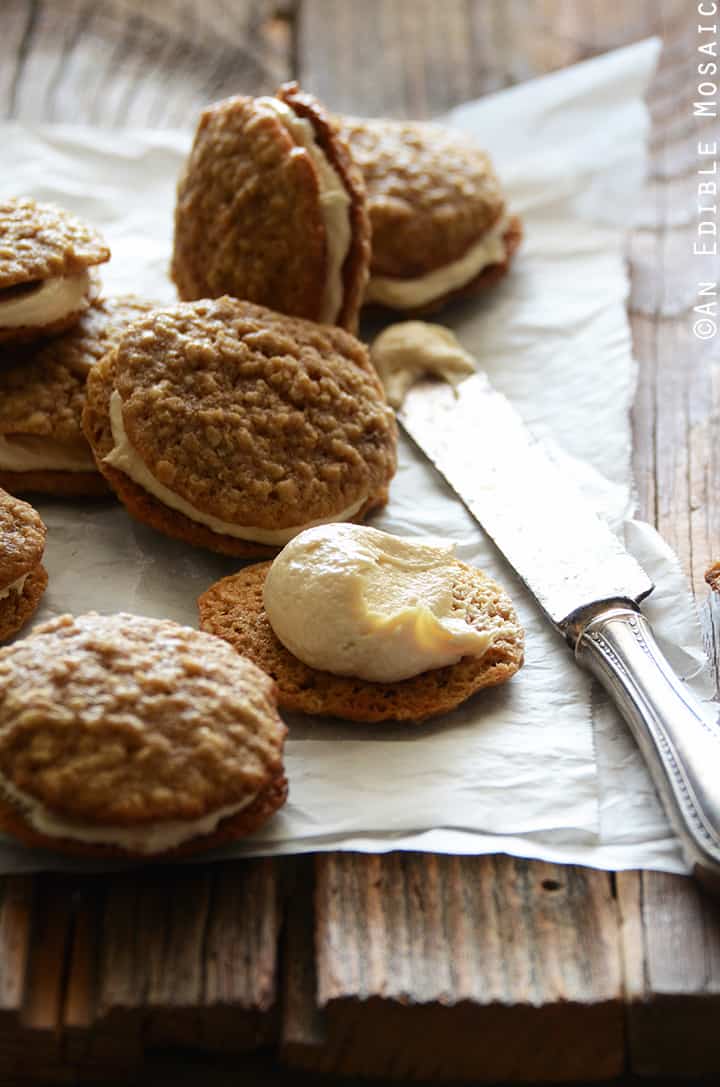 If those Little Debbie Oatmeal Creme Pies were your thing growing up, get ready to have your socks blown off! My Oatmeal Cream Pies feature the grown-up flavor of rum-raisin paired with brown sugar in that glorious buttercream. They're ever-so-faintly laced with cinnamon, and thanks to a touch of blackstrap molasses, they're not at all too sweet. I find that these cookies keep well for up to 5 days stored in an airtight container at room temperature.
For me, there's nothing that's more festive than my mom's Molasses Crinkles. And when I say my mom's Molasses Crinkles, what I really mean is Betty Crocker's recipe as made by mom, lol. But anyway, they are full of warm spices and laced with caramel notes thanks to molasses, and completely addictive. Plus I love the beautiful crinkle tops! I always think these are one of the prettiest holiday cookies on a tray full of cookies.
I'm a huge fan of all cookies that are in any way related to shortbread. These Chai-Spiced Vanilla Shortbread cookies are a fun twist on the classic, and of course along with a cup of hot tea they make for a pretty fabulous and festive afternoon. They already taste like holiday cookies, but to make them look the part you can drizzle white chocolate on top and sprinkle on red and green sprinkles before the chocolate sets.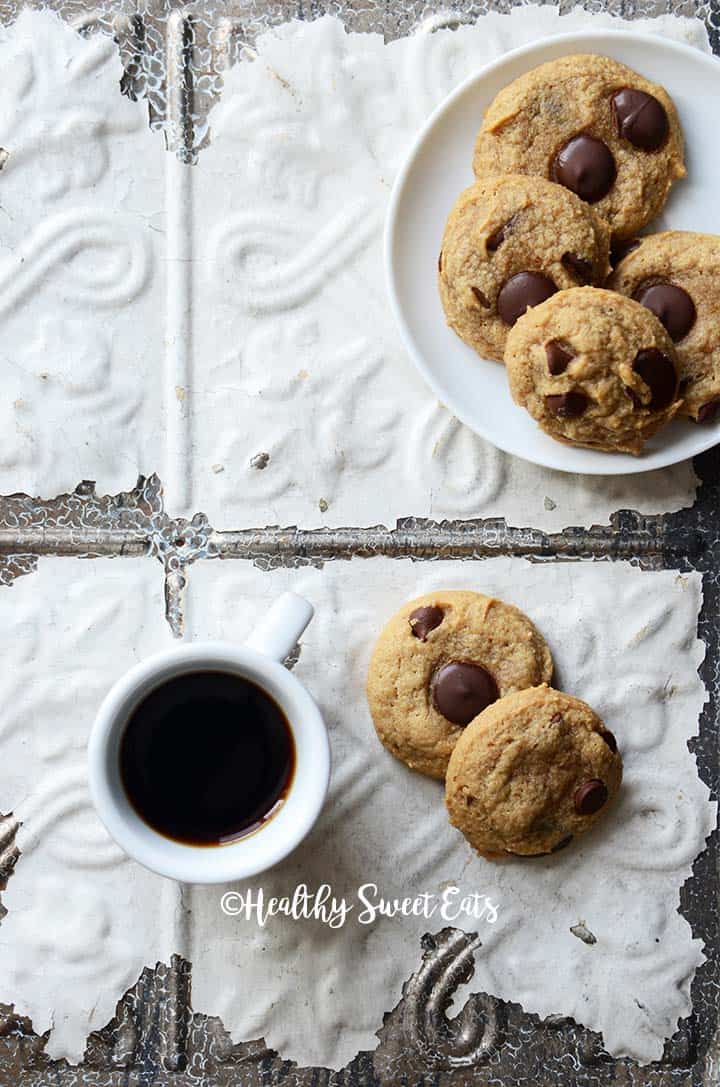 I know chocolate chippers aren't a typical holiday cookie, but I absolutely had to include this recipe! My Soft and Chewy Cacao Butter Chocolate Chip Cookies are rich and aromatic thanks to cacao butter (which is truly something special in a cookie!). They're laced with vanilla and hints of caramel-notes because of coconut sugar (although you can use brown sugar instead if you prefer). And did I mention they're paleo?! (You'd never guess, lol.)
This recipe is a keto-fied version of Peanut Butter Kisses! I'm telling you, you won't miss the carbs or sugar with these Almond Butter Kisses. They're nutty and flavorful with just the right amount of chocolate flavor, thanks to a chunk of stevia-sweetened dark chocolate pressed into the center of each. This holiday season, if you're cooking for someone who's diabetic or follows a low carb or keto way of eating, these are the holiday cookies to make! The recipe is from my Holiday Baking Recipes E-book on The Keto Queens.
I had to include at least one thumbprint cookie on my holiday cookie tray! I find the cranberry, almond, and chocolate trio to be quite festive; however, you can use any kind of jam you like as the filling instead of the chocolate. This entire batch of Cranberry-Chocolate-Almond Thumbprint Cookies Bakes up in less than an hour; as far as simple cookies go, these are beautiful and delicious. To make them look even more seasonal, you can roll the outside in festive-colored sprinkles along with the almonds if you like.
Instead of Russian Tea Cakes, maybe you know them as Mexican Wedding Cookies or Snowballs. My mom always called them Butterballs, and for good reason! Nutty walnuts enhance the rich, buttery flavor, and the powdered sugar coating makes these holiday cookies look festive.
These Middle Eastern Date-Filled Cookies (called Ma'amoul) are such a gem of a recipe to have up your sleeve! The outer cookie portion is rich and buttery, very similar to shortbread. The date filling is spiced with Middle Eastern Cake Spice Mix, which you can find at any Middle Eastern grocery store or online. If you're not able to find it you can make your own mix; this mix is a combination of the following: ground cinnamon, allspice, mahlab (which is ground seed kernels from St. Lucie cherries), nutmeg, ginger, fennel seed, anise, and cloves. Pair a couple of these beautiful cookies with a cup of hot Turkish coffee. My recipe is originally from my cookbook, and my recipe can be found online on the Tasty Kitchen Blog.
One of the things I love most about biscotti is being able to flavor it any way that strike my fancy. This Nutty Biscotti is all about the toasted flavor with almonds and toasted coconut, and a splash of vanilla pulls everything together. I love a couple of these cookies with a cup of strong, hot coffee.
More Festive Cookie Ideas to Add to Your Cookie Tray:
What's your favorite type of holiday cookies?
Disclosure: This post contains Amazon affiliate links to products I believe in, which means that even though it doesn't cost you anything extra, I will receive a small amount of money from the sale of these items. Thank you for helping to support An Edible Mosaic!