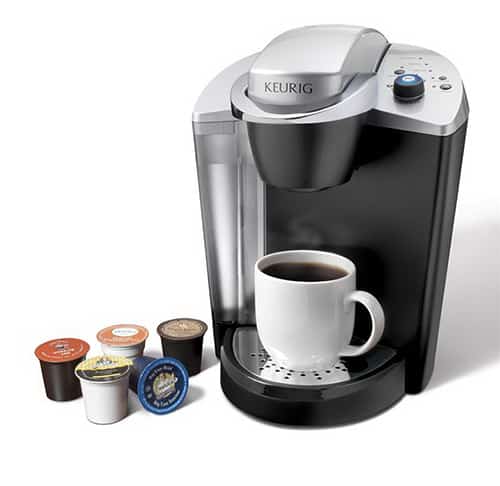 (Image above courtesy of Staples.)
Are you a coffee drinker or a tea drinker? Or maybe hot cocoa is more your thing. Whatever you drink that gets you going, it's likely that you can brew it in a Keurig…I've even seen K-Cups for hot spiced cider and iced coffee! (I know, iced coffee. How I love you.) I've had a Keurig for about six months and I can tell you that it gets more than its fair share of use; we use it just about every day and sometimes more than once a day. I am absolutely thrilled to be giving away a Keurig!
The lovely people at Staples (who are sponsoring this giveaway) recently contacted me asking if I wanted to sample a few K-Cup flavors. Well, that was pretty much like asking a kid if they want summer vacation to come…no need to ask me twice!
Above is a cup of the brewed Starbucks House Blend coffee, pictured with my breakfast one morning. That beautiful bowl of goodness is my Paleo Cream of Wheat-Style Porridge topped with a sprinkling of unsweetened shredded coconut, dried cranberries, toasted slivered almonds, and chia seeds.
And here is what I thought of a few different brands of K-Cups…
Starbucks House Blend
I really enjoyed the smell of this one brewing – I picked up notes of citrus and a nutty roasted aroma. I usually go for a medium-roast coffee, and in my opinion Starbucks coffee is a bit bolder than most other coffees of the same roast and this K-Cup was no exception. I tasted the coffee black and it had a touch too much bitterness and acidity for my usual liking, and I thought it tasted ever-so-slightly burnt; however, I did pick up flavor notes of citrus and chocolate, which I enjoyed. There are some kinds of coffee that I'll drink black, but this is not one of them; if I'm not drinking my coffee black, I'll usually add a splash of skim milk and a touch of stevia. This cup needed a bit more milk and sweetener than I normally add, but once added, I loved the coffee. It had nutty flavor notes of chocolate that were very prominent, and it was very smooth with a pleasant aftertaste.
Newman's Own Café Almond Biscotti
Flavored coffees in general aren't my go-to, but I thought this one would be nice to try to switch it up a little. As it brewed, this coffee had a lovely roasted almond aroma. It was a bold blend, but well-balanced, needing only a splash of milk for me. To make more treat-like, I added a touch of stevia and a pinch of cinnamon and it tasted like a cinnamon-almond cookie.
Barista Prima Coffeehouse House Blend
This one smelled rich and deep as it brewed. It was a balanced brew and very full-bodied. It had bright notes of citrus, subtle notes of bittersweet chocolate, and and aftertaste that was nutty with almost a hint of a smokiness. It was quite complex in flavor, which I really enjoyed.
Café Escapes Café Vanilla
This smelled really nice as it brewed – almost like cookies baking – but flavor-wise, the coffee was a little too weak for my liking. It was quite sweet (too sweet for me) and also quite creamy. Although this one wasn't my favorite, my husband went crazy for it; his favorite way to drink it is with a splash of my homemade vanilla-hazelnut coffee creamer (he likes it super sweet and creamy!).
Green Mountain Nantucket Blend Coffee
This coffee brews a pretty consistent cup. I like that its flavor is well-balanced and there's no bitterness; however, I think this roast is a little on the weaker end of medium roasts. Despite that, I think its flavor overall is quite nice; it's a good mellow cup to wake up to in the morning.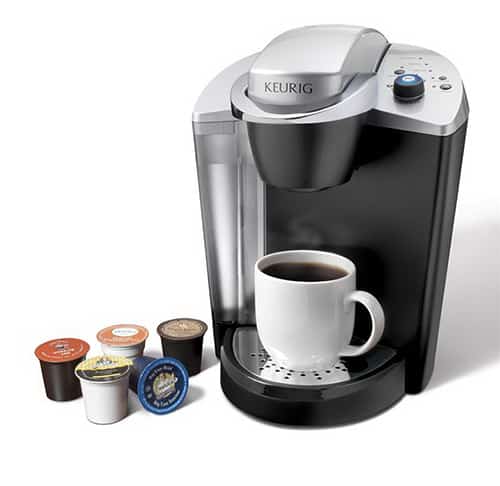 (Image above courtesy of Staples.)
Now for the really exciting part – the giveaway! One reader will receive the Keurig OfficePRO Single-Cup Commercial Coffee Brewer (pictured above), and a pack of K-Cups (you get to choose which flavor) to go with it!
To participate in this giveaway, take a look at the K-Cup flavors available from Staples and leave a comment on this post letting me know which flavor you would like to try if you win. This is the only mandatory entry, but below are a few other ways to get additional entries if you want.
For additional entries, you can do any (or all) of the following. Please leave a separate comment for each so I can count it as an additional entry.
·       Like my Facebook page and leave a comment here letting me know.
·       Share this giveaway on your Facebook page and leave a comment here letting me know.
·       Follow me on Twitter and leave a comment here letting me know.
·       Tweet about this giveaway and leave a comment here letting me know.
·       Follow me on Pinterest and leave a comment here letting me know.
·       Pin a picture from this post and leave a comment here letting me know.
·       Follow me on Instagram and leave a comment here letting me know.
·       Mention this giveaway on your blog and leave a comment here letting me know.
This giveaway is open to U.S. residents only. This giveaway ends Friday, May 10, 2013 at 5AM EST. After that the winner will be randomly selected and notified by email. Good luck to all!
Update (5/10/2013): This giveaway has ended and the winner has been notified!
Full Disclosure: Staples provided me with the K-Cups mentioned in this post for free to review; they are also providing the Keurig and K-Cups for this giveaway. As always, opinions expressed are strictly my own.