Eid Mubarak!  I want to wish everyone a very happy Eid al-Adha!
I've been excited to make this pizza ever since Natasha announced her 5 Star Makeover Challenge to create a dish with Thanksgiving leftovers!  For this pizza, you can mix and match any leftovers that you've got on hand.  I used shredded turkey, sweet potatoes, and green beans, then after baking I topped it with cranberry chutney.
If you've got sweet potatoes or yams that were cooked in a sauce, just make sure to pat them dry as much as possible so you don't end up with a watery pizza.  Or you could place dollops of mashed sweet potatoes around the pizza if that's what you've got on hand. 
As for the green beans, the ones I used weren't part of the infamous holiday green bean casserole (these were just dressed with lemon juice and olive oil).  I'm not sure how green beans from the casserole would fare on a pizza (I think it might be an odd flavor combination, yes, more odd than turkey dinner on a pizza ;) ), so I would stick with plain green beans, or you could use any other veggies you have leftover, such as asparagus or brussels sprouts. 
The cheese combination I used (Monterey and Sharp Cheddar) was just because that's what was in my fridge.  You can use whatever is in your fridge…if you have goat cheese on hand I think it would be fantastic on this pizza!
I'm sending this recipe over to Natasha of 5 Star Foodie for her 5 Star Makeover Challenge:  Thanksgiving Leftovers.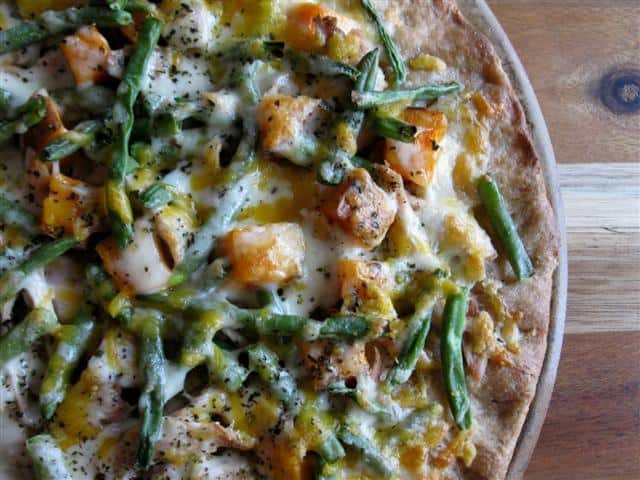 Leftover Turkey Dinner Pizza
(Yield:  1 (15-inch) pizza)
 Thin crust whole wheat pizza dough (see below)
About 1 1/2 c cooked, shredded turkey (or chicken, if that's what you have)
About 1 1/2 c cooked sweet potatoes or yams, diced
About 1 1/2 c cooked green beans
6-7 oz shredded cheese (I used a combo of Monterey and Sharp Cheddar)
2 TB olive oil
1 clove garlic
Salt and pepper
Fresh or dried herbs to sprinkle on top (this is optional, but if you want you can use herbs such as parsley, basil, chives, thyme, etc.)
Cranberry chutney (optional, for serving)
Thin-Crust Whole Wheat Pizza Dough:
1 c all-purpose flour
2/3 c whole wheat flour
2 1/4 tsp instant yeast
1/2 tsp salt
2 TB olive oil
2/3 c warm water
Cooking spray
Round pizza stone, about 15-inches in diameter (or whatever you like to use to cook pizza)
For the dough:  In a food processor, combine the flour, instant yeast, and salt, then pulse in the olive oil.  Stream in the water with the food processor on, until the dough forms a ball (you might not use all the water).  Turn the dough out onto a lightly floured surface and knead for 5 minutes.  Transfer the dough to a bowl that has been sprayed with cooking spray, then cover the dough and let it rise in a warm spot for about an hour until it's doubled in size.
Smash and peel the garlic (but leave it intact); in a small saucepan, heat the garlic and the olive oil over low heat for a couple minutes until the garlic starts to smell fragrant; turn off the heat and let the garlic sit in the oil for about 10 minutes, then remove the garlic.  (This garlic oil will be drizzled on top of the pizza before baking.)
Arrange an oven rack in the lowest position and preheat the oven to 500F.  Lightly dust a pizza stone with cornmeal.  Use your hands to stretch out the dough, then place it on the pizza stone and spread it out to fit the size of the stone.  Poke the dough several times with a fork.  Spread out the turkey, sweet potato, and green beans on top of the dough and then sprinkle with a little salt and pepper; sprinkle the cheese on top, then sprinkle on the herbs (if using).  Drizzle the garlic oil on top of the pizza.  Bake the pizza for 12-15 minutes or until the crust and cheese are golden brown.  Allow to cool slightly before cutting.
Serve with cranberry chutney.