I hope you had a great weekend! I can hardly believe it's already been a week since the Fourth of July…I don't want to say it out loud, but summer is flying by. I'm trying to savor every moment of it and here are some of my current favs…

Peanutty Thai Curry Potato Salad Recipe (and Potatoes Galore)
This time of year you can never have enough side dish recipe ideas for summer grill parties, potlucks, and picnics. The flavor profile of this potato salad was inspired by Massaman Curry and it packs a punch of sweet/salty/sour/umami flavor. Head over to the Idaho Potato website to check out my peanutty potato salad recipe, and also, take a look at my profile page over there to see the other beauties I've shared (including a chocolate cake recipe that uses mashed potatoes as the secret ingredient!).
Kiddo Blogger Extraordinaire
Did you know my niece Rosie has a blog? She's been blogging since she was nine (she's going on 13 now!) and she shares creative writing, recipes, and tidbits of life over on Remarkable Rosie. Her writing is nothing short of enchanting, and her ability to weave a story together is magical. Can you tell I'm a proud aunt? ;)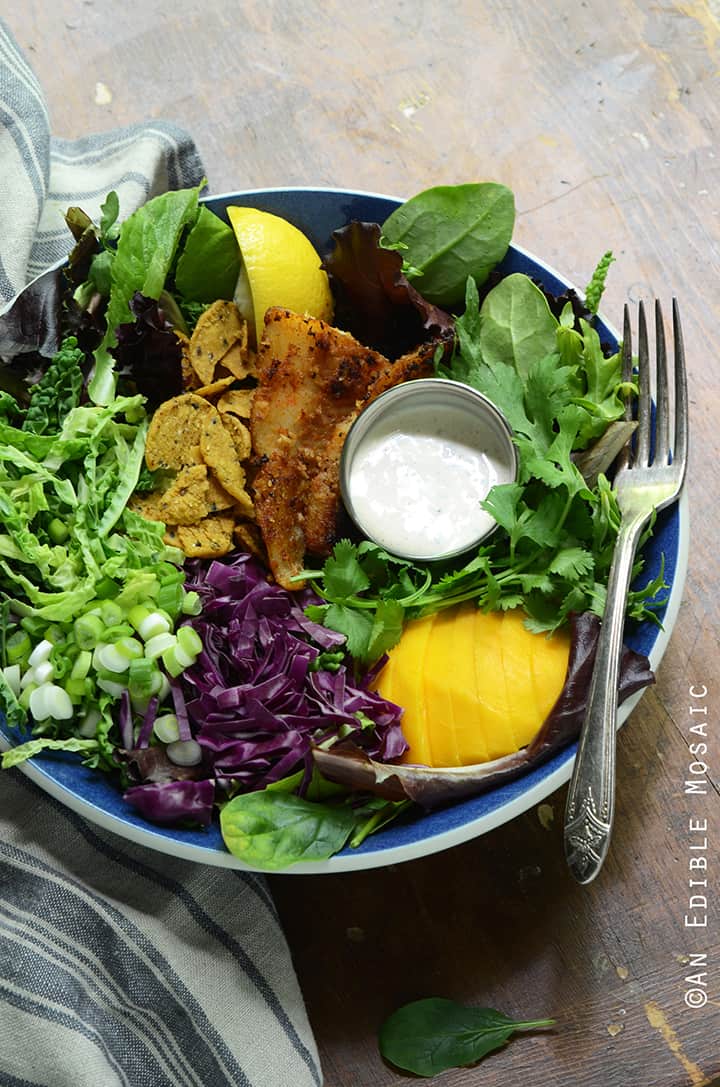 Coconut-Crusted Fish Taco Salad with Fresh Mango and Creamy Cilantro Dressing
I've had a real thing for Baja-style fish tacos lately, so much so that I decided to play around with the idea and turn tacos into a salad. This one is a great pairing of flavors and textures, and the coconut crust on the pan-seared fish is a fun addition. Get my full recipe over on Earthbound Farm.
BLEND Smoothies E-Book Relaunch
If you're a long-time reader (first of all, thank you!), you might remember a couple years ago when Alyssa (of www.EverydayMaven.com) and I released a few smoothie e-books. Our smoothies are nourishing, real food-based, come together in just five minutes (because it goes without saying that a smoothie should never take longer than that to make!), and feature hand-crafted artisanal flavor profiles (think along the lines of Honey Plum Spice, Concord Grape + Greens, and Banana Nut Bread. And I'm going to let the cat out of the bag; that last smoothie I just mentioned has a secret ingredient that actually makes it taste just like the real thing!). We also remade a few favorite coffee shop drinks (like a Pumpkin Spice Latte, Gingerbread Coffee, and Coconut Latte) and decadently indulgent desserts (such as a Hot Fudge Sundae and Caramel Turtle) into something we can feel good about having for breakfast, but is still indulgent-tasting enough to pass as dessert.
We recently gave our brand a complete overhaul, with a fresh new look and logo! And all our e-books are now consolidated into one beautiful e-book for just $12. Get more info and buy the book here!
Low-Carb Muffins Recipe
It's so easy for me to fall into a meal rut (especially at breakfast), so I make a conscious effort to switch things up. Muffins are one of my favorite breakfast treats because they always feel like an indulgence (hello, muffin-instead-of-pastry for brunch) but they're actually an easy vehicle for a ton of nourishment. I recently shared my go-to Low-Carb Flaxseed Muffin recipe over on Instagram, which is gluten-free, grain-free, and naturally-sweetened. It's also paleo-friendly, a good source of fiber and protein, and the perfect way to start the day! (And here's another variation, my Low-Carb Spiced Walnut Muffins recipe.)
Facelift for My Other Blog, Healthy Sweet Eats
I recently finally got around to tackling something that's been on my "to-do" list for a very long time: giving Healthy Sweet Eats a facelift! I did the logo and site design myself; I was going for colorful, whimsical, and fun, and it was no small task for me because I am definitely not a web designer. I'm pretty happy with how it turned out though! Over there I share my nourishing sweet treats, most of which can legitimately pass as breakfast or dessert. Everything is gluten-free and refined-sugar-free, and most recipes are also paleo-friendly. My current favorite recipes over there are my Easy No-Churn Mango Lassi Frozen Yogurt and my Classic Chocolate Walnut Brownies.
Current Paleo Treat Obsession
I love Marissa's recipes over on Pinch and Swirl; she manages to keep them both approachable and interesting and I currently have at least four dishes bookmarked to make from her site. When I saw her Salted Coconut Almond and Chocolate Bites they immediately went to the top of my list! I made them over the weekend, and they are now my current obsession; they're perfect for satisfying a chocolate candy bar craving while still eating clean.
* * * * *
Previous Editions: