Happy Monday, friends!
This week's edition has a whole lot of seasonal flair…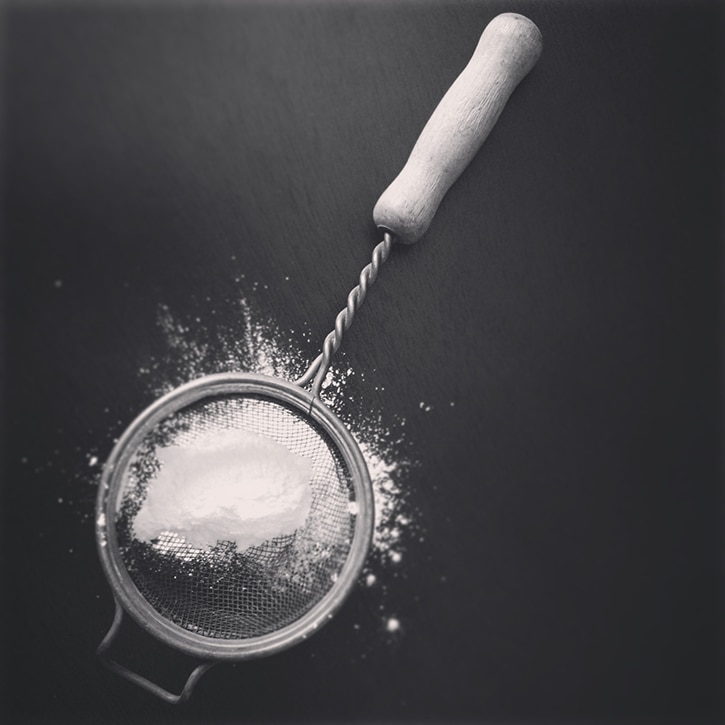 Homemade Powdered Sugar…so easy to make!
1. I recently posted a picture of homemade powdered sugar on my Instagram feed. After that I had a couple different people email me asking how to make it, and I realized I should probably share the recipe here for anyone who hasn't done it yet. I made it because I've been having a heck of a time trying to find powdered sugar (also called confectioner's sugar, icing sugar, and 10X sugar) here in Kuwait, but supposedly one of the local stores carries it…I will check again, but until then, I'll be making my own! There are only two ingredients: regular white sugar and cornstarch (the cornstarch is there to help prevent caking). For every 1 cup of sugar, add 2 teaspoons of cornstarch and process them together in a food processor until the sugar is powdered. (I recommend processing 1 cup or a maximum of 1 1/2 cups of sugar at a time.) I have a Vitamix (which I love nearly as much as I love my darling hubby) and it takes about 40 seconds to make. (In a Vitamix, just turn on the variable setting to 1, gradually turn it up to 10, then switch to high and let it go for about 30 seconds.) This is quite a useful trick to have up your sleeve for times when you realize midway through baking that you're out of powdered sugar!
2. If you're anything like me, you probably hate to clean but love a clean house. (Because Mike sees me cleaning every.single.day he is under the misguided impression that I live for cleaning; I can assure you that this isn't true!) I'm going to share a glass cleaning tip with you that I got from my mom (and my mom got it from her grandmother on her father's side) that will hopefully make your life a little easier. Not only is it the absolute best glass cleaner I've ever used, but it's cheap as heck and I would bet that you have everything you need for it on hand right now. Mix 2 cups (475 ml) of water with 1/4 cup (60 ml) of distilled white vinegar. That is all…there is absolutely no need to add dish soap or another sudsing agent. Dip a rag into the water/vinegar mix, wipe down your glass, and immediately dry it off with a clean, dry towel (immediate drying is imperative!). Admire the sparkle. :)
3. About my electric oven…after determining the actual temperature that it cooks at (as opposed to what temperature it says it's cooking at) I was finally able to successfully start baking and roasting in it. However, Mike, who uses the stovetop to make Turkish coffee once in a blue moon, decided he hates making Turkish coffee on an electric stovetop. (And I have to agree with him, it's much more convenient on a gas stovetop…but I'm the one who makes the coffee 9 times out of 10 anyway and it didn't bother me that much, lol.) Anyway, over the weekend we got a gas oven/stovetop. Although I finally figured my electric oven out, I can't say I'm not relieved to be cooking with gas again.
Pumpkin New York-Style Crumb Cake
4. I'm going to be a total tease right now. Last week the recipe that I made when I finally had success with my electric oven was Pumpkin New York-Style Crumb Cake. And oh wow. It was worth every single failed recipe I had in my electric oven (and there were several…the carnage wasn't pretty, friends). But this made up for it. When I saw canned pumpkin at a grocery store here I picked it up, got it home, and the inspiration for this beauty just came to me. I promise it is every bit as good as it sounds…and I will be sharing the recipe this Friday (update: here is the recipe)! If you're truly in the mood for something pumpkin-y, here are a few of my favs to hold you over for now: Pumpkin & Cheese Spice Bread (surprisingly, this is the most popular recipe on my blog to date!), Sugar-Free Pumpkin Spice Syrup, and Cream Cheese Pumpkin Spice Spread. And how amazing do Purple House Café's Pumpkin Spice Latte Popsicles sound?!
5. Continuing the pumpkin theme for just a minute, I recently came across Mulberry and Pomegranate's recipe for Wartime Honey and Pumpkin Scones with Yoghurt Cream. I was immediately intrigued by the name, and as I thought, it turns out this is an heirloom recipe from World War II when recipes used things like butter and sugar in moderation, and people were encouraged to grow their own gardens. Food with a history always calls to me. Mrs. Mulberry shares the recipe and more details about it, along with stunning photos here.
Pardina Lentil, Green Apple, & Kale Salad
6. With the kiddos back to school, if you're looking for a few new ways to spice up packed lunches for your family, how about a Chicken & Broccoli Lunch Bowl that cooks in 10 minutes or a vegetarian bean-based salad like Greek-Flavored Butter Bean Salad, White Bean-Roasted Red Pepper Salad, or Pardina Lentil, Green Apple, & Kale Salad? Also, Food for My Family talks about how to eat well and spend less with lunch box ideas; Weelicious has tons of school lunch ideas; and don't forget, Family Fresh Cooking is hosting a September Project LunchBox Challenge!
7. Do you go apple picking? If so, what's your favorite way to use them other than eating them out-of-hand?
* * * * *
Previous Editions: