I hope you had a wonderful weekend! For me, this weekend flew by even faster than they normally do. That's what happens when you try to cram a ton of stuff into just two days!
Here's what's going on…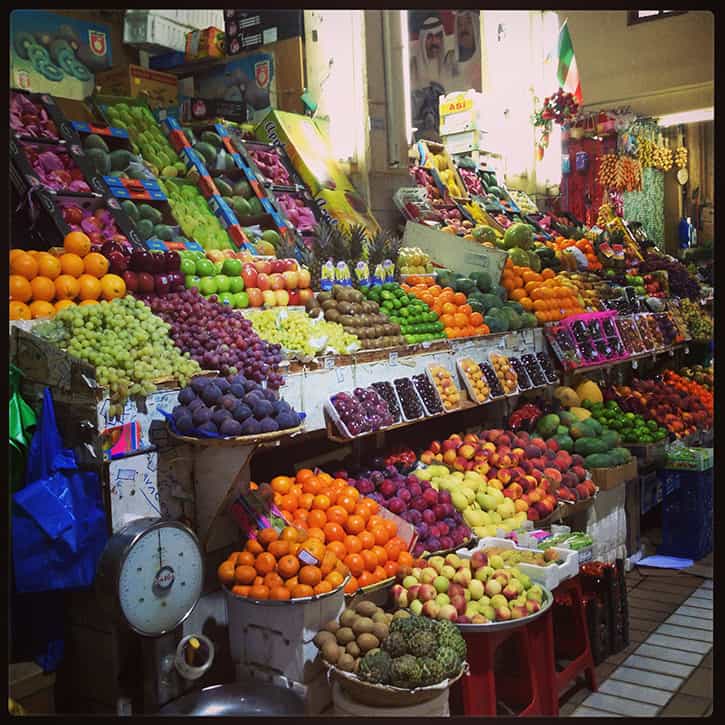 Fruit and Vegetable Stand at Souk Al Mubarakiya in Kuwait
1. Mike and I have been having fun exploring our new home, but we haven't really wanted to lug around a big camera to take pictures…yet. For now we've just been enjoying soaking everything in. Yesterday we went to the old souk (market) here in Kuwait, called Al Mubarakiya (where you can find anything and everything), and I snapped a few pics on my phone, including the photo of the produce stand above. (To check out all of my market pics, feel free to take a look at my Instagram feed.) I think my favorite way to explore a new place is to head to their markets.
2. Have you seen the blog What Liberty Ate? It's amazing. Gabriela is an incredibly talented photographer who is able to perfectly capture a mood or evoke a feeling with her photography. She's also a recipe developer, story teller, and everything in between. (She even designs a breathtakingly gorgeous independent online magazine.) Earlier this summer she announced that she's going to be studying photography at SCAD in Atlanta and I am absolutely thrilled for her. If you haven't checked out her blog yet, head over and you will fall in love immediately.
Cinnamon-Pecan Pumpkin Muffins
3. For all the pumpkin-lovers out there, please take a look at my guest post and recipe for Cinnamon-Pecan Pumpkin Muffins on My Husband Ate All My Ice Cream. They're full of healthy ingredients without compromising on flavor, and of course they're the perfect way to satisfy a pumpkin craving. (A big thank-you to Heather for inviting me to guest post!)
4. The weather here in Kuwait has been quite an adjustment for me, especially because of the air conditioning; every time you to outside, you're going from a cool 70F to approximately 115F. This has wreaked havoc on my lungs and lemon verbena prepared as an herbal tea has been helping. A friend of ours here recommended it because of its beneficial effect on the lungs as an expectorant, and I've found it does provide relief. Of course I don't use it in lieu of modern medicine, but I am a fan of herbal remedies so I don't mind supplementing with it. Don't forget, before the start of modern medicine people commonly used things like herbs, spices, and even food as medicine with good results. If you're interested, you can read more about the health benefits of lemon verbena on Anthony William Medical Medium or on Get Healthy. (Note: I am NOT a doctor or medical practitioner of any kind. Nothing in this post should be construed as medical advice; I am merely recounting personal experience in case it might benefit anyone else. If you need medical advice you should immediately seek a physician's care.)
Photo From Home Shopping Spy and Products Available From Jamie at Home
5. I've been trying to organize my kitchen and I'm thinking about getting Jamie Oliver's adorable colorful-lidded glass storage jars. I think I need them, lol.
Za'atar-Spiced Flatbread Pizzas
6. A few years back when Mike and I were on our honeymoon in Amman, Jordan, there was a Syrian baker that we liked to go to who sold his own version of personal pizzas. They were made on Middle Eastern flatbread and the tomato sauce was spiced with za'atar (which is a Middle Eastern herb and spice mix with thyme as the base herb); he'd top them with things like olives, onion, bell pepper, and mushrooms. They're very similar to quick pizzas you'd whip up on English muffins, soft tortillas, or even bagels, but the za'atar adds incredible flavor. We also like to add a sprinkle of za'atar on top.
7. How amazing do these Buffalo-Roasted Chickpeas from Vegan Yak Attack sound?!
* * * * *
Previous Editions: