Monday is back again! I hope you had a relaxing weekend…Saturday was a completely relaxing day for us and we loved it. The only thing we did all day (at least that's what it felt like!) was walk to our favorite Japanese restaurant for dinner. I feel rested and ready to start the workweek!
Here's the dish this week…
Bulgur Wheat Salad with Pomegranate + Walnut…recipe coming Friday!
1. I know I've gushed about the figs here in Kuwait a few times, but can I just briefly mention the gorgeous pomegranates? They are amazing, and perfect for making things like my Bulgur Wheat Salad with Pomegranate + Walnut (recipe coming Friday!).
2. Lately we've been having people over for dinner pretty frequently. When I ask what they want to eat I always get the same response: I'm not picky…I'll eat anything! So, being in Kuwait and making dinners for our Middle Eastern friends, instead of always making the norm (things like big Middle Eastern rice dishes, stuffed vegetables, kebab, shawarma, etc.), I sometimes like to make classic American fare to introduce them to American cuisine (beyond just the burgers and fries that they're familiar with). One day I was Googling all over the place, trying to find a unique American meal that our guests probably hadn't had yet, and I came across Recipe Boy's adorable Ravioli Cupcakes. I couldn't resist making them…and they were a huge hit!
Butternut Squash Puree…so easy!
3. In addition to apple and pumpkin, I've been enjoying another fall favorite lately: butternut squash. It's so versatile…use it to make things like Love & Olive Oil's Butternut Squash Risotto with Pine Nuts, Balsamic Drizzle, and Fried Sage; When Harry Met Salad's Butternut Squash Muffins; creamy-textured soup like Cook Your Dream's Roasted Butternut Squash Soup; hearty soup with texture like Yummy Workshop's Beef and Roasted Butternut Squash Soup; insanely wonderful fries like Comfy Belly's Butternut Squash Fries; or even just the most velvety butternut squash puree you can imagine.
4. I've been using my Vitamix a lot lately, which is great, but when I make something like garlic mayo and then go to make a coffee smoothie two hours later, I need to make sure it smells fresh. I have a foolproof method for cleaning the jar of my blender (which of course will work on any blender – not just a Vitamix!). Clean the blender jar how you normally would (I usually add a squirt of dish soap, fill it up about 2/3 with warm water, and blend it up for a few seconds), and then rinse the jar. Place the blender jar in the sink, sprinkle 1/3 cup of baking soda into the jar, and add 2/3 cup vinegar (I usually use distilled white vinegar); the two will react and foam up. Let it sit like this for 5 minutes, then fill the jar to the top with very hot water and let it sit for 20 minutes. Rinse it out and smell it…repeat this as necessary until it's odor-free! (I've never had to repeat this more than once – for a total of two baking soda/vinegar cycles – even for the worst smells.) This method also works to clean glass jars with long necks that are hard to clean inside, and plastic containers that become discolored (especially after having something like tomato sauce in them). This method is not only the most effective method I've used, but it's also cheap! If this is your thing, you won't want to miss my method for cleaning glass with vinegar that I shared recently.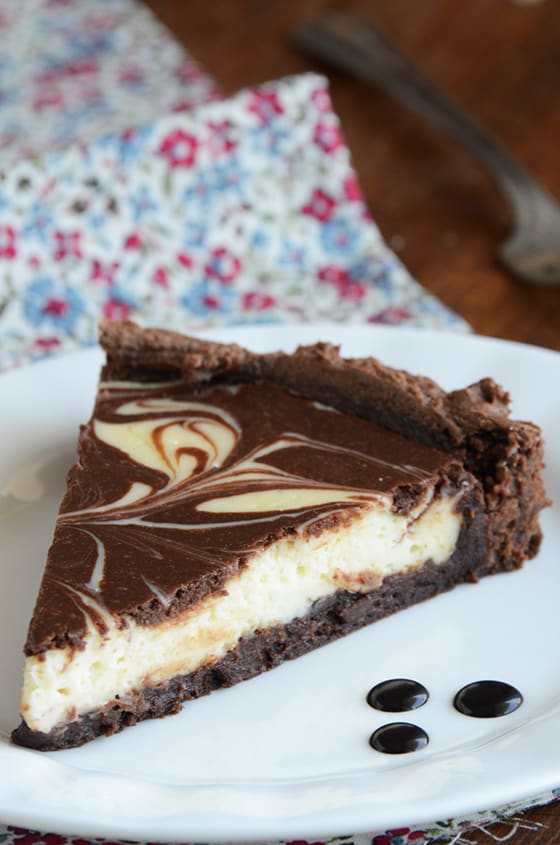 5. If you're looking for an impressive looking easy-to-make treat, I have you covered with this Brownie Cheesecake Torte, a fabulous Cooking Light dessert from back in the day. Head over to Culinary Covers for the full recipe…and it comes with a story too!
Harvest Your Health…more info to come on that next Monday!
6. If you're into healthy eating and a healthy lifestyle in general, you will definitely not want to miss out on next Monday's post! You will be in for HUGE savings.
Me! A "smash the cake" shot from my first birthday.
7. So, today is my birthday and in honor of it I thought I'd show you a photo of the very first time I celebrated the occasion! I really could have dived into that cake a little harder…where's the mess, lol?!
* * * * *
Previous Editions: