It's Monday! There are so many goodies in this edition, so let's get right to the good stuff…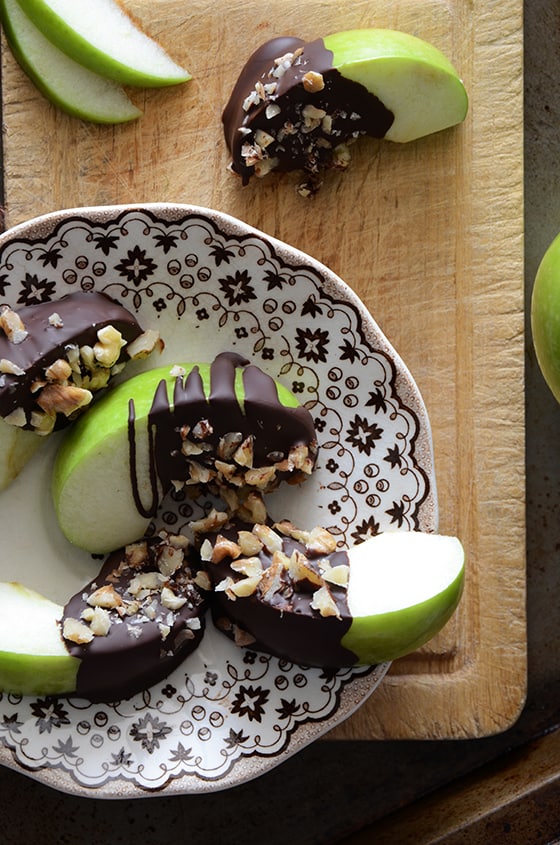 1. With Halloween in just a few days I am so excited to share a healthier candy alternative with you. I'll be sharing the recipe for my Healthy Candy Apple Wedges on Wednesday (update: here is the recipe), but for now, if you want a healthy candy-like treat to hold you over, take a look at my Superfood Spiced Autumn Truffles.
2. I've been enjoying simmering stovetop potpourri lately to make my home smell like fall. The best part is that these potpourri mixes are super easy to make, and you can probably come up with a lovely mix using what you already have on hand. To make them, I fill a medium saucepan about 3/4 full with water, add any herbs, spices, or other aromatics I want, and let it slowly simmer. One of my favorite combos is what I call Spiced Orange Vanilla (orange peel, cinnamon stick, whole cloves, and vanilla extract). Another couple of my favorite are Herbed Lemon-Mint (lemon peel, fresh rosemary, fresh thyme, and mint extract), and Vanilla-Mint (vanilla bean, a bunch of fresh mint leaves, and a couple drops of both mint and vanilla extracts). These mixes are completely customizable, and they go such a long way to making your home feel cozy and inviting. (Safety Note: Be sure you don't leave the simmering pot unattended for too long – check on it frequently and add more water as needed.)
Cappuccino in Bahrain; photograph by my multi-talented hubby, Mike.
3. If you follow me on Instagram, you might have already seen the gorgeous picture above. My husband took it, and he's kept his food photography skills hidden for far too long…I think it's high time he started a food blog.
4. If you've never had freekeh (which is an ancient Middle Eastern whole grain – roasted green wheat), it is pretty wonderful. Smoky, nutty, chewy, hearty. Fabulous. I'm dying to try it in Taste Love & Nourish's lovely Butternut and Cranberry Freekeh Salad.
Hand-Knit Cardigan From ovejanegra on Etsy
5. I love this hand-knit cardigan from ovejanegra on Etsy. So much.
6. I've wanted to make my own pasta for an embarrassingly long time now, and this beautiful post from The Lady and Pups on Streamling Pasta makes me want to buy a pasta machine in the worst way. Mike, darling, if you're reading, Christmas gift, maybe? ;)
A variation of Brown Butter Oatmeal Chunk Cookies from How Sweet It Is; photo from my Instagram feed. In this batch I swapped out the chocolate chunks for walnuts and butterscotch chips and brought it to my family's 4th of July picnic. And yeah, it's anyone's guess as to how many times I made these cookies again after that.
7. Have you made the Brown Butter Oatmeal Chunk Cookies from How Sweet It Is? I stumbled on the recipe early last summer and since then I've made it more times than I care to admit…when you can't count on two hands how many times you've made a recipe in less than six months, I'd say it's a big hit (don't judge me until you try them, lol). If you're starting to think about what cookies you want to make for the holidays (or if you just have some free time and feel like baking), head over and get the recipe. But consider yourself warned – everyone who tastes them will ask you for the recipe!
* * * * *
Previous Editions: