I'm not quite sure how it happened, but this edition is full of cookies…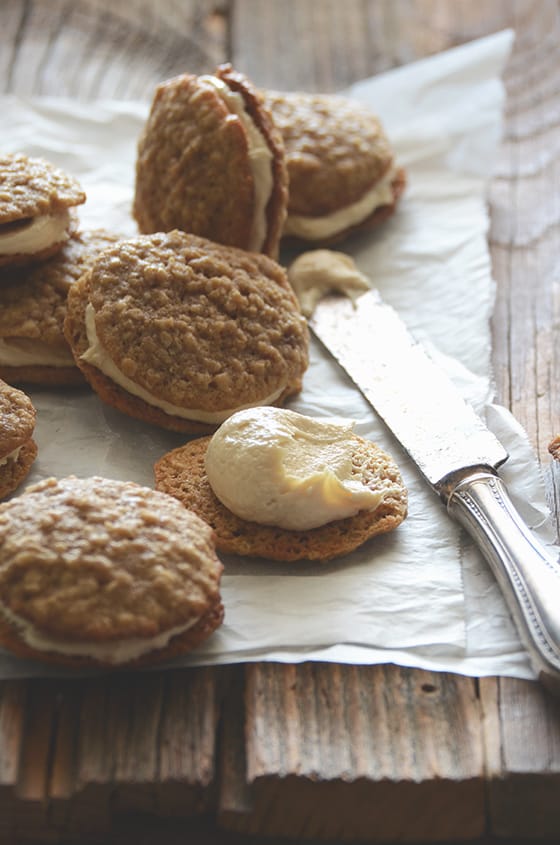 Oatmeal Cream Pies with Rum-Raisin Brown Sugar Buttercream Frosting
1. Lately for some reason I've been on a real kick remaking old recipes and taking pictures to update old blog posts. (Because although some of my old recipes are pretty tasty, judging by the pictures, you'd never know it!) My latest remake is my recipe for Oatmeal Cream Pies with Rum-Raisin Brown Sugar Buttercream Frosting. They are the best little cookie sandwiches ever. If I lived in an ideal world where all cookies were healthy, this is how I would eat my oatmeal – in cookie sandwich form. Not to mention, if you're looking for a good brown sugar buttercream recipe, this one is tops and super easy to whip up. But even if you're not tempted by the cookies or the buttercream, head over to take a look at the photos! They are so much prettier now. :)
2. Speaking of pretty, I love looking at beautiful blogs and breathtaking photography. A couple of my favorites are What Should I Eat For Breakfast Today and Manger…I could happily spend all day looking around and being inspired.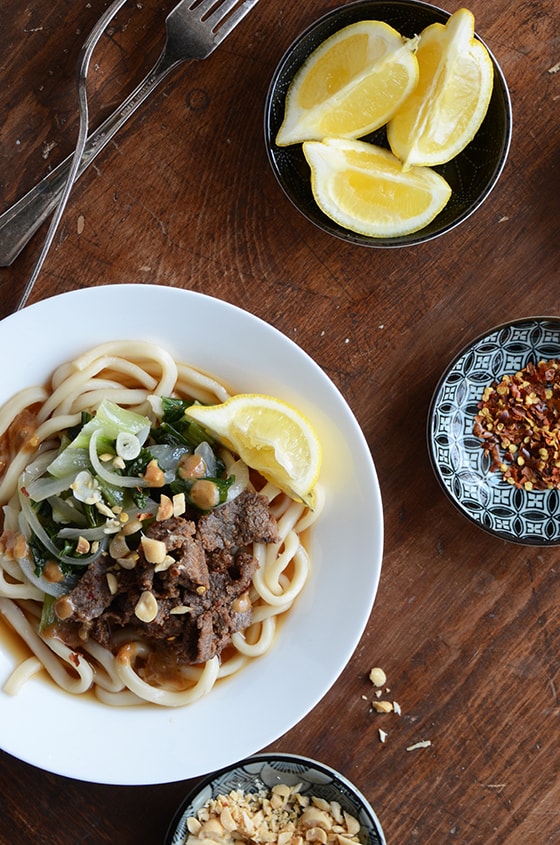 Beef with Udon Noodles and Baby Bok Choy with Peanut Butter Sauce
3. There are almost no words for this recipe, it is that insanely delicious. The beef is super tender and flavorful, and the sauce is killer. If you enjoy Pad Thai, you will love my Beef with Udon Noodles and Baby Bok Choy with Peanut Butter Sauce. Head over to the Peanut Butter & Co. Recipe Blog for the full recipe!
4. I'm always smitten with the gorgeous dishes that come out of Alida Ryder's kitchen. Just look at this Beef Ragu with Parmesan Gnocchi on her blog Simply Delicious. That right there is the perfect fall meal.
5. This experience really touched me and I wanted to share the story…a couple weeks ago, Mike and I were at a flea market here in Kuwait. We were searching through the rubble for the hidden treasure that always awaits if you have the patience to look. There was a lady next to us looking at a gold and amber-colored raised platter, the kind of thing kind of thing you'd put fruit on. You could tell she was smitten with it. She asked the seller how much it was, and he told her 5 Kuwaiti Dinar (which is almost $20USD). You can haggle with sellers, but she didn't bother; instead she gasped at the price and immediately put the platter down. She turned away to look at another item, and I asked Mike to haggle on the price of the platter. Mike talked the seller down to 2KD (just over $7USD), and the lady watched, smiling, probably thinking the platter had caught my eye. As Mike handed the seller the money, I handed the lady the platter, telling her it was a gift. The lady and her teenage daughter were completely overwhelmed, both of their eyes welling up with tears as they both kept asking why. My only answer (as I tried not to well up with tears myself) was that it was theirs. I've had so many people (strangers included) show me incredible kindness in my life, it's an honor for me to pay it forward. You never know how an act of kindness as small as this can impact someone's life.
Florentine Lace Cookies…these are what I consider "special" cookies!
6. You might get a kick out of this…I sure did. I'm working on putting together a round-up post of festive cookies to share in early December. I wanted to include a few special cookies that are more unique than typical holiday cookies like cut-outs and shortbread, so I Googled "special cookies" (super intuitive search, I know, lol). The first item in the search results was "The Stoner's Cookbook", the second item was "Cannabis Foods" on Wikipedia, and it didn't get any better going further down the list. How has "special" come to mean that, lol? Geez, people…what about the rest of us who just want cookies that are special without a hidden agenda?
7. With the holiday season fast approaching I have so many other exciting things to share with you that my Mosaic Mondays posts will likely have to go on hold for a little while…but hopefully not for too long because I seriously love sharing these posts full of bits and pieces of my life with you. And feel free to leave a comment telling me what you'd like to see more of in these posts…I will do my best to accommodate! :)
* * * * *
Previous Editions: