Canvas Restaurant & Market in Orlando reinvigorates fresh New American fare at their beautiful lakeside location in the Lake Nona area of Orlando, Florida.
There is so much to enjoy about Orlando beyond the theme parks. I love that it's not too far from the beaches on either coast, and Orlando itself has a good amount of museums, live music, outdoor recreation (including things like airboat rides, swamp tours, and ziplining), wildlife (like gator parks, giraffe ranches, safaris, and dolphin tours), and nature (natural springs for snorkeling and scuba diving, nature trails for hiking, and lakes for kayaking and boating). And of course, the food scene is not to be missed!
I recently had the opportunity to eat at Canvas Restaurant & Market at Lake Nona for the first time, which is about 30 minutes southeast from Orlando. The restaurant sits right on the lake and the views are amazing, especially at sunset. They recently launched a new menu with 22 dishes crafted to showcase the best of fresh New American fare.
Chef Bryan Thoman
From Chef Thoman: "I had two goals in mind when building the menu. The first, to create diverse and robust offerings for the locals, because I wanted the neighbors to feel like they could come to Canvas every day. The second was to create a menu filled with craveable offerings that would call upon discerning palates near and far, because I know Canvas is worth the drive."
I couldn't agree more, and I have to tell you that Chef Thoman was an incredible person and went above and beyond just cooking us a memorable meal. He took his time chatting and explaining each dish to us, and at the end of the evening, he came out with a platter of a variety of peppers from their garden along with paper bags for each of us to take some home.
Here are the dishes I had at Canvas…
Prime New York Strip Steak Beef Carpaccio (Capers, Pickled Red Onion, Porcini Sauce, Grilled Ciabatta)
Melt-in-your-mouth beef pops with the tang of pickled red onion and capers, and that creamy porcini sauce was a great flavor and textural contrast.
Habanero Glazed Chicken Wings (Clover Honey, Lime Zest, Garlic-Buttermilk Dipping Sauce)
As a native Buffalonian, I know my wings and these were great wings. They were crispy (there is never a time or place in life for soggy chicken wings) and had a great sweet/spicy flavor profile. The creamy dipping sauce, which tasted like a fresh, real-food version of Ranch, was the perfect accent.
Heirloom Tomato Panzanella (Bermuda Onions, Basil, Mint, Garlic Toasted Ciabatta, Arugula, Red Wine Vinaigrette)
I loved how refreshing this salad was. When you have top-quality ingredients like this, you can just let the flavors shine, which is exactly what Chef Thoman did.
P.E.I. Mussels Tagliatelle (Housemade Semolina Pasta, Roasted Fennel, Pancetta, Grilled Corn)
Perfectly tender mussels in a flavorful sauce with homemade pasta and a punch of sweet corn flavor pretty much sums this dish up. I usually try to keep my carbs down, but I had to keep going in for "just one more bite".
Cast Iron Seared Sea Scallops (Black Quinoa, Blood Orange Segments, Sesame-Citrus Glaze)
I don't make scallops at home very often because I like to think of them as a special-occasion treat, but I love ordering them out. I was excited to see them on the menu! They were everything they should be; lovely sear outside and smooth as butter when you cut into them. I also really enjoyed the black quinoa, which had a nice garlicky flavor.
Rhubarb Pistachio Cheesecake
The cheesecake had a nice density, similar to the density of a New York-style cheesecake rather than a fluffy cheesecake, which is my preference. It was thinner than a typical cheesecake, more like cheesecake bars, which was good because there was no way I could have eaten a thick slice of it after such a big meal. If I could have licked every drop of the rhubarb and peach sauces I probably would have.
And I loved the ambiance outside…
They also have a beautiful market area with unique home décor items, and a grab-and-go food area with coffee and quick options like sandwiches, salads, and baked goods.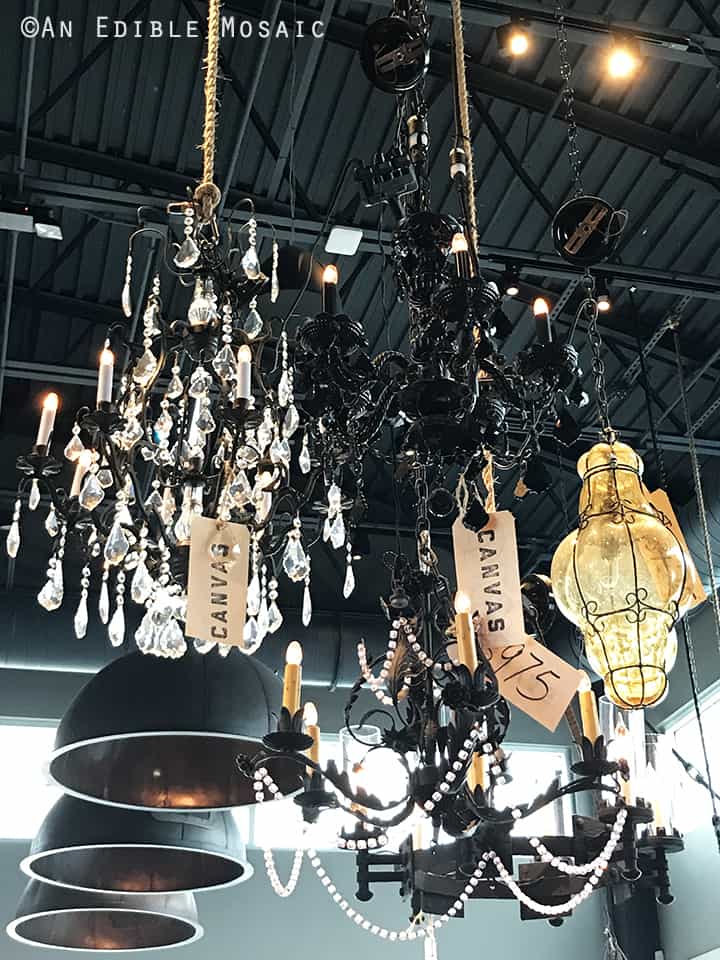 13615 Sachs Avenue
Orlando FL, 32827
407-313-7800
Disclosure: I dined as a media guest of Canvas Restaurant & Market; I did not receive compensation for this post. As always, all opinions are my own.