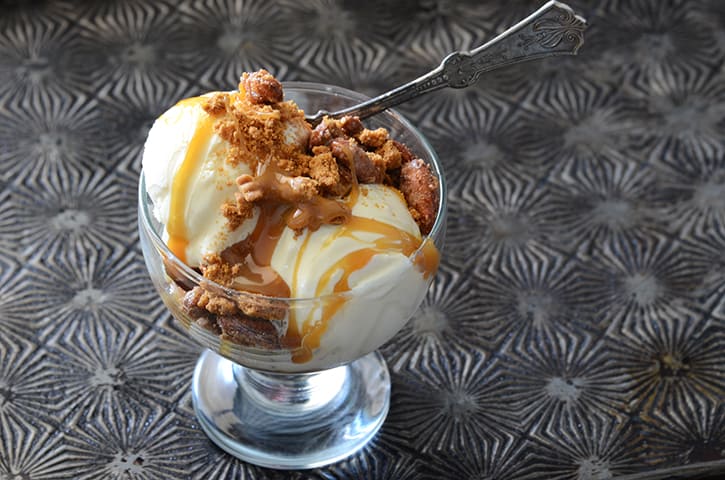 Almost everyone I know has a favorite food that they look forward to when the county fair rolls around each year.
For some people Chiavetta's chicken, corn on the cob, or deep-fried candy bars are all they can think about. Sausage hoagies with bell pepper and onion is another popular item, and so are Philly cheesesteaks and lamb gyros.
I won't commit to just one favorite, but I love those big blooming onions, kettle corn, and wonderfully aromatic candied almonds. I like to munch on those sweetly spiced nuts while walking around the fair, but if any happen to make it home with me, they make a great topping for ice cream.
Recently when I found a jar of salted caramel sauce in my pantry, the idea for an ice cream sundae came to mind. As we all know, a good sundae is in the toppings, and for this one I went all out. I paired that salted caramel sauce with crumbled biscoff cookies and those sweet-scented roasted cinnamon almonds that remind me of the local county fair.
The flavors meshed perfectly in this sundae, with salted caramel pulling everything together and rounding out the flavor profile. I used vanilla ice cream as the base to keep it a blank slate, but coffee-flavored ice cream would also be delicious.
If you're looking for a fabulously easy, but impressive dessert for a summer party, picnic, or potluck, this is perfect. Ice cream is one of the few things the whole family can agree on!
For more ice cream inspiration, check out the Sundae Fundae Slideshow on Kitchen Daily!
Salted Caramel Ice Cream Sundaes with Roasted Cinnamon Sugar Almonds
Prep time:
Cook time:
Total time:
Yield:
4 ice cream sundaes, and 2 cups of candied almonds
Roasted Cinnamon Sugar Almonds: If you don't have time to make these, you can find them at many county fairs or shopping malls, or you can use candied almonds from the grocery store.
Ingredients
Roasted Cinnamon Sugar Almonds (Yields 2 cups):
Butter or cooking spray, to grease the pan
1 large egg white
1 tablespoon water
2 cups whole almonds
½ cup (100 g) sugar
¾ teaspoon ground cinnamon
½ teaspoon salt
Salted Caramel Ice Cream Sundaes with Roasted Cinnamon Sugar Almonds:
8 scoops vanilla ice cream
8 tablespoons salted caramel sauce (homemade or store-bought)
8 biscoff or gingersnap cookies (or any crispy spice cookies), crumbled
4 tablespoons Roasted Cinnamon Sugar Almonds (see Note)
Instructions
For the Roasted Cinnamon Sugar Almonds, preheat the oven to 300F. Line a large baking sheet with parchment paper and grease the paper with butter or cooking spray.
Beat the egg white and water until frothy, then fold in the almonds. Sprinkle on the sugar, cinnamon, and salt, and gently toss to coat.
Spread the almonds out onto the prepared baking sheet and bake until crisp and golden in places, about 30 minutes, stirring once halfway through.
Let the nuts cool before serving, and then store in an airtight container at room temperature.
For the Salted Caramel Ice Cream Sundaes with Roasted Cinnamon Sugar Almonds, put 2 scoops of ice cream in each of 4 individual bowls. Top each with 2 tablespoons of salted caramel sauce, 2 crushed cookies, and 1 tablespoon of Roasted Cinnamon Sugar Almonds. Serve immediately.
Disclosure: Compensation for this post was provided by AOL Media. The opinions expressed herein are my own and are not indicative of the opinions or positions of AOL.