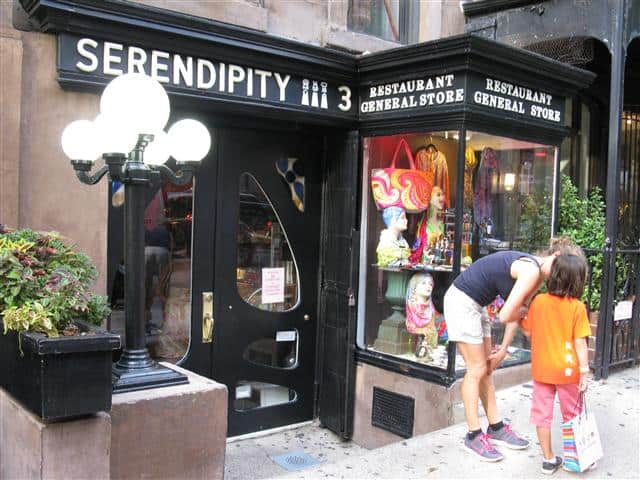 Before our recent trip to New York City, Mike had never been to Serendipity 3. I've been a few times in the past and have always enjoyed it so we decided to go. It's somewhat of a tourist trap (but who doesn't love the movie, right?) so I made reservations, which are available for lunch and dinner. We were both glad for the reservation since there was a pretty long line and the host was telling people it would at least 30 minutes for a table.
The restaurant is cute (but definitely cramped) and the décor is ice cream parlor-ish with a girly flair. We were seated upstairs which luckily is a little more spacious than the lower level.
The Famous $1,000 Golden Opulence Sundae on the Menu
Mike and I started the meal with a Frrrozen Hot Chocolate. (We could have waited until the end and called it dessert…but I really didn't want to risk being too full for the best thing about this restaurant. ;) ) If you've never had a frozen hot chocolate, I have to say that its taste is true to its name. It's much different from a chocolate milkshake in that it really doesn't have a creamy consistency; instead it has an icy texture and a cocoa-y flavor. It's topped with whipped cream and shaved chocolate.
Frrrozen Hot Chocolate
There are only seven items on the appetizer list but surprisingly it took us a while to agree on something. We finally settled on Spudnicks, which are potato skins with melted Cheddar and bacon (we ordered them without bacon) served with a side of sour cream. The potato skins were pretty standard…the crispy potato skin was definitely the best part.
Spudnicks (Sans Bacon)
For his main, Mike ordered Shake, Batter, and Bowl, which is a half-chicken that's battered, deep-fried, then oven-roasted and served with thick-cut French fries and a small side of coleslaw. The chicken was crispy outside and flavorful and juicy inside. I didn't taste the fries or coleslaw but Mike said they were ok except the fries being a little cold.
Shake, Batter, and Bowl
I ordered what I always order at Serendipity: the Young Chicken Sandwich. (I was told by the waiter that this item has been on their menu for over 40 years!) It's a really generous portion and I left with enough food leftover for another meal. On the menu this dish is described as "crisply sautéed in butter with almonds and served on toasted Irish Soda Bread." When they say crisply sautéed they aren't kidding…the chicken was a little too crispy and was actually pretty dry. Sadly, it was not nearly as good as I remember it being in the past. The almonds added a nice nutty crunch but there weren't nearly enough of them. The Irish Soda Bread was the best part of this dish, with the raisins in it adding a nice little bit of sweetness. The sandwich was served with a side of creamy mango chutney dressing, which was tart with just a hint of sweetness and paired well with the sandwich.
Young Chicken Sandwich
There were two ladies seated next to us who were gracious enough to offer to let me take pictures of both of their desserts. (Thank you so much Jill and Jackie! We hope you enjoyed your trip to NYC!)
"Big Apple" Pie: Jackie said this was delicious and the pastry crust was flaky and tasted homemade
Frrrozen Mint Hot Chocolate: Jill said this was good but the whipped cream had a filmy feel in the mouth…I experienced the same thing with the frozen hot chocolate we ordered, the cream felt a little more oily in the mouth than most whipped cream I've had
Mike and I had a good time, but we agreed that if we ever go back it will only be for dessert. Unfortunately, they don't accept reservations for dessert, which honestly means we will probably only be enjoying frozen hot chocolate from the comfort of home in the future. :)
Serendipity 3
225 East 60th Street
Between 2nd and 3rd Avenues
New York, NY 10022
Tel.: 212.838.3531