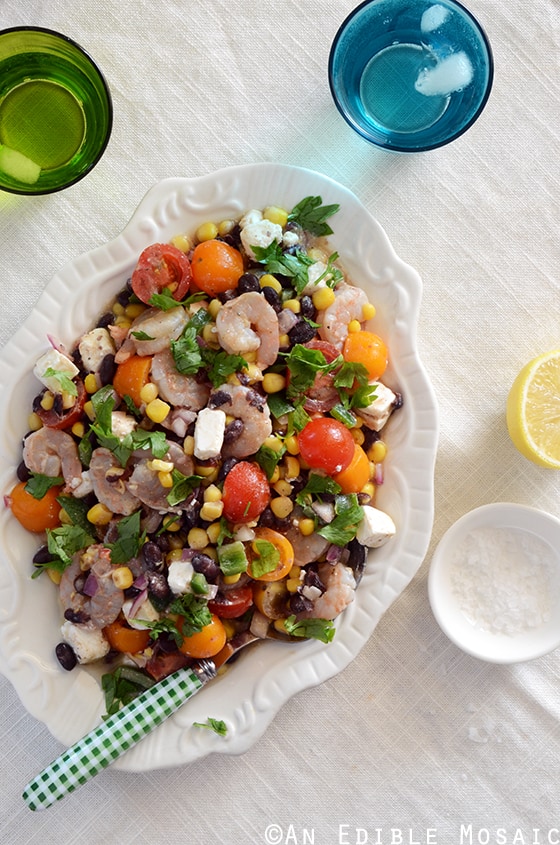 So it's almost 5 o'clock on a random weekday afternoon. Your bestie sends you an email saying she has the evening free, and she wants to pop by for a visit around 7.
Your fridge is empty (ironically, tonight was going to be grocery shopping night), and you scramble to think about what you can pick up for a quick, easy, and delicious dinner.
I have you covered with this lovely dish.
This salad takes full advantage of a few ready-to-go ingredients that you can pick up at the store, like shrimp (which I recommend buying pre-cleaned and pre-cooked to save time!), canned black beans, and canned corn. Cherry tomatoes, green pepper, red onion, and parsley freshen it up a bit, and feta cheese adds incredible flavor.
For this salad, I make a quick homemade Spicy Southwest Dressing, but if you don't have all the spices at home or just don't feel like making it, you can buy a store-bought dressing with similar flavors.
Grab a loaf of crusty bread on your way out of the store and you'll be all set to whip up dinner in about 15 minutes, no cooking required.
Just a quick note, if you have a bit more time to cook and if corn is in season, you can grill both the shrimp (I like to skewer the shrimp to make it easy) and the corn (use corn on the cob) to add smoky flavor to the salad.
How is that for super summer food when you don't feel like cooking?
Shrimp, Black Bean, and Tomato Salad with Feta and Spicy Southwest Dressing
Ingredients
Dressing:
2 tablespoons extra virgin olive oil
2 tablespoons fresh lemon juice
2 teaspoons honey
½ teaspoon salt
½ teaspoon dried oregano
½ teaspoon chili powder
¼ teaspoon cumin
¼ teaspoon coriander
⅛ teaspoon black pepper
Salad:
1 lb (450 g) medium-sized shrimp, peeled, de-veined, de-tailed, cooked, and drained well
1 (15 oz/425 g) can no-salt-added black beans, rinsed and drained
1 (15 oz/425 g) no-salt-added whole kernel corn, rinsed and drained
¾ lb (340 g) cherry tomatoes, halved
1 green bell pepper, chopped
1 small red onion, finely chopped
4 oz (115 g) feta cheese, cubed
1 handful flat-leaf parsley, coarsely chopped (for garnish)
Instructions
Whisk together all ingredients for the dressing in a small bowl, and then let the dressing sit for about 10 minutes while you make the salad.
Add the shrimp, black beans, corn, cherry tomatoes, green pepper, red onion, feta, and dressing to a large bowl and gently toss to combine.
Transfer to a serving platter and sprinkle the parsley on top; serve.