A couple weeks ago I had a horrible cold that lasted about two weeks.  At one point I almost completely lost my voice and could manage nothing more than a few raspy words.  It was then that Mike started humming the theme from The Godfather, calling me Don (which incidentally is my dad's name), and saying "please forgive me, Godfather" when I told him to stop laughing at me.  (I don't really blame him for laughing though; I sounded pretty ridiculous.)  Needless to say, he was in the mood to watch The Godfather and after watching, I was in the mood for pasta. 
I wanted a really basic marinara sauce, the kind of sauce where all the other ingredients just help bring out the fresh flavors of tomato and basil.  This sauce completely satisfied my craving.  With tomatoes being out of season right now, I used canned crushed tomatoes, which was the closest I could get to fresh tomato taste.  I like to go a little heavy-handed on the basil because to me it makes the dish, but feel free to add as much or as little as you like.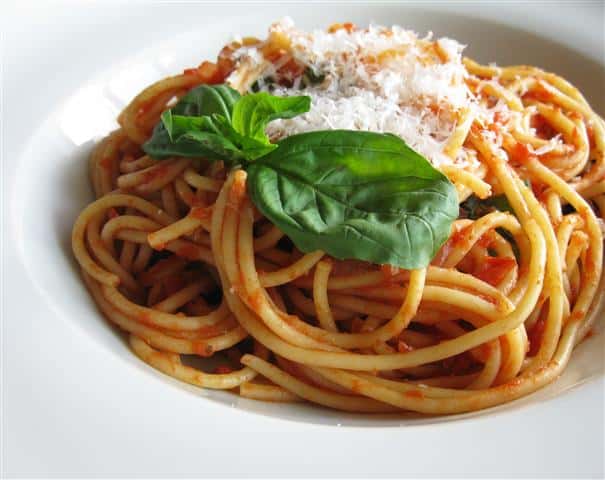 Spaghetti Marinara
(Yield:  6-8 servings)
2 TB olive oil
1 medium-large onion, diced
3 large cloves garlic, minced
1 (28 oz) can crushed tomatoes in puree
3 oz tomato paste
1 bay leaf
1 tsp dried oregano
1-3 tsp sugar (more or less to taste)
Salt and pepper
A handful of fresh basil (more or less to taste)
Fresh grated Parmigiano-Reggiano cheese (for topping)
1 lb spaghetti noodles
Cook spaghetti to al dente according to package directions.
Heat oil in a medium saucepan over medium-low heat; add onion and garlic and cook until soft and translucent but not browned (about 10 minutes).  Add crushed tomatoes, tomato paste, bay leaf, oregano, sugar (I use about 2 tsp sugar), 1/2 to 3/4 tsp salt, and 1/4 tsp pepper, and simmer gently 10 minutes (covered, but with lid ajar), stirring occasionally.  Taste sauce and season with salt, pepper, and sugar as desired. 
Tear basil leaves and toss with pasta and sauce.  Serve topped with fresh grated Parmigiano-Reggiano if desired.
Now for the giveaway!  A very sweet friend of mine recently gave me a $100 Walmart giftcard…and since I'm all done with my holiday shopping (so glad to be done…that was not fun!) I decided to share the love and pass it on to one lucky reader.  (Of course I asked my friend first if it was ok – she loved the idea!  Thanks so much for your generosity, Princess Lillian!)
I will happily mail the giftcard anywhere in the world so international readers can participate, and as always you don't need to have a blog to enter.  To participate, you can do any or all of the following; please leave a separate comment for each so I can count it as another entry:
Leave a comment here letting me know if your family exchanges gifts for Christmas…and if not, is there a different holiday that you exchange gifts for?
Add me to your RSS feed and leave a comment here letting me know.  (Or let me know if you're already a subscriber.)
 "Like me" on Facebook and leave a comment here letting me know.  (Or let me know if you already like me.)
Post a link to this giveaway on your Facebook page and leave a comment here letting me know.
This giveaway ends Wednesday, December 22 at 9PM EST; after that the winner will be determined randomly and notified by email.  Good luck to all!