Living in New York State, I have fond memories of spending time in the Adirondacks since I was a little girl. (For those of you who haven't been to the Adirondack Mountains, picture the small, quaint town and the tranquil, green setting depicted in the movie Secret Window with Johnny Depp.)  Because of this, I was excited to recently receive a cookbook containing a collection of Adirondack camp recipes called Recipes from Camp Trillium by Louise Gaylord to review.
Right off the bat, you may be thinking that the name Louise Gaylord sounds familiar…she is none other than the national award-winning author of mystery novels.  And now she wrote a cookbook too!
The following information on the book was adapted from the book's electronic press kit…
The recipes contained in this book were collected from Louise's family and guests during the years of entertaining at her family's summer home, Camp Trillium, in New York's Adirondack Mountains.  This cookbook meets the challenge of having dishes that are easy to prepare from ingredients easily found in any market.  Flavors span the spectrum from classic U.S. fare to exotic international flair, and what struck me is how unique many of the recipes sound, like Jan's Cheese & Chutney Yumyum (basically a molded cheese topped with chutney, crumbled bacon, and fresh herbs), Corn Dip (with corn, mayo, sour cream, onion, chili pepper, and spices), Carrot & Apple Soup (it has ginger and cinnamon!), and MM's Amaretto Chicken (which has oranges and a full cup of amaretto).
In addition to these terrific recipes, the book contains "Trillium Tips", which are useful home remedies.  (I find it pretty interesting that you can use Alka-Seltzer to clean a toilet, club soda to clean jewelry, and Pam cooking spray to dry fingernail polish.) The wealth of these little known tips will surprise you as they reveal how you can solve many household challenges with everyday items found around your home.
Despite the fact that this is a lovely book, in the spirit of full disclosure and being 100% honest with my readers, I have to mention that there were a couple things about this book that perplexed me.  The first was that some recipes had an ingredient listed in the ingredient list that wasn't mentioned in the directions; for example, Roasted Pecans Florence on page 35 lists "Worcestershire sauce" in the ingredients but doesn't say what to do with it in the directions.  Something else that was confusing were recipes with a specific ingredient and amount listed in the ingredient list, but a different amount specified in the directions; for example, Nana's Foolproof Popovers for 8 on page 3 has "1 cup milk" in the ingredient list, but in the directions it says to "add 7/8 cup milk".  The last issue I had was the ambiguity involved in some recipes.  For example, the recipe for Adirondack Trout Grandma Betsy on page 139 says to "Bake [fish] until fully cooked.  But do not overcook."  I know how to tell when fish is done, but there are others out there who might benefit from the mention of a general timeframe or a method to test for doneness (turning opaque or flaking easily with a fork, etc.).  Other than that I thought this book was wonderful and filled with interesting recipes!
The recipe I decided to make first was Spicy Pecans.  At fairs and carnivals, the enticing smell of roasted nuts always lures me in, and I've wanted to make them at home for quite a while.  I love the sweet and savory flavors in this recipe, and the fact that you can customize it by adding more or less of a certain spice to suit your tastes is wonderful.  Next I'm planning to do a honey-cinnamon version of these nuts.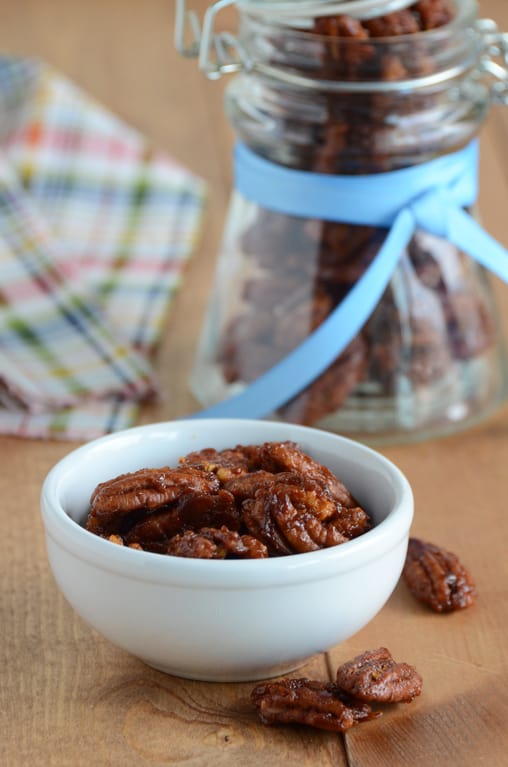 Sweet & Spicy Roasted Pecans (Adapted from Louise Gaylord's recipe for Spicy Pecans in Recipes from Camp Trillium; published by Little Moose Press)
Yields 4 cups, or 16 (1/4 cup) servings
1 large egg white
4 tablespoons unsalted butter, melted and cooled slightly
2 teaspoons Worcestershire sauce
6 tablespoons sugar (more or less to taste)
1 teaspoon salt
1 1/2 teaspoons sweet paprika
1 teaspoon cayenne pepper (more or less to taste)
1/2 teaspoon cinnamon
4 cups pecan halves
Preheat oven to 325F and line a large baking sheet with parchment paper or a silpat liner.
Bet the egg white until foamy, then beat in the butter, Worcestershire, sugar, salt, paprika, cayenne, and cinnamon.  Stir in the pecans.
Spread in an even layer on the prepared baking sheet, and bake until the nuts are toasted and golden, about 30 to 35 minutes, stirring every 10 minutes.  (Make sure not to over-cook; burned nuts are not good!)  The nuts will harden as they cool.
Once cooled, break into pieces and serve or store in an airtight container at room temperature for up to 2 days.